See Taron Egerton as Elton John in 'Rocketman' First Look
The star of the "Kingsman" action movies is to become pop star Elton John for mid-2019 biopic Rocketman.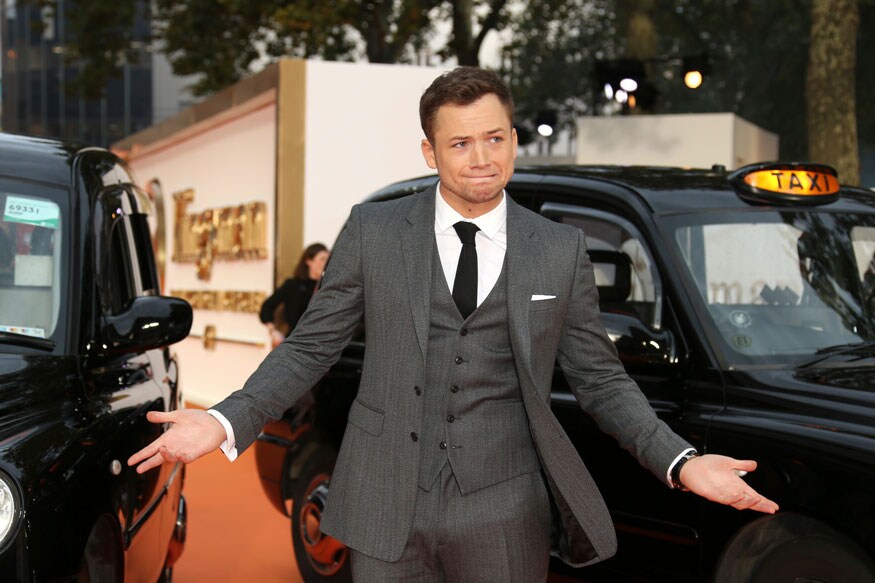 Actor Taron Egerton poses for photographers upon arrival at the premiere of the film 'Kingsman The Golden Circle' in London, Monday, Sept. 18, 2017. (Image: AP)
Seated aboard a private plane and wearing a golden jacket with gold-winged boots, Taron Egerton poses as Elton John for a 2019 movie profiling the musician's 1970s and 80s career takeoff.
.@TaronEgerton stars in #Rocketman, an epic musical fantasy about the uncensored human story of Sir Elton John's breakthrough years. Experience it in theatres Summer 2019. pic.twitter.com/fwMMoGxSnb

— Rocketman (@rocketmanmovie) September 28, 2018
The British actor will play Elton John and perform his music, having already visited the Abbey Road studios in London for recording sessions.
Along with Taron Egerton, Rocketman also leans on Jamie Bell of Turn: Washington's Spies and Billy Elliot as Elton John's songwriting partner Bernie Taupin, as well as Richard Madden (Robb Stark in Game of Thrones) as the singer's longstanding manager John Reid.
Directed by Dexter Fletcher, who helmed Eddie the Eagle and finished Rami Malek's November 2018 Queen and Freddie Mercury musical biopic Bohemian Rhapsody after Fox parted ways with Bryan Singer, Rocketman is set for release on May 31, 2019 release in the US through Paramount Pictures.
(With AFP Relaxnews inputs)
Get the best of News18 delivered to your inbox - subscribe to News18 Daybreak. Follow News18.com on Twitter, Instagram, Facebook, Telegram, TikTok and on YouTube, and stay in the know with what's happening in the world around you – in real time.
Read full article