Tejasswi Prakash To Sara Khan: Here's How Television Celebrities Are Celebrating Diwali 2017
Here's how our television celebrities plan to celebrate the festival of Diwali.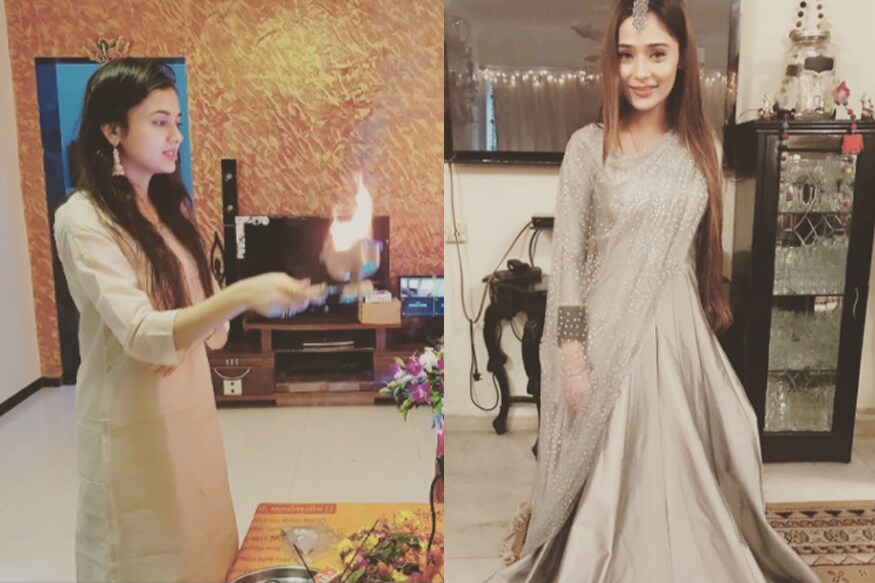 Image: Instagram/ Tejaswi Prakash, Sara Khan
It's that time of the year again when people from all walks of life let their work take a back seat to make sure they spend enough time with family and friends. Diwali, the festival of lights, is celebrated across India and abroad with immense splendor and grandeur. Marked across five days, one gets to witness different varieties of diyas, fireworks, sumptuous food delicacies and varied puja styles.
As much as it's about getting together with loved ones, this festival also marks the victory of good over evil and light over darkness. As the world gears up for the big day, here's how our television celebrities celebrating the festival of Diwali.
Helly Shah: Diwali is always a fun moment for me. I enjoy the feast, cheating on my diet with lots of sweets and snacks. Also, I get ready in new outfits for puja and then spend time with friends and family. Diwali brings a lot of energy and positivity all around.
Tejasswi Prakash: Diwali means family time for me. I also meet my friends and enjoy with them. We all spend time decorating the house and then getting ourselves ready for the puja. We also enjoy good and healthy homemade food. Diwali is always special for me!
Kunal Jaisingh: Diwali is about spending quality time with my friends and family. The festival brings love and blessings from the close ones. However, my special attention is only meant for homemade food items on this day.
Gaurav Khanna: I feel Diwali is the most important festival because, with the taste of sweets, people should forgive and forget their enemies and try to build new relationships. Alongside delicious food items, we also perform Lakshmi puja at home.
Sara Khan: Diwali is really special for me. The lights outside brings a lot of magical vibes inside. I make it a point to wear new clothes and to visit friend's place for Diwali bash. I enjoy the good food and spiritual environment all around. It's really fun.
Mahika Sharma: Diwali is a very special festival. If I'm at home, it's all about puja and homemade food which we call as bhog. I really miss it. But now in Mumbai, Diwali celebrations are mostly card parties with friends which, too, has its own fun.
Pearl V Puri: Diwali is always an important festival for me. I think the festival brings so much of happiness all around.
Piyush Sahdev: Diwali celebrations are exciting. From getting ready for Lakshmi puja to Diwali parties- it's fun meeting fans and relatives. Every place is decorated and every person so well dressed. The festival is full of excitement and harmony.
Nausheen Ali Sardar: Lighting diyas and celebrating Diwali and seeing this city lit up in lights is always so beautiful. Diwali is really special always. I am glad that the firecrackers ban has been implemented as the smog and air pollution causes a lot of health issues for children and especially for the animals who live on the streets. Diwali brings in a lot of positive vibes and fun all around.
Yash Sinha: Diwali celebrations have always been special for me. I and my brothers along with our parents celebrate the festival and perform a puja at home.
Roop Durgapal: I wish this Diwali brings lots of fun and be a happy and prosperous Diwali. Instead of burning crackers, I wish people burn their vices. I am going to decorate my home with lights, diyas, potpourri and flowers.
Soni Singh: Diwali is one of the most loved festivals in India. For me, it's family time. Decorating home and helping mom in making sweets and snack is always fun. I also attend Diwali parties atmy friends' places. I wish this festival brings a lot of happiness in everyoné's life.
Get the best of News18 delivered to your inbox - subscribe to News18 Daybreak. Follow News18.com on Twitter, Instagram, Facebook, Telegram, TikTok and on YouTube, and stay in the know with what's happening in the world around you – in real time.
Read full article