Municipal Corporations

9/10

TRS

8

INC

0

BJP

1

AIMIM

0

OTH

0
MUNICIPALITIES

115/120

TRS

97

INC

9

BJP

3

AIMIM

2

OTH

4
Refresh Data
The Good And The Bad of Indian Cinema at Dubai Film Festival
India has always been a huge presence at the Dubai International Film Festival, and this year, there were three movies – three very different kinds of movies – there.
India has always been a huge presence at the Dubai International Film Festival, and this year, there were three movies – three very different kinds of movies – there. But curiously all of them spoke about the darker side of the human being – making me pause and ponder whether the world is slipping into something unmistakably depressing. I hope not.
But while Anup Singh's The Song of Scorpions and Dipesh Jain's Manoj Bajpayee-Ranvir Shorey starrer In The Shadows did not end on a note of high, Shabana Azmi's 5 Rupees veered into a patch of light. However, Singh's Song was the most memorable for it played with simple subtlety, and was pushed into the realm of the riveting by able direction and superb performances.
Set in the sands of India's Rajasthan, The Song of Scorpions is the story of a woman, Nooran (portrayed by the hauntingly beautiful Iranian actress, Golshifteh Farahani) – who has this magical power to to pull the poison out of a man or woman stung by a scorpion. Irrfan Khan's Adam, a camel dealer, walks into her life to turn it upside down in a film that explores the darkest aspects of human behaviour – jealousy and revenge.
In the Shadows treads the same path. Set in the bewildering maze of old Delhi's lanes and bylanes, Jain presents a psychological thriller of a man, Khuddoos (Bajpayee), who plays peeping Tom, a habit he had picked up very early on in life. As a boy, he had let his curiosity get the better of him, scaling walls to watch the goings-on in a house. Later, the grown-up Khuddoos cannot let go his obsession, although this is revealed to us at the very end.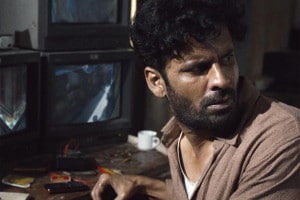 Image: A still from In The Shadows
Bajpayee fascinates us with his ability to look the part of a man with a battered and bruised boyhood – who grows up all twisted, a loner whose only link with the outside world is through the CCT monitors he has in his dilapidated home. And he watches the world through them – nay watches what men and women do within their four walls.
In the Shadows did not quite appeal to me. For, it came across as something that was clever by half. Though the protagonist himself displays considerable restraint, the script does not help him, running into unbelievable alleys. Now how can a little lad smother a huge, grown-up man with a pillow! Seemed like some kind of Boy Superman!
This is also my quarrel with 5 Rupees by Piyush Chandrakant Panjuani. Set in an idyllic hamlet in the foothills of the picturesque Himalayas, the movie traces the last day of Ramadan – when seven-year-old Hamid's grandmother (Azmi) promises to give him five rupees as an Eid gift. But when the money goes missing, the grandmother, who dotes on the boy, begins to harbour doubts. Has Hamid stolen the money to spend it at the village fair? The villagers do not help either, pushing the poor, old woman into a state of angst. However, when Hamid returns and after he is spanked by the grandmother, he displays the gift he has got her. A pair of tongs which will prevent her from burning her hands while making roti.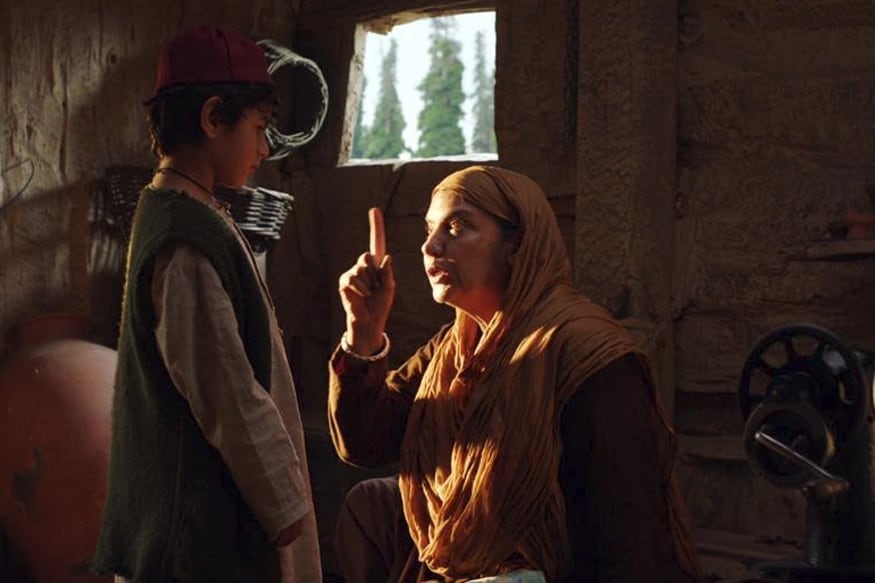 Image: A still from 5 Rupees
This is an emotional high in the film, but the sequence leading up to it is so exaggerated that 5 Rupees loses some of its sheen. Come on, I did not expect the whole village to gang up against Hamid and accuse him of being a thief. No way.
Lazy scripting often pulls a work down, and Panjuani appears to be no exception to this folly.
(Author, commentator and movie critic is now covering the 14 Dubai International Film Festival)
Get the best of News18 delivered to your inbox - subscribe to News18 Daybreak. Follow News18.com on Twitter, Instagram, Facebook, Telegram, TikTok and on YouTube, and stay in the know with what's happening in the world around you – in real time.
Read full article