Nawazuddin Siddiqui On Manto, His Struggling Days and Fascination With Dark Characters
In this bare-it-all interview, actor Nawazuddin Siddiqui reflects back on his struggle and how those days have helped him as an artist. He talks at length about his fascination with dark characters, his unconventional looks, the blurring lines between independent and commercial films and his upcoming film Manto.
The irony of Nawazuddin Siddiqui, the success that he is and has become, is ineluctable. The one man army can easily be considered as one of the most poignant factors, and figures, playing a pivotal role in sweeping off the 'stardom' concept from the surface of the Hindi film industry. But his journey and stay in cinema hasn't been all gold.
"Struggles never end and what's a living without it?," he says while interacting with News18.com.
"The struggles were different back then. Today, as an actor, I struggle for the right kind of roles, my kind of work, diversity in roles or whether I'm performing to the best of my abilities and whether it's up to the mark. I'm not talking about a star, but for any actor who wishes to do different roles - the struggle always continues," he adds.
Image: Instagram/ Nawazuddin Siddiqui
Looking back at his first onscreen performance in Aamir Khan's Sarfarosh and a waiter cameo in Shool, one wouldn't expect an ordinary looking man to pave his way becoming one of the finest the cinema has ever seen, but trust Nawazuddin to break the mould and lead a league of his own. Patang, Miss Lovely, Peepli Live, Gangs of Wasseypur, Taalash, Kahaani, Bombay Talkies, Bajrangi Bhaijaan, Freaky Ali, The Lunchbox among others not only established him as a bankable actor but also proved his mettle as an industry man who can pull off almost any genre of cinema.
He quips and tells us that he realised his beauty only when he went abroad. "I didn't realise that I was beautiful while I was here in India. Thank god, for my mother and friends, who told me that I'm pretty or else I'd have been depressed ki dekho mai kaala hu, height bhi kuch nahi hai meri. So, there are some people, some friends who gave me a confidence boost and I'm thankful for that."
When asked how he juggles between such extremes, a grounded and a relatively shy Siddiqui credits his hardship days and says, "It happens because I had no work for 12 years and I was a trained actor. Apart from that, I've a lot of life experience wherein I observed thousands of people. My friends, other people around – I observed them all. So now, I'm gradually using my stock of those 12 years. All that experience helps you somewhere or the other, it reflects in your performances."
We wonder if he had a family name to bank upon in an industry currently accused of nepotism, had it been any easier for him. "I've no regrets over my struggle, that I didn't have a backing or that it would've been any less difficult had I been a star kid. I'm my father's son and that's enough I think (ye mujhe zara saa bhi malaal nahi ki mera kam ho jaata struggle agar mai star ka beta hota. Mai apne baap ka beta hu and yehi kaafi hai)," he responds reassuringly.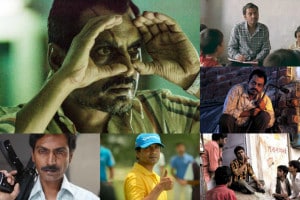 Image: Youtube/ Screen grabs of various films featuring Nawazuddin Siddiqui
He further adds that all the directors who're working with him, are in a way, his supporters of sorts. "Kyuki ultimately aap ka kaam hi kaam aata hai. Jo aapne mehnat kiya hota hai, hard work kiya hota hai, usko respect dene waale bahut hai industry mei."
If one minutely observes and tracks Siddiqui's filmography, they'd spot a trend of him choosing roles than don't confine to Bollywood's good-man definition and more often than not, dwindling from one shade of grey to another. When asked if this has been a conscious choice, he answers, " Yes, I only enjoy doing grey-shade characters. I don't enjoy the conventional hero roles wherein everything is nice, all his traits are good – good looks, girls are falling for him, boys are crazy about him. I enjoy roles in which there's a balance of both good and bad – some people hate him, some love him. Not just a typical moustached-hero with big eyes – and you want to hate him because he has all the negativity – I don't want to do those kinds of roles. Both good and bad traits should be present in a character."
Siddiqui, who'll next be seen in films like Munna Michael, Chanda Mama Door Ke and Mom also carries on his shoulders the responsibility to bring to celluloid the life and times of Saadat Hasan Manto, an author who evoked myriad emotions and of whom, everyone has a different perception. So, did he feel an added pressure while signing the Nandita Das-film? " The only problem while doing this role was that if we're liars in reality, how can we portray a person so truthful," he says.
"I've never come across a man as truthful as Manto. So honest, so pure. He wrote only what he saw. We aren't like that – we often lie in our lives. It sounds like a little thing but it's a long process – that journey from a dishonest person to an honest one. It's like a transformation – that can only happen if you become that and start thinking like that in your real life," he explains.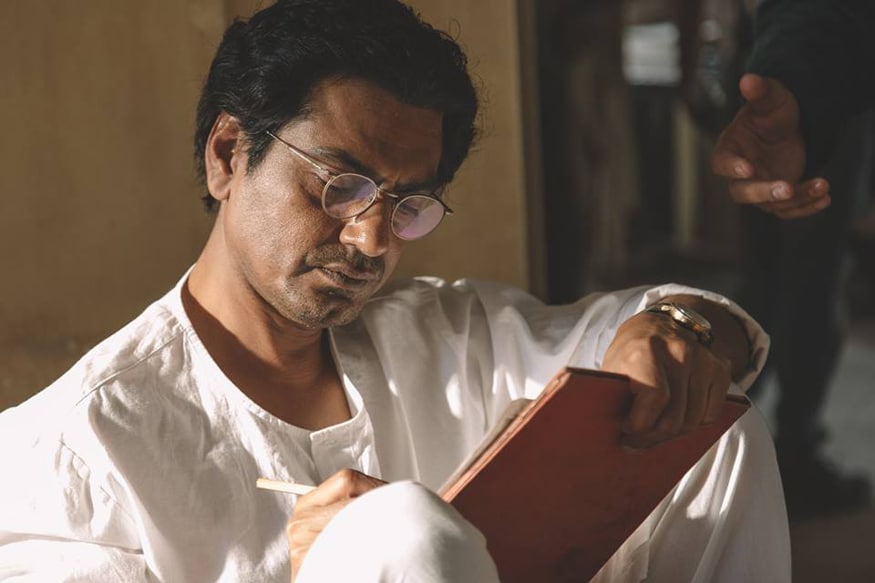 Image: Facebook/ Nandita Das
With the kind of art he brings to the mainstream, or rather commercial cinema, one might think him to be a fit for the long lost wave of parallel cinema. He quickly retorts saying, "Ye parallel cinema, Indie cinema pata nahi categorise kaun karta hai. A film is a film, it might be good or bad. It's unfair to say that parallel cinema is good and commercial is not. And I'm an actor - I'll do parallel and if I find a decent role in commercials films, toh wo bhi karunga."
Apart from his forthcoming Bollywood projects, Siddiqui is now the 'superhero' of a campaign led by P&G Shiksha, that aims to impact the lives of over 10,00, 000 children across the country.
"A person like me would want to join this initiative because I've experienced similar situations. So definitely if one gets a platform to improve the scenario, they should always help," he said while explaining the causes being undertaken by the organisation in order to help and promote children education.
Get the best of News18 delivered to your inbox - subscribe to News18 Daybreak. Follow News18.com on Twitter, Instagram, Facebook, Telegram, TikTok and on YouTube, and stay in the know with what's happening in the world around you – in real time.
| Edited by: Kriti Tulsiani
Read full article