Director
: Atlee
Cast
: Vijay, Samantha, Amy Jackson, Nainika, Rajendran, Mahendran, Radhika, Prabhu
Ilayathalapathy Vijay is back as a super hero police officer with 'Theri' after the disastrous 'Puli'. He is a father, too, in the film. Vijay doesn't need a cape to protect his city from the baddies. A teacher resides in the policeman somewhere which is quite fun to watch.
Nainika who plays Vijay's naughty young daughter is wise beyond her years. I wonder if kids are like that nowadays. She isn't addicted to video games. She does find pleasure in getting her father and her teacher (Amy Jackson) get together though. The father-daughter scenes in the beginning portions are more comical and in contrast to what were presented in 'Yennai Arindhaal' (Ajith Kumar and Anikha).
We have watched / heard / read 'Theri's' basic storyline innumerable times. We'll watch the same story unfold in the next century also. But that's just one of the problems revolving around the outer circle of the setup. The central problem is that it doesn't go beyond the normalcy that has already been made a standard guide. Atlee's 'Raja Rani' wasn't a path breaking movie either. Its ropes had fallen down from many films that were made in the 80s and 90s. If a film uses a flashback episode to narrate the main reason for the silence of the hero, it'll remind us of the golden template-film 'Baashha'.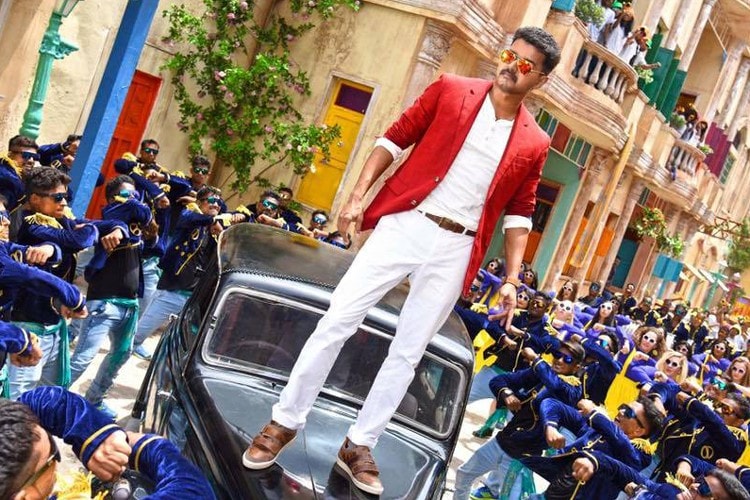 You put 'Baashha' into a washing machine and get a garment that's a little different-looking, that's 'Theri for you. Movies with a similar format have been made before 'Baashha', as well, but the 1995 Super Star starrer is the benchmark for such films.
Every time Vijay opened his mouth for uttering a punch line or lifted his arm for giving a punch to an extra, a guy in his early 20s threw his hands up and yelled "Aye!" from the seat in front of me. This is a masala film where audiences walk into the theatres for the whistle-worthy moments; example: like how Vijay teaches a lesson to the men who have crossed the sacred lines of the law in his own inimitable style in a class room.
Samantha, after 'Thanga Magan' is seen as Radhika's daughter-in-law, again. The way the two actors share a moment talking about Vijay (the son and the husband-to-be) is emotionally subtle and effective. There's too much prettiness floating about Samantha's character. Her words, her actions, her very being is the epitome of prettiness. Is she an angel or something like that? A "Selfie Pulla" type of fun song is missing and I don't think any of Vijay's songs has matched the quotient of "Google Google" thereafter. "Chellakutty" is atrocious.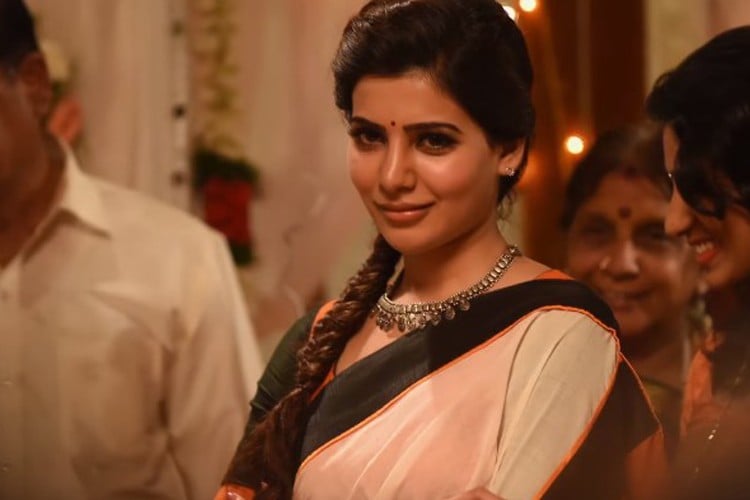 Vijay is a policeman, yet he uses his hands more in the action scenes. Why have an actor play a policeman and not give him the chance to use his mini weapon? Mahendran's antics as the prime antagonist are child's play. We know what he's capable of doing and we know what's going to happen to him in the climax. Between these two ends, there isn't much guesswork for us to do. Mahendran, in fact, does a decent job by pouring some water to his character with his performance.
The round trolley shot used during the crucial scene involving the protagonist and antagonist before the interval is useless. The power of that scene lies in the protagonist's pride because he knows he's done the right thing and the antagonist's vulnerability because he's at the receiving end of a loss. Had the camera focused on the two actors better, the impact would have been higher.
Atlee's 'Theri' is bigger than 'Raja Rani' in scale but Vijay's 'Theri' is smaller than many of his true-blue entertainers.
Rating: 3/5