nda:
Needmore seats to Win

Needmore seats to Win
upa:
Thor Ragnarok : Why You Cannot Miss This Super Superhero Flick
Thor: Ragnarok, which releases November 3, promises to be the superhero film to end all superhero films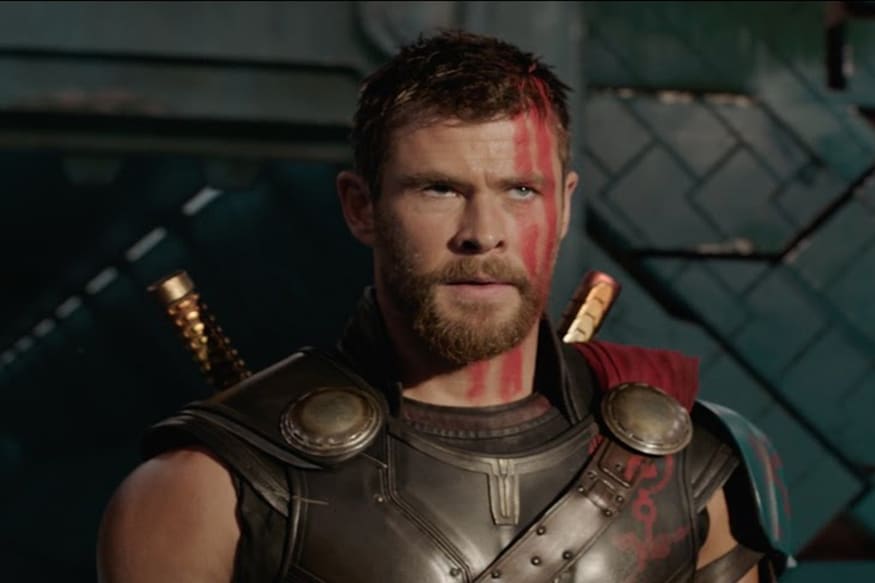 Chris Hemsworth in Thor: Ragnarok (Image courtesy: YouTube)
Marvel fans are all set to enter the realm of outer world in the third Asgardian film
Thor: Ragnarok
. The god of thunder and lightning is back after being missing from the elaborate Avenger cast in
Captain America: Civil War
, and he had a perfectly good reason why. All the thumping comic book action this time takes the form of a veritable Twilight of the Gods. Sporting a clean-shaved look, Thor would be seen sans his hammer (and home) in the upcoming film, with the Hulk on his side.
The god of thunder will be seen going against the goddess of death in a highly action-packed adventure. Odinson will be join forces with Bruce Banner's green alter ego to Hela – the Norse goddess of death without his biggest strength, Mjolnir.
Here's everything you need to know about the thunder god's newest adventures in Midgard and beyond in
Thor: Ragnarok
.
A Bridge before Infinity War
Chris Hemsworth's reunion with his hammer and armour was originally scheduled for July 28, 2017, but later slipped to its current release date of October 24, 2017, in the UK and November 3, 2017, in India. That places it after
Guardians of the Galaxy Vol 2
and
Spider-Man: Homecoming
and before
Black Panther
and
Avengers: Infinity War
. Ragnarok has also been described as a 'bridge' between the ongoing MCU plots and the big bust-up with Thanos in
Infinity War
.
Director Waititi has said his film will be a mere 90 minutes long, making it the shortest MCU installment yet by far.
Cameo by Other Avenger(s)
Mark Ruffalo will also be showing up as Bruce Banner and his big green alter ego, the Hulk, after – like Thor himself – missing out on the
Captain America: Civil War
action this year.
A glimpse Thor holding a card on set that bears the address of Doctor Strange's Greenwich Village base – the Sanctum Santorum – led to speculation that after Thor's cameo in his debut Marvel film, Benedict Cumberbatch's Sorcerer Supreme would return the favor. Strange's appearance in
Thor: Ragnarok
has been very much confirmed. He's there to help find the missing Odin.
Some Familiar faces from the Real World
Following Marvel's trend for getting major A-listers for key roles, Cate Blanchett would be seen in
Ragnarok
as Hela – Marvel's equivalent of the Norse death goddess Hel. Jeff Goldblum will play the Grandmaster, a troublemaker of cosmically powerful proportions with a love for games.
And Star Trek's Karl Urban will be taking on the role of Thor's long-time foe Skurge, an Asgardian also known as the Executioner. Anthony Hopkins's Odin – who had been replaced by Loki in The Dark World – is coming back. He was spotted on set in full hobo mode – leading fans to suspect that he might have been wandering amnesiac on Earth since Loki got to him. And Idris Elba's Heimdall is also returning.
An Interesting Plot
The film is named for the Norse end of the world myth Ragnarok – which is supposed to kill off the gods and bring mankind to the brink of extinction (quite literally – leaving only two survivors left to repopulate the world).
The film will see the return of Hela (we don't know where she's been yet), who promptly destroys Thor's hammer. The thunder god is banished to the planet Sakaar and forced to fight in the Grandmaster's arena, while Hela makes a bid to conquer Asgard. In Marvel's comics, Thor has faced Ragnarok several times, although theoretically he finally managed to end the cycle forever.
Expect a blast of Fun!
It won't all be doom and gloom, though, as Ruffalo has said that Hulk and Thor will be embarking on a "universal road movie" across the Nine Realms, and Waititi's promises that fans can expect a typical Marvel comedy. The director has hinted at the tone of the film, saying "the new logo suits the '70s/'80s sci-fi fantasy that this film is becoming". Anyone else thinking of
The Neverending Story
right now? He has also said that he is basically ignoring the other two Thor films and the rest of the MCU, which is a bold move.
Nor does it sound like
Ragnarok
spells an ending for the MCU or even Hemsworth's Thor, as he's already been confirmed for
Avengers: Infinity War
.
All this and more makes Marvel-verse all the more excited for November 3, as the ultimate 'doomed' road trip is sure to give us some 'out of the world' travel goals.
(Get detailed and live results of each and every seat in the Lok Sabha elections and state Assembly elections in Andhra Pradesh, Odisha, Arunachal Pradesh and Sikkim to know which candidate/party is leading or trailing and to know who has won and who has lost and by what margin. Our one-of-its-kind Election Analytics Centre lets you don a psephologist's hat and turn into an election expert. Know interesting facts and trivia about the elections and see our informative graphics. Elections = News18)
Read full article
Countdown To
Elections Results
To Assembly Elections 2018 Results