Thugs of Hindostan Early Reviews: Twitterati Disappointed by Aamir's Film, Call It a 'Biggest Flop'
Starring Aamir Khan, Amitabh Bachchan, Katrina Kaif and Fatima Sana Shaikh, Thugs of Hindostan is the biggest release of this year as far as the number of screens is concerned.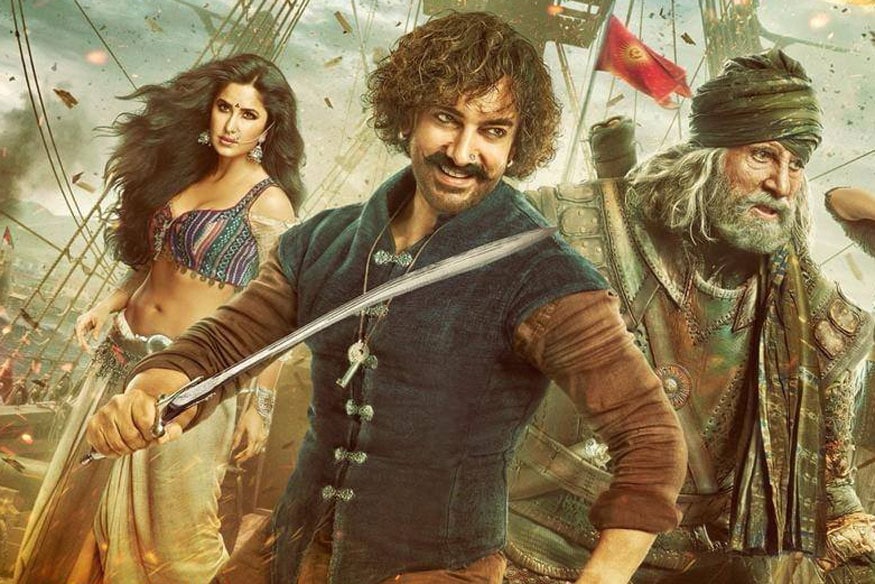 (Image: Yash Raj Films)
After giving blockbuster hits like 3 Idiots, Dhoom 3 and Dangal, Aamir Khan is once again back to entertain the audience with his new epic action-adventure film Thugs of Hindostan. The film, which releases worldwide today, features an ensemble cast of Aamir, Amitabh Bachchan, Katrina Kaif and Fatima Sana Shaikh.
The film, which promises to be a unique experience as far as Indian cinema is concerned, has released in over 7000 screens worldwide. However if initial reviews are anything to go by, it seems the audience is not much impressed by the film as it has been receiving negative feedback on social media, with many netizens calling it a "huge disappointment."
We have compiled a few early reactions to the film. Take a look:
#ThugsOfHindostan is long like StatueofUnity, Shocking like De-Mo, painful as GST, boring as Modi's recent speeches. @aamir_khan on other hand still beats Modi's acting skills

— Sameer Shaikh (@TheMightyShaikh) November 8, 2018
When your friend asks "Bhai #ThugsOfHindostan ki ticket book karu kya?" pic.twitter.com/sefMirfJ6H

— Tushar Ugale (@tushartweets13) November 8, 2018
#ThugsOfHindostan (Hindi) - Premise is convincing but the flow fails to offer high moments on a regular basis. Just a tedious action flick. #AamirKhan 's weakest film in recent times.

— Review Ram (@MovieReviewRam) November 8, 2018
This movie is as trash as any bollywood movie inspired from Hollywood blockbusters. Right when we saw trailer we knew it's trash #ThugsOfHindostan

— VK is 🐐 (@BleedBlueForeva) November 8, 2018
Hugely disappointed. Flop of the year! #ThugsOfHindostan will compete with Manojkumar's #'Kranti' & it was much better!! Zero star. pic.twitter.com/a3ac1r6x4F

— rajiv khandekar (@rajivkhandekar) November 8, 2018
Audience reaction while watching #ThugsOfHindostan in theatres😁 #ThugsOfHindustan pic.twitter.com/794Vq8kOKu

— Deep Valesha (@Deepvalesha1) November 8, 2018
OneWordReview..........Biggest flop... #ThugsOfHindostan

— Elegance SARA👌 (@Eleganc66250859) November 8, 2018
#ThugsOfHindostan review : #TOH is a colossal disappointment! Screenplay is illogical, dialogues even more pathetic. Aamir and Big B = GOOD and they try to be the saving grace but they remain as caricatures! VFX and fight sequences are very bad! Big debacle! Ratings - 2/5

— Isha Agrawal (@ishaAgrawal786) November 8, 2018
#ThugsOfHindostan story is totally confusing & irritating. In other word it's torture for 3hour.2 hours length could have saved the film.1st half is somehow tolerable,but 2nd half totally poor.

— Shiva Satyam (@AsliShiva) November 8, 2018
Audience to #ThugsOfHindostan in interval only pic.twitter.com/KdMlPAm7pD

— Mangesh Mehenge (@Mangesh_mv) November 8, 2018
Thugged the Hindustan. #ThugsOfHindostan

— O Zair (@Ozaaer) November 8, 2018
The actual rating of #ThugsOfHindostan is...... 👇👇👇👇👇👇👇👇👇👇 pic.twitter.com/zWXoteshh3

— 🇮🇳Manojit Basak🇮🇳 (@iamManojitbasak) November 8, 2018
After watching #TOH film #AamirKhan fan's#ThugsOfHindostan #ThugsOfHindostanReview #TOHreview pic.twitter.com/fILMkcJMvm

— Mahboob (@iMahboob9) November 8, 2018
From what I hear, #ThugsOfHindostan is Aamir repeating a #Mela... Just that bad VFX takes place of Faisal Khan in this 2018 #Diwali movie! #ThugsOfHindustan #ThugsOfHindostanReview #AamirKhan #AmitabhBachchan

— ajay mittal (@ajay36mittal) November 8, 2018
However, trade analyst Taran Adarsh believes that the film should easily earn around Rs 50 crore on the opening day, considering its stellar cast and screen count.
"The screen count is going to be massive, ticket rates have been enhanced and moreover, it's the coming together of Yash Raj Films, Aamir Khan and Amitabh Bachchan," Adarsh told Bollywood Hungama.
After Dhoom 3, Bang Bang, Baahubali 2 and Padmaavat, Thugs of Hindostan is the fifth Indian film to release on IMAX.
Follow @news18movies for more
Get the best of News18 delivered to your inbox - subscribe to News18 Daybreak. Follow News18.com on Twitter, Instagram, Facebook, Telegram, TikTok and on YouTube, and stay in the know with what's happening in the world around you – in real time.
Read full article