Thugs of Hindostan: Trailer of Aamir Khan, Amitabh Bachchan-Starrer Gets Stormy Reaction
Thugs of Hindostan trailer has left fans a bit disappointed.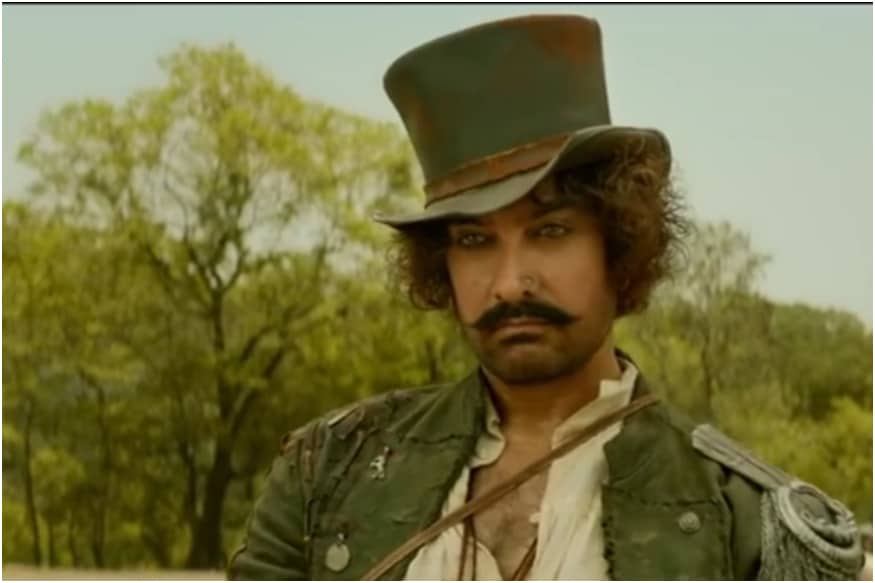 A still from the trailer of Thugs of Hindostan (YouTube).
After teasing fans with film's motion posters, the makers of the Thugs of Hindostan finally treated fans with a full trailer today. In less than three hours, the trailer has already crossed 28 lakh views on YouTube.
As trailer opens with an intense scene taking us back to 1797, when The East India Company, arrived in India with a primary purpose to trade but is now ruling the nation. Amitabh Bachchan as Azaad, is determined to liberate his country. But the task is not that easy, as the British have hired the biggest thug-- Firangi (Aamir Khan), to stop him. Aamir as Firangi holds the maximum attention, while we don't get to see much of Fatima Sana Shaikh and Katrina Kaif.
However, the special effects in the film don't register as realistic as audience expected them to be and it has left fans a bit disappointed.
Take a look:
Sasta jack sparrow = @aamir_khan Full copy paste 😂😂#ThugsOfHindostanTrailer#ThugsOfHindostan pic.twitter.com/oee42jmqyy

— 🔥SRK's FANBOY🔥ᶻᵉʳᵒ ᶜʰʳᶦˢᵗᵐᵃˢ ²⁰¹⁸ (@FANwalagaurav) September 27, 2018
Thugs Of Hindustan - EVM Se Bada Ghotala......Meme Created by : Sunny Rabade A Big Fan of Captain Jack Sparrow ( Johny Depp )#PairatesofCaribbeanDiehardfan #Captainjacksparrow #CaptainBarbosa #ThugsOfHindostanTrailer #Meme #trolls #sunnyrabade pic.twitter.com/TgjgjUH3VV

— Sunny Rabade (@SunnyRabade) September 27, 2018
The ships in #ThugsOfHindostanTrailer look like they were lifted from a Playstation video game. Don't tell me they paid the VFX guy more than they paid their Writer-Director. pic.twitter.com/ISSGuxIiWh

— Gabbbar (@GabbbarSingh) September 27, 2018
#ThugsOfHindostanTrailer Jack sparrow after watching Thugs of hindostan trailer.Zindagi barbaad hogaya hamra. pic.twitter.com/KHoJ5OHElm

— Azher shareef (@azhershareef33) September 27, 2018
Soooo.....DISAPPOINTING!I don't really understand if it's actually the trailer which is so bad or my expectations were way too high since its an AAMIR KHAN film #ThugsOfHindostanTrailer

— Roopal🌸 (@itzme_roopal) September 27, 2018
Pic 1 Audience Waiting for #TOH Trailer.. Pic 2 after Watching #ThugsOfHindostanTrailer ( Viewers Be like ) pic.twitter.com/PqgLlWL3RL

— A l t a f (@iBeingAltaf27) September 27, 2018
Despite the seemingly endless wait for the trailer, the cast of the film has been building the hype for Thugs of Hindostan for a long time now. Earlier in the year, Bachchan had shared that he shot a sequence for the film at monumental Meharangarh Fort in Jodhpur, which was also used for the filming of scenes for Hollywood blockbuster The Dark Knight Rises.
Thugs of Hindostan, helmed by Vijay Krishna Acharya of Dhoom 3 fame, is an adaptation of the 1839 novel Confessions of a Thug. The film will also be dubbed in Tamil and Telugu to reach a wider audience upon its release. It is set to hit the theatres on November 8.
Get the best of News18 delivered to your inbox - subscribe to News18 Daybreak. Follow News18.com on Twitter, Instagram, Facebook, Telegram, TikTok and on YouTube, and stay in the know with what's happening in the world around you – in real time.
Read full article