Trapped Review: Rajkummar Rao Shines in This Tale of Survival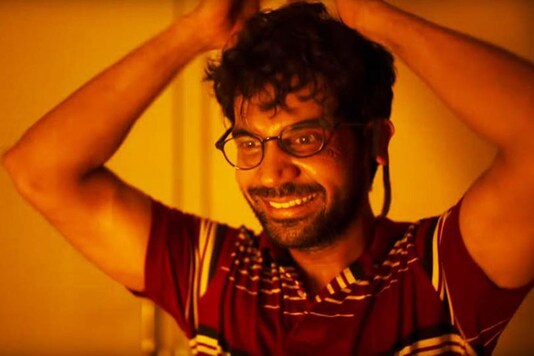 A film with just one character trapped inside a flat is a difficult story to narrate.
Last Updated: March 28, 2017, 15:35 IST
Edited by: Shomini Sen
FOLLOW US ON:
Cast: Rajkummar Rao, Geetanjali Thapa
Director: Vikramaditya Motwane
Time stands still in Vikramaditya Motwane's Trapped. The film hastily establishes a love story right at the beginning. Shaurya (Rajkummar Rao) shyly broaches colleague Noorie (Geetanjali Thapa) for 'friendship'. A few hesitant phone calls later, Noorie and Shaurya go on dates, roam around in Mumbai and fall deeply in love with each other. Noorie is set to get married to someone else, Shaurya tells her to marry him, promises her the world. She points out they don't have money, a home to live in. Yearning to be with her, Shaurya promises to arrange for a house in a day. But it's Mumbai, and finding a house on a day's notice, that too on a limited budget is next to impossible. Shaurya does find a house, but in an uninhabited high rise. Not thinking twice, he takes it- eager to start his life with Noorie.
The next morning, as he hurries to leave his flat to meet Noorie, Shaurya accidentally locks himself inside the flat with the keys stuck outside. Things start falling apart soon after. There is no water in the house, electricity supply fluctuates, no food and Shaurya is completely cut off from the world. The film beautifully depicts that despite being in a bustling city like Mumbai, how individuals live like islands, isolated from each other. Days go by, Shaurya tries every trick in his bag to survive, sometimes even surprises himself by inventing a few new tricks as well but no help comes his way.
Survival tales are usually about man fighting the nature. But in Trapped, the nature serves as a relief to Shaurya. A poignant scene has Shaurya welcoming the rains with giddy joy. He stretches his hand out of the grilled balcony, cups his palms and drinks in whatever mother nature offers. As he finds means to store water, he nervously dances in the realization that end is not yet near.
A film with just one character trapped inside a flat is a difficult story to narrate. There are no dialogues and there is limited space in which the actor is confined. The film, thus, rests on Rajkummar Rao's able shoulders and he does not disappoint. Rao's persona is such that he looks like regular guy, someone you would not look twice at if you bumped into him on the street. Yet, this regular guy emerges the strongest when pushed to the wall. Rao's performance makes you uneasy, helpless about Shaurya, his performance makes you smile when the rains come in, his performance makes you chuckle at his conversation with a rat, his sole companion in the flat.
While the film is performance driven, it also is not devoid of flaws. One can't help but wonder that why doesn't Noorie ever go out and look for her lover? Why doesn't she alarm the police as he goes missing for days? Shaurya's back story is also never narrated. How long has he been staying in Mumbai? And doesn't he have anyone whom he can call his own, who will come looking for him?
Edited crisply, the film narrates the story hastily in the beginning, but it stands still as Shaurya waits for someone to take notice of him, trapped in an empty flat in a bustling city like Mumbai where every corner serves as a shelter to people.
It is a film that does not entertains you. It rather makes you uncomfortable and makes you think 'what if it happened to me' but it's worth a watch for Rajkummar Rao's performance solely.
Ratings: 2.5/5
First Published: March 17, 2017, 18:10 IST
Next Story