Director: Suresh Triveni
Cast: Vidya Balan, Manav Kaul, Neha Dhupia
In
Tumhari Sulu
, Sulochana couldn't pass 12th standard and couldn't even manage a bank job like her twin sisters Aaradhna and Kalpana, but Suresh Triveni's directorial debut passes with flying colors as Sulu soars higher. There's much to love and little to complain about the film that runs like a slice of life narrative and balances the laughs and weeps well.
The story is of Sulochana (Vidya Balan), a happy go lucky housewife who embraces and endures situations with a distinctive laugh (and jokes that are barely funny but end up making you laugh because her laughter is so infectious). Her interests change by the day- she plans to start a taxi business one day and wishes to be a radio jockey the next. Her husband Ashok (Manav Kaul) encourages her whims and feeds her fancies while their teenage son is mostly amused at his parents' antics.
Things take an interesting turn when she wins a radio contest and is asked to collect the prize from the office. On meeting her favorite RJ Albeli Anjali, played by real-life RJ Malishka, Sulu chances upon an RJ vacancy. Thinking it to be a contest wherein she can win a TV (and not a pressure cooker), she meets Maria (Neha Dhupia) who heads the FM station. Impressed by her voice quality, Maria asks Sulu to give her a call. Back home, she begins nurturing her "sexy" and husky voice.
The first half builds both Sulu and her dream, the second shifts focus on the aftermath of it. As Sulu finally gets hold of something she's good at, her personal life begins to dwindle. Her career zenith clashes with Ashok's office troubles and her son's school woes and that's when a comedy switches gears to drama.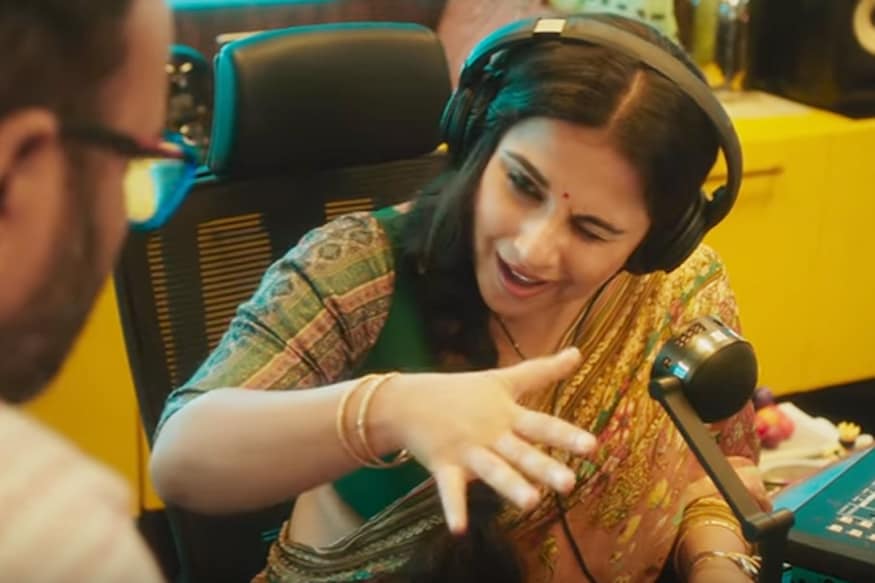 Right in the beginning a scene, wherein Sulu takes time to balance her lemon on a spoon before beginning the race and then sneakily poses for a photograph on the winner's pedestal, says a lot about the person she is. She doesn't have many achievements to boast of but is happy flaunting her little victories- like a colony contest or a lemon-spoon race or several radio contests, even a job interview per se; she is content within the comforting confines of her family. Sulu's little joys are reflective of the little joys in the lives of housewives.
And just like Sulu never loses sight of her family, director Triveni never loses the sharp gaze at her life. Her transformation from a bubbly housewife to a late night spunky RJ with a sexy voice is interesting, to say the least. She has remedies for a broken heart and a song for a lonely soul. Even as she shells peas, Sulu offers listeners (and the viewers) food for thought along with some mimicry and old tracks.
Vidya Balan as Sulu is a delight! She charms her way through with alluring laughter and a voice quality that should've been tapped by Bollywood long back. She lets it flow and you can't help but join in laughing. Throughout the film, Sulu keeps on insisting "
mai kar sakti hai
" and towards the end, you'd truly believe that Vidya can pull off anything and everything. Her presence is enough to illuminate the screen and when she's in frame, it's hard not to palpitate with emotions.
Manav Kaul leaves plenty of room for Vidya to shine. As a supporting partner in the first half and an insecure husband in the second, his act is bang on. Plus, the oven-fresh pairing of the two comes as a welcome move. Meanwhile, Neha Dhupia's boss lady act, Vijay Maurya's revolutionist poet-cum-producer act, and RJ Malishka's RJ act fit the bill just right.
In the year 2017, many films have emerged from the middle-class milieu, but Triveni's take on it is an uplifting sight. Tumhari Sulu is a slice of life film, but for the most part, it's a slice of life comedy with women leading from the front. The film is a feminist tale in a middle-class setting, featuring empowering characters such as a housewife with dreams soaring higher than the sky, a woman cabbie, a lady constable, a boss lady heading a media organization, an encouraging RJ and airhostess neighbors who don't demean others.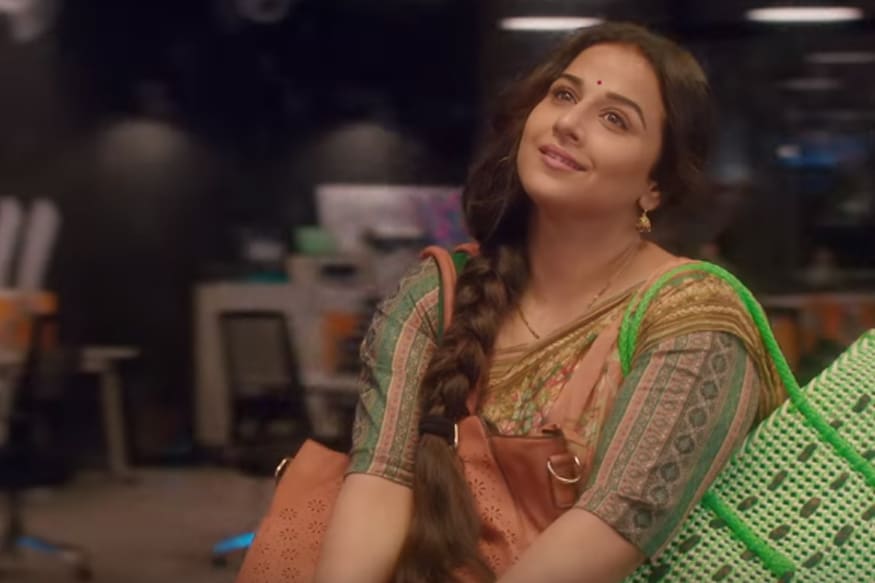 The easiest thing to take away from a woman is her work. And the second easiest perhaps is to blame everything wrong in a family on a woman's profession. And this is another point that Triveni gets right in his simplistic film.
However, for the many things he gets right, he also goes haywire with the overtly dramatic climax and some moments that could have been done away with. While most parts of the film feel real, some scenes - wherein she bags an interview (and a job) instantly or when Maria spends time listening to her list of achievements or when the headmaster asks if the three of them live under the same roof - are far from plausible. But these are just minor patches in a film that in its entirety is well worth your viewing time.
From start to finish, Sulu resembles someone we have all seen in our life. Someone that Vidya brings to screen like no other could have and someone we'll see in a different light now onwards. If
English Vinglish
gave housewives an identity,
Tumhari Sulu
breathes life into their existence.
Rating: 3.5/5
​