GET Stock

Quotes



TVF Founder Arunabh Kumar Accused of Workplace Harassment by Multiple Women
Arunabh Kumar, has been accused by multiple women of sexual harassment after an anonymous post on Medium.com went viral on Monday.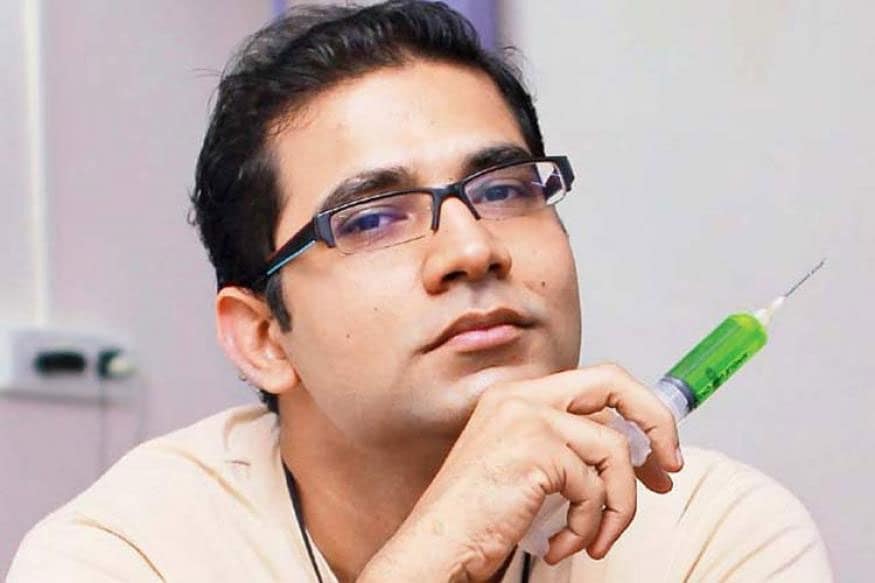 Arunabh Kumar, has been accused by multiple women of sexual harassment after an anonymous post on Medium.com went viral on Monday.
CEO and founder of a popular Youtube channel, The Viral Fever (TVF), Arunabh Kumar, has been accused by multiple women of sexual harassment after an anonymous post on the Medium.com went viral on Monday in which a writer, calling herself 'Indian Fowler', levelled the allegations.
The writer has accused Kumar of sexually harassing her during the time she was an employee of TVF.
The post states that within a moth of her joining, Kumar had tried to engage with her in conversation which had sexual overtones .
"I am abruptly called by Arunabh at 6.45 PM. I am in the local back towards my home. He demands I come back to office. Apparently i have not finished some part of my work. I reluctantly come back. There are 3 people in office. 2 of them leave withing 5 minutes of me coming in. And Arunabh is sitting on a Chair in a casual manner. I walk up to him. He looks at me and asks me — " Chaturbhuj Sthan ka naam suni ho"? I am stunned. For Non Starters, Chaturbhuj Sthan is the Red Light District of Muzaffarpur. I didnt respond. His second question- "Humko Chaturbhuj Sthan Bahut Pasand Hai. Udhar commercial deals hoti hain. Tum Bhi to commercial deal pe aayi ho". I was getting where he was leading the discussion to. I avoided an interaction. I said "Arunabh, aap bade bhai hain. Meri tabiyat thodi theek nahi hai. Kya karna hai bataiye. Hum karke ghar jaayenge" He suddenly holds my hand. Says "Madam, thoda role play karein". I was stunned. None of this was something i had ever asked for. I ran away. Locked myself in the toilet. And cried. He went away. But i was thinking why the hell he is after me? What did i do to make this happen to me. That was the longest night of my life," reads the post.
At another time he had demanded a "quicky (sic)" with her. The post then went on to explain how she tried to raise the issue to her bosses but no one paid attention to it and when she tried to quit her job, TVF stated she was breaching her contract with the company.
Hours after the post went viral on social media, many other women spoke out, either on Twitter or on Facebook, claiming that they too have had similar encounters with Kumar.
A post on Facebook by freelance director Rukmini Sengupta narrated a similar story.
Aligarh writer Apurva Asrani tweeted the blog and stated he too knew someone who had faced a similar problem at TVF.
Sharing this because I know another girl who went through the same ordeal recently. #TVF #ArunabhKumar https://t.co/iAw5WWLu3c

— Apurva Asrani (@Apurvasrani) March 13, 2017
Another former TVF employee claimed that she too 'had to face a similar experience working there. I felt exploited and cheated and I left my job under very bad circumstances... It is indeed no place for a woman. I would never recommend anybody to work there.'
TVF released a statement countering Indian Fowler's post, claiming that the incident was 'fictitious' and that no such person ever worked in their company. The statement read:
This is an official response from TVF on the anonymous article published on Medium by the Indian Fowler. The article is completely ludicrous and defamatory against TVF and its team.
All the allegations made against TVF and its team in the article are categorically false, baseless and unverified. We take a lot of pride in our team and in making TVF a safe workplace that is equally comfortable for women and men.
We will leave no stone unturned to find the author of the article and bring them to severe justice for making such false allegations.
It is our humble request that you do not to share an unsubstantiated, unverified and anonymous article such as this. We would like to thank all our fans and friends for their continued support.
Meanwhile, TVF's core team- that includes writer-director Biswapati Sarkar, casting director Nidhi Bisht and director Amit Golani refuted the blog and defended Arunabh.
It makes for a great fictional story. I'm sure more anonymous 'ex-TVF' employee stories will drop in.

— Biswapati Sarkar (@ChhotaThalaiva) March 13, 2017
I know a lot of people love the sensationalist story behind it. But sadly, it isn't true. But still...

— Biswapati Sarkar (@ChhotaThalaiva) March 13, 2017
Those wondering why the strong worded response. because there is no such person and this all seems very conveniently orchestrated

— Amit Golani (@GolOpinions) March 13, 2017
Utter nonsense and false claims on an 'Anonymous' post. There has been no such person existing from muzaffarpur working at TVF.

— Amit Golani (@GolOpinions) March 13, 2017
The sad part is facts are no longer relevant as long as people get their dose of schadenfreude. People will realise the truth but too late

— Amit Golani (@GolOpinions) March 13, 2017
Nidhi Bisht, who has been part of TVF from the beginning, stated on Twitter, that TVF was one of the safest places for women to work. Bisht is the casting director of TVF and her show 'Bisht Please' will be releasing soon online. She first tweeted that how she could not recall anyone with the description that is given in the blog to have ever worked at TVF. She later issued a statement stating that if any woman had faced any kind exploitation while working at the company should come forward and lodge a formal complaint. Bisht stated that 'TVF has zero tolerance for workplace harassment.'
My side. pic.twitter.com/cS6tfD2dVd

— Nidhi NEETU Bisht (@EkThapaTiger) March 13, 2017
While his team has been tweeting since Monday defending him and the company, Arunabh Kumar has maintained a stoic silence on the issue on social media. In his only interview to Mumbai Mirror, post the controversy broke out, Arunabh said, "I unconditionally and unequivocally deny all these allegations. Social media has already declared me an offender, but I am ready to address all the allegations against me. I am open to receiving a police complaint so that I can respond legally as well. TVF is bigger than me and if there is a remote chance that I have done any wrong, let me be persecuted."
The Viral Fever is known for its popular web series like Pitchers, Permanent Rommates and the recent Trippling have been pioneers of sorts in creating fiction exclusively for web in India.
Also Watch
Read full article