GET Stock

Quotes


'Udta Punjab': Of Power-Packed Performances, Strong Social Message
Divya Pal of News18 Movies is inside the theatre to find out if Anurag's opinion is true.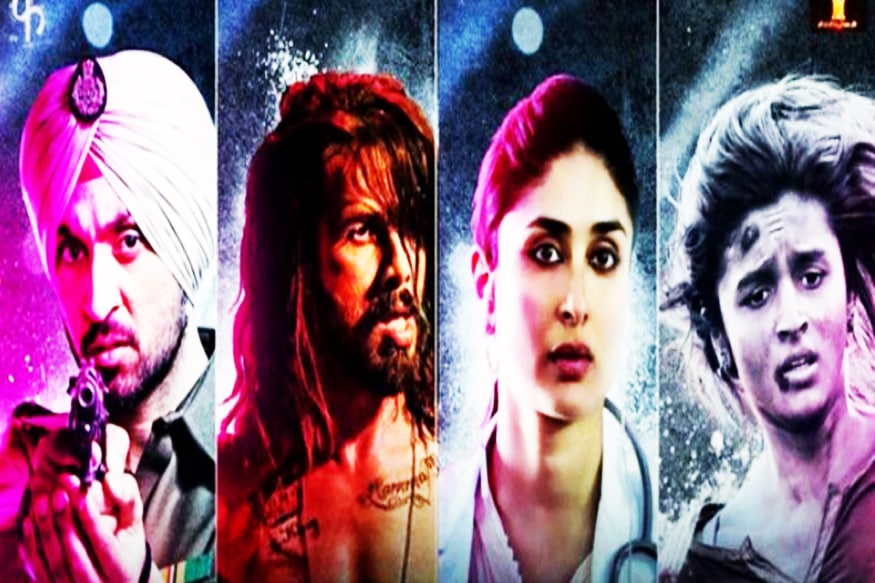 Divya Pal of News18 Movies is inside the theatre to find out if Anurag's opinion is true.
If there is any news that has dominated headlines for over a week now, it ought to be the release of 'Udta Punjab'.
After being embroiled in a controversy with Censor Board over the last few days, the makers of 'Udta Punjab' were allowed by the Bombay High Court to release the film with just one cut and a revised disclaimer. The HC had ordered 'Udta Punjab' makers to delete the scene wherein actor Shahid Kapoor is seen urinating in public.
Just when everybody thought they would get to watch the much-anticipated film, it was leaked online on Wednesday, two days ahead of its scheduled release in theatres.
Directed by Abhishek Chaubey, the film talks about the inebriating impact of drugs in Punjab.
Film's producer Anurag Kashyap had recently said, 'There is no film more honest than Udta Punjab, and any person or party opposing it is actually guilty of promoting drugs.'
Divya Pal of News18 Movies is inside the theatre to find out if Anurag's opinion is true.
8:55 AM Milna Hai Tommy Singh Se? Watch this space for the live tweet review of #UdtaPunjab @shahidkapoor @aliaa08 @diljitdosanjh
8:57 AM Directed by Abhishek Chaubey, #UdtaPunjab talks about the inebriating impact of drugs in Punjab.
8:58 AM #UdtaPunjab features @shahidkapoor, @aliaa08, @diljitdosanjh and Kareena Kapoor in key roles.
9:08 AM The country where drugs are supplied from is stated clearly in the opening sequences. #UdtaPunjab
9:10 AM .@shahidkapoor aka rock star Tommy Singh is here. Right attitude, right impact. #UdtaPunjab
9:12 AM First song #ChittaVe not only introduces all main characters of #UdtaPunjab but gives a quick insight into the core theme.
9:19 AM We are close to 20 minutes into #UdtaPunjab and it is high on violent, abusive language.
9:22 AM Here comes Punjab's real rockstar @diljitdosanjh. He is smart, witty cop. #UdtaPunjab
9:28 AM The impact of Punjabi singers on the youngster is shown convincingly in #UdtaPunjab
9:35 AM #KareenaKapoor speaks in 'thaeth' Punjabi accent. Not bad. #UdtaPunjab
9:38 AM Pehlaan banda ban jaa firr bani VIP: @diljitdosanjh #UdtaPunjab
9:40 AM This one sequence where @shahidkapoor realises impact of his music, how he is setting wrong example sends out a strong message #UdtaPunjab
9:42 AM .@aliaa08 has picked up the nuances of her character really well. #UdtaPunjab
9:49 AM A few sequences are disturbing. Not for the faint hearted. #UdtaPunjab
9:53 AM Only if all cops are as aggressive as @diljitdosanjh in eradicating drug menace, things can get a lot better. #UdtaPunjab
10:19 AM It's interval. #UdtaPunjab comes with a strong, gripping narrative. There is so much to learn, mend and implement.
10:30 AM @aliaa08 is such a powerful actress. She deserves more films like #UdtaPunjab
10:52 AM @aliaa08 and @shahidkapoor's interaction puts forth the most significant part of #UdtaPunjab.
11:07 AM Can understand the plight of singers, when fans ask them to croon songs at any time, place. Thanks to @shahidkapoor in #UdtaPunjab
11:11 AM Song #Ikkkudi is very crucial. We won't give any spoilers. Go, watch #UdtaPunjab to know why :)
11:12 AM #KareenaKapoor in #UdtaPunjab is a lot different from the popular Geet of #JabWeMet.
11:34 AM After #Haider, @shahidkapoor was expected to give a highly engaging performance. And with #UdtaPunjab he manages to do it.
11:36 AM @shahidkapoor has transformed himself both physically and psychologically for his character Tommy Singh #UdtaPunjab
11:37 AM @shahidkapoor shows his frustration, anxiety, lack of confidence and comic timing - yes, all of it as #TommySingh really well #UdtaPunjab
11:39 AM @aliaa08 will surprise you with her acting chops. Should be careful while choosing films after #UdtaPunjab.
11:42 AM Actors Juhar Singh and @satishkaushik2 also do justice to their roles. #UdtaPunjab
11:43 AM Considering #KareenaKapoor's potential, expectations were high. She could have given a lot more to her role. #UdtaPunjab
11:44 AM @diljitdosanjh, who makes Bwood debut with #UdtaPunjab, hasn't gone wrong even once. That's why he gets maximum screen space. #UdtaPunjab
11:46 AM Director Abhishek Chaubey needs to be lauded for making a film like #UdtaPunjab that can bring the much-needed change. Drugs kill you!
11:49 AM #UdtaPunjab comes with a gripping narrative that intertwines lives of 4 people and show how drug addiction is fatal.
11:51 AM Dialogues are laced with expletives. Songs add meaning to sequences they are used in. #UdtaPunjab
11:52 AM With power-packed performances and a strong message that needs to be sent out to everybody, #UdtaPunjab is a MUST WATCH.
11:57 AM Thanks for being with us throughout the tweet review of #UdtaPunjab
Also Watch
Read full article