Veerappan's Wife Says He Was Not a Monster; No Takers for His Film in Native Village
Veerappan's wife Muthulakshmi spoke exclusively to News18.com on why she doesn't want to watch a film based on her husband's life.
New Delhi: "I have no interest in movies on my husband. Many others also made money by killing elephants and smuggling sandalwood. But, only my husband was killed. Those who helped him are still roaming freely", said Muthulakshmi speaking to News18.com over telephone from Gopichettypalyam in Tamil Nadu.
Veerappan's wife Muthulakshi still lives in his native place. She divides her time between Gopinatham in Karnataka, Gopichettypalyam and one more village in neighbouring Tamil Nadu. She is now in her mid 40s and had spent a few years with Veerappan in the forest in the late 1980s and early1990s. Muthulakshmi has also been arrested by the police in the past. Numerous complaints lodged by her against the alleged police atrocities are still being heard by various courts. Muthulakshmi says her husband is being portrayed as a monster in all the movies made on him and she has no interest in watching any of them.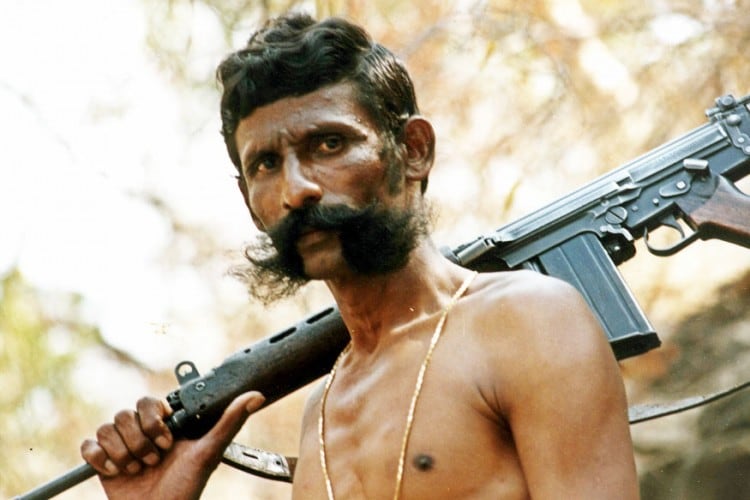 eerappan is seen in an undated file photo at an undisclosed location in the southern India.Image source: Reuters.
Filmmaker Ram Gopal Varma's latest Hindi movie 'Veerappan' was released on last Friday. It has received mixed reactions from the moviegoers. A few months before this, Kannada superstar Shivraj Kumar's movie 'Killing Veerappan' directed by same Ram Gopal Varma was released across Karnataka. The same movie was dubbed into Telugu. 'Killing Veerappan' has earned good money in the box office and Shivarajkumar's acting also got a lot of praise.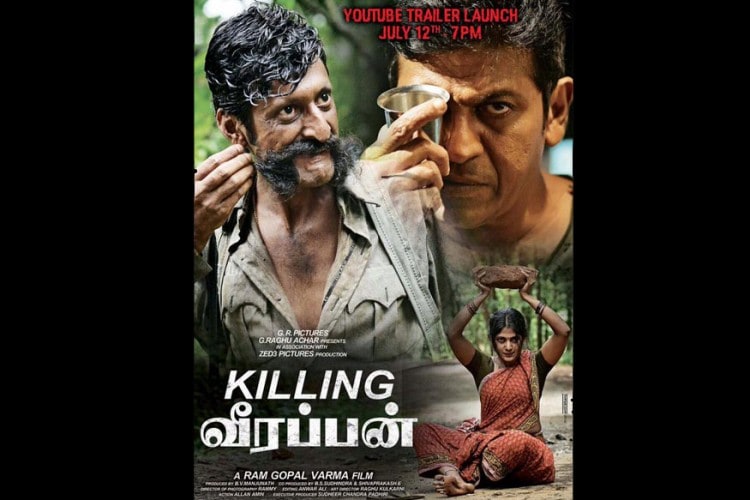 Poster of 'Killing Veerappan'.
For Shivarajkumar, there was a strong personal reason to make this movie on Veerappan's blood soaked life. His father and Kannada cinema legend Rajkumar had spent 108 days in Veerappan's captivity in the mid 2000. He was finally released after a lot of negotiations by the Karnataka government.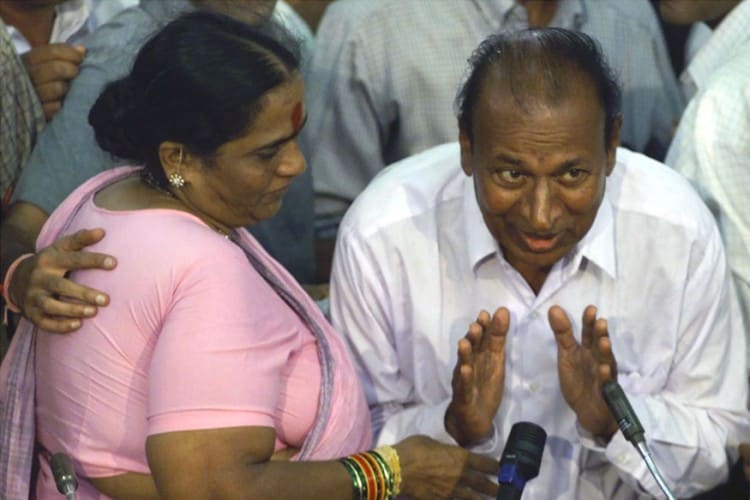 Rajkumar and his wife Parvathamma during a news conference on his arrival in Bangalore November 16, 2000. Rajkumar was kidnapped by Veerappan and released after spending 108 days in captivity.Image: Reuters
She had filed a case against filmmaker AMR Ramesh for showing her husband in poor light in his Tamil film, 'Vana Yudham'. Later she reportedly received a compensation of Rs 25 lakhs before the cinema was released. She had also opposed its Kannada version 'Attahaasa'.
Veerappan and Muthulakshmi's two daughters are now in their 20s. Their elder daughter Vidya Rani (now 26 years old) dropped out of college and married a man of her choice. Since she married a Christian boy, Muthulakshmi is still upset. In 2011, the matter came up before the Madras High Court. Her husband Mariya Deepak had approached the court alleging that Muthulakshmi was opposed to their inter-religious marriage and she had kept Vidya Rani under illegal custody. Later she was produced before the Madras High Court and she was reunited with her husband.
India's most wanted bandit, Veerappan, was killed in October 2004 in a shootout with police who had for years been hunting the smuggler.Image: Reuters
The younger daughter Prabha (now 23 years old) has done MA in English literature and lives with her mother. Muthulakshmi refuses to share their contact details saying that media coverage never helped them. Muthulakshmi has formed a self help group, Malaival Makkal Urimai Iyakkam, to support the poor villagers across Karnataka and Tamil Nadu border, once known as Veerappan territory. She owns a small piece of land inherited from Veerappan at Gopinatham. She cultivates it on her own.
In 2006, she unsuccessfully contested in the Tamil Nadu Assembly elections as an independent candidate from Pennagaram in Dharmapuri district.
Her fellow villagers are also disinterested in discussing Veerappan and the movies on him. "We don't know anything about a new movie on Veerappan. There have been many in the past. We are struggling to eke out a living. There was less rain last year. Life is very tough. For us, Veerappan is a dead story. We have no interest in Veerappan or Veerappan movies" said Madesha, a middle aged poor farmer from Gopinatham. He was also speaking to News18 over telephone from the once most notorious village.
The slain forest brigand Veerappan's co-villagers are not enthusiastic about the movies being made on him. Many people who once interacted with him still live in and around Gopinatham. But, most of them don't want to talk about him. Madaiah, a villager in his 70s said "Veerappan's real name was Veeraiah. He was an ordinary, poor man like us. There was nothing special about him. He became a forest brigand because the local forest department officials encouraged him to get into smuggling. He earned money for them. Once he became rich and powerful, the same people turned against him. He then fled to deeper into the forests to escape from them. I knew him extremely well. I have nothing to say about him. When he was alive, police used to harass me seeking information about him. Now, nobody is bothered about us. I have no interest in watching movies on Veerappan".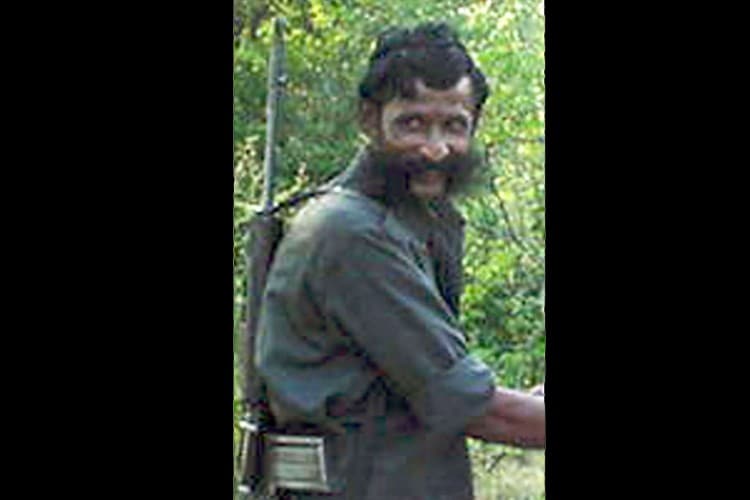 Image source: Reuters
Simon, who claims that he is an activist said that they are fed up with the people who are interested only in juicy stories about Veerappan and not in the plight of his people. For them realities of life are much harsher and movies on one of their own makes no sense.
Mysore based advocate Venugopal, who once represented Veerappan in the courts dismisses the film as a fiction. He said "everything about Veerappan is well known. There is nothing new about him. Filmmakers should call them fiction. What they show on screen is far from the truth. They glorify a lot."
Read full article