Venice Film Festival: Ritesh Batra's Our Souls At Night has Jane Fond and Robert Redford at their Sparkling Best
Batra always gets his casting right, and one hopes that he will continue to keep this ace up his sleeve for all time to come.
The one trick which Ritesh Batra has learned, and learned very well, is casting. I know however good a director may be, he has to say his story only through his actors, and if they are dumb, the movie is as good as gone even before the first shot is canned. Of course, one also needs a good plot and a great script, and here again without good writing a story whatever be its plus points may well totter on the screen.
But Batra always gets his casting right, and one hopes that he will continue to keep this ace up his sleeve for all time to come. His debut feature, The Lunchbox, that premiered at the Cannes Critics' Week (which runs along with the main Festival) in 2013 had actors as wonderful as Irrfan Khan, Nawazuddin Siddiqui, and Nimrat Kaur, and it narrated a sweet love story which happened through letters tucked inside a lunchbox which Kaur's bored wife sends to Saajan Fernandes (Khan).
Now, Batra has made yet another sweet romantic story, Our Souls At Night, with two of the biggest actors the world has ever known, Robert Redford and Jane Fonda. It could not have been a more exhilarating cocktail with the American streaming giant, Netflix, producing the movie and premiering it at the ongoing 74th edition of the Venice Film Festival on September 1.
Batra, who seems to be drawn to English-language fiction (with his second feature, The Sense of an Ending, based on the British writer, Julian Patrick Barnes, who won the Man Booker Prize in 2011), finds his latest inspiration from American novelist Kent Haruf's work, Our Souls at Night.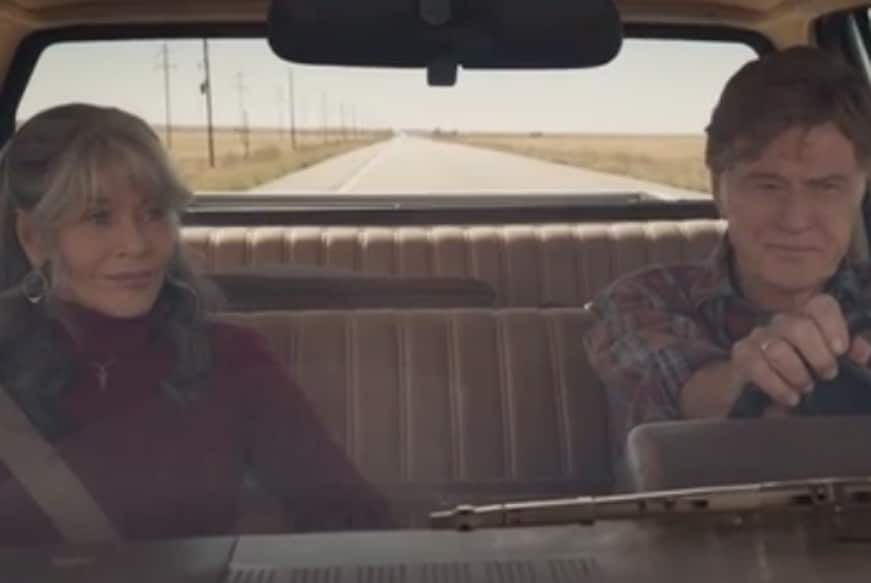 Image: Netflix/ A still from Our Souls At Night trailer
Batra has spun his story around loneliness (a theme we also saw in The Lunchbox - with Irrfan Khan's Fernandes pining for love). The movie opens in one of the most unpretentious ways. We see Robert Redford as Louis Waters, an elderly widower, having a quiet dinner (so different from the garishly loud manner in which Indian heroes make their entries) when an aging widow, Addie Moore, knocks on his door. They have lived as neighbours in a small Colorado town for 70 years but had barely spoken to each other.
Addie comes with a proposal. She would like him to share her bed – not really for sex, but for a conversational company. He agrees after contemplating for a day. And so begins a love story without much ado or elaborate preamble (no chasing around trees, no stalking as we have seen in Indian cinema).
Not surprisingly, the movie had to do away with some of the haunting details of the book, maybe to accommodate two of the greatest stars America has known. But then the film gains, and gains enormously, from the strengths of these two actors, and the brilliant chemistry they evoke on the screen – as fresh and as passionate as the one they created very early on in their lives – The Chase in 1966 and the legendary Barefoot in the Park (1967). Redford and Fonda have never come together in all these 50 years, and I must give credit to Batra for thinking up of pairing the two.
At a Press conference soon after the screening, it seemed so much like Jane was in love with Robert, and she said several times during those 40 minutes how much she had been fond of Redford. "It is such a pity that Batra cut out the sex scene in Our Souls At Night", she lamented laughing. "When I made the last movie with Robert, the Sundance Institute (which Redford had helped set up) was just beginning, and now what he created has really changed American cinema in the most profound ways. I wanted to be able to spend time with him and see what he has become."
To this, Redford quipped that he wanted to do one last film with Jane before he died.
She also added: "Plus, I wanted to be able to fall in love with him again. In Barefoot in the Park I couldn't keep my hands off of him. I was constantly forcing myself on him. In Our Souls at Night, the dynamic of my character to his character was somewhat similar. I just love the fact that these films bookend our careers. We played that young love just getting married and now we play old people love and old people sex. Although, n my opinion, Ritesh cut the sex scene too soon...He doesn't like sex scenes," Fonda then said, pointing at Redford. "I live for sex scenes! He's a great kisser. It was fun to kiss him in my 20s and then to kiss him again in my almost 80s." She said of Redford's character in Our Souls at Night, "Louis has been a fantasy of mine for a long, long, long time."
And it is this off-screen attraction that Jane and Robert, both circling 80, recreate in the movie, the sex appeal, and the romantic mysticism still intact. Both are really charming and convincing as Addie and Louis, and are directed with a great lot of finesse by Batra – who steers clear of unnecessary sentimentality and high-strung emotional sequences. He seems good at this, and one remembers his recent handling of Jim Broadbent and Charlotte Rampling (remember her in Francois Ozon's Swimming Pool where she is seen as a writer?) in a BBC adaptation of the Julian Barnes novel The Sense of an Ending.
But like most romances, Our Souls at Night also gets into a storm – when Addie's (Gene (Matthias Schoenaerts) son arrives and wants his mother to take care of her grandson, Jamie. And they live in another town, and Addie is torn between her own family and her relationship with Louis. It is a very difficult choice she has to make.
The day ended for Fonda and Redford with Golden Lion Lifetime Achievement Awards that the Festival bestowed on them at a gala ceremony.
(Gautaman Bhaskaran is an author, commentator, and movie critic who has covered the Venice Film Festival for 18 years.)
| Edited by: Kriti Tulsiani
Read full article