Wait, Has Ajay Devgn Misconstrued an Old Spat Between KRK and Karan Johar?
Interestingly, there is a back story to the spat between Ajay Devgn and Karan Johar.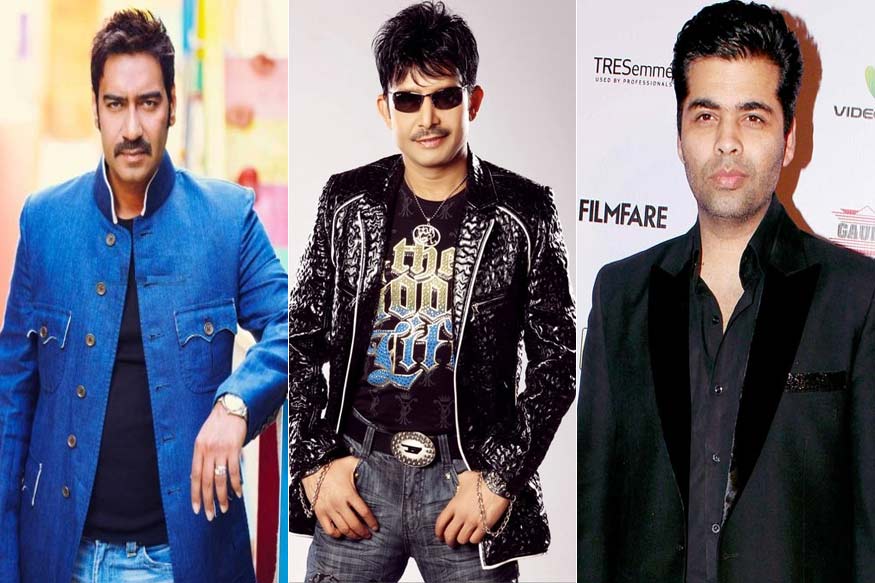 Interestingly, there is a back story to the spat between Ajay Devgn and Karan Johar.
Box Office clashes are not new in Bollywood. Makers, year after year, cash in on extended weekends and important festivals, and release their films to gain maximum viewership and money. Often, filmmakers jostle for space at the Box Office, on festivals like Diwali and release two big budget films-a phenomena that we all are very familiar with. While media likes to play up such situations as the 'Big Clash'- people concerned to the two films, usually maintain a dignified silence. Cold war may simmer underneath all the polite, diplomatic statements like-'Both films can do well'- but most often it doesn't get ugly.
This Diwali, the big clash is going to be between Karan Johar's Ae Dil Hai Mushkil and Ajay Devgn's Shivaay. Both big budget films, but very different genres. While Johar's film is a love story, Devgn directs an action-adventure. Both films have different sort of audience and hence can flourish equally during the festival season. But that's in an ideal world. Reality is absolutely different.
On Thursday, Devgn's statement accusing Karan Johar of paying Rs 25 Lakh to Twitter sensation, failed actor and pseudo critic Kamaal R Khan for criticizing Shivaay came as a shock to most. Devgn released an audio clip which had Shivaay's co-producer Kumar Mangat in conversation with Kamaal R Khan. The audio clip has Mangat asking Khan why he is unnecessarily maligning Devgn's film to which Khan replies Johar has paid him Rs 25 lakhs to promote his film on Twitter.
Khan, of course, has now denied the news on Twitter and instead tried turning tables and accused Devgn and Mangat of offering him money to malign Johar's film. In a series of tweets, Khan has stated that he hasn't been paid money by Johar and would willingly publicize Devgn's film for free.
Interestingly, there is a back story to this.
During the time Bombay Velvet was being promoted, which featured Karan Johar as an antagonist and was Anurag Kashyap directorial venture- Khan, in his typical style- had openly made fun of the film.
When his tweets wielded no result, Khan had produced screen shots of messages that were allegedly sent to him by Karan Johar threatening him to not criticize his performance in Bombay Velvet. One of the messages stated that Johar proposed a deal where Khan would be paid Rs 25 Lakhs to give Bombay Velvet a good rating in his weekly review- which is immensely popular among his followers on Twitter.
Oh! So now Karan Johar sir is offering me 25lakh Rs for good review of #BombayVelvet pic.twitter.com/aZgImC6Pq5

— KRK (@kamaalrkhan) April 25, 2015
While Johar maintained a stoic silence over these allegations back then, Khan took the opportunity to assure his followers that he was one 'critic' who was not a sold out.
Cut to present, Devgn's official statement reads, "It therefore pains me to see that people like Kamaal R Khan are holding the film industry to ransom by spreading negativity about films to extort money from producers. It is very sad that people from our own industry are supporting such elements and spoiling the ethos of the film industry. I would strongly demand that this be thoroughly investigated by competent authorities to clarify if Karan Johar was indeed involved in this."
Whether Johar has actually bribed Khan to support his film remains to be seen, but as of now it appears that Devgn might just be firing a shot at the filmmaker using Khan as a shield. Devgn has played the victim once before as well, during the box office clash of Son Of Sardar and Jab Tak Hai Jaan in 2012. Back then the actor had filed a legal case against Yash Raj Films for using its dominant position in the industry and bullying exhibitors and 'reserving' screens months in advance to get more screens across the country. The case was later dismissed.
There is of course no way of knowing whether Khan is speaking the truth as of now. Whether Devgn's allegation are actually true, only time will tell. But the whole fiasco has highlighted the vulnerability of the film industry where opinions of a B-grade-has-been is taken this seriously and leads to public mudslinging. And while Devgn gets set for a much public battle with Karan Johar- and we take sides- one Kamaal R Khan, a nobody earns maximum footage, without really doing anything substantial.
Get the best of News18 delivered to your inbox - subscribe to News18 Daybreak. Follow News18.com on Twitter, Instagram, Facebook, Telegram, TikTok and on YouTube, and stay in the know with what's happening in the world around you – in real time.
| Edited by: Shomini Sen
Read full article