Where is Captain Marvel in Avengers: Endgame Trailer? Twitter Answers
Avengers 4, titled Avengers: Endgame trailer was released on Friday, now fans are wondering where is Captain Marvel.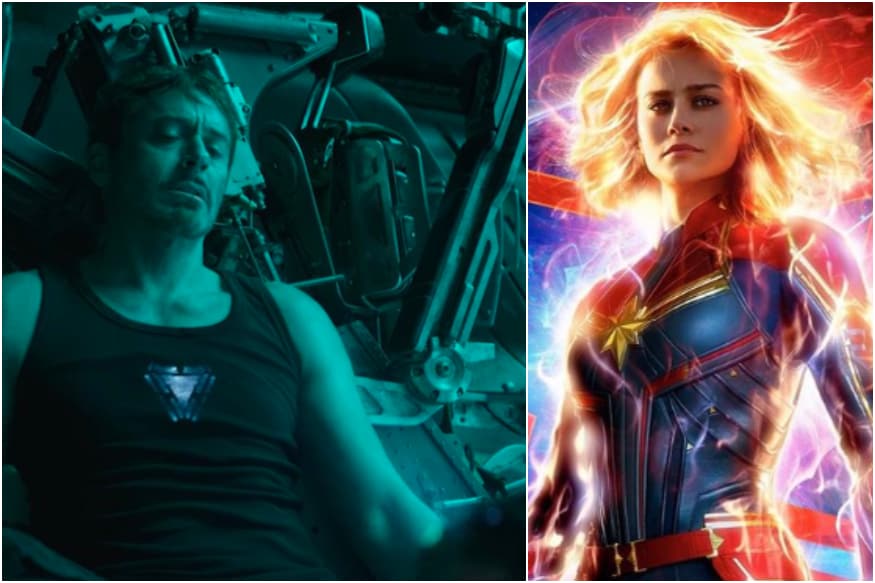 Image courtesy: A screen-grab from Avengers: Endgame trailer (Youtube) and official poster of Captain Marvel.
The much anticipated trailer of Avenger 4 titled Avengers: Endgame is here and it has popped up a number of questions. While fans saw some of their favourite superheroes like Iron Man, Captain America, Black Widow, Thor, Hulk, Hawkeye and Ant-Man, they missed Captain Marvel.
At the end of the Infinity War, during the post credit scene, Marvel teased their fans with a major Captain Marvel plot. It came as a surprise when Nick Fury contacts the superhero seconds before he disintegrated into dust.
But to our dismay, we don't get to see Captain Marvel in the recently released trailer of Avengers: Endgame. As soon as the trailer was up, fans were anxious to know ' Where is Captain Marvel'. Before Russo Brothers or any other cast member could answer this, Twitter was up with savage answers. Check here:
So no Captain Marvel in the trailer 😢😢😢😢😭😭😢😢😠😠😡😡#AvengersEndgame #Avengers4trailer #Avengers4 pic.twitter.com/Yt3ecknxpn

— berojgar (@adam_styris) December 7, 2018
Captain Marvel when she finds Tony in space #AvengersEndgame pic.twitter.com/gaxQWaq9HT

— jen (@whtvrjen) December 7, 2018
"i intercepted your distress calls. my name is captain marvel, i'm here to rescue you." pic.twitter.com/FhmdUGqOUW

— ✵ dar-ell ✵ (@caroldnvers) December 7, 2018
Captain Marvel when she sees Tony stuck in space pic.twitter.com/PHcvNqV7l0

— Puneet Singh (@puneetsingh) December 7, 2018
So Captain Marvel is going to save Tony to start the movie? How does Ant Man get out of the Quantum Realm?! Where's the rest of the Avengers who were alive ?! pic.twitter.com/h05E25tNjX

— Pluto (@PlutoJO) December 7, 2018
the avengers to captain marvel: pic.twitter.com/mvrpp61h6V

— tony stank (@tonystankstan) December 5, 2018
The two-minute long trailer of Avengers: Endgame is everything a fan wanted to see. The trailer introduces us to Tony Stark drifting away in space, recording a message should Pepper Potts find it. This is a grim opening sequence which shows you everything at the face value.
For those who have been here since the beginning. For those who have joined along the way.For the best fans in the Universe.This trailer is for you...With much love and gratitude for your patience, The RB's pic.twitter.com/8hZF9FPFAZ

— Russo Brothers (@Russo_Brothers) December 7, 2018
Meanwhile, Marvel fans can see Brie Larson as Captain Marvel in the recently released trailer. In the second trailer, we learn that Carol Danvers is found nearly dead, with no memory of her previous life. Among the Kree, she becomes a heroic warrior. But after her crash landing, Danvers wants to know all about her unexplained past on the Earth.
Everything begins with a hero. Watch the brand-new trailer for Marvel Studios' #CaptainMarvel. In theaters March 8, 2019. pic.twitter.com/o1zqgcg90t

— Marvel Studios (@MarvelStudios) December 4, 2018
Captain Marvel releases on March 8 while Avengers: Endgame is slated to hit the screens in April 2019.
Get the best of News18 delivered to your inbox - subscribe to News18 Daybreak. Follow News18.com on Twitter, Instagram, Facebook, Telegram, TikTok and on YouTube, and stay in the know with what's happening in the world around you – in real time.
| Edited by: Vaishali Jain
Read full article