There's no denial on this. If there's any actress who enjoys a huge fan following across the world, despite not doing films that regularly- it is Aishwarya Rai Bachchan. She may have taken a break from films and done only three films post motherhood, but anything about the former beauty queen always makes headlines.
Which is why when Karan Johar announced his new directorial venture
Ae Dil Hai Mushkil
in 2015 featuring Aishwarya Rai Bachchan, Ranbir Kapoor and Anushka Sharma in the lead- everyone waited with baited breath to see their favourite star on screen again. Aishwarya and Ranbir's unusual pairing surely generated a lot of curiosity much before the film's trailer was even released. Since the film was being directed by Karan Johar himself, expectations were much high because no one presents stars as glamorously as Johar does in his films. The ambiance, the sets, the costumes are all grand in Johar's films and actors tend to look their best in all his films.
A story of unrequited love,
Ae Dil Hai Mushkil
spoke about Ayan's (Ranbir Kapoor) one sided love for Alizeh (Anushka Sharma). It was about Ayan's love for Alizeh and Alizeh platonic love for him. And how he found solace in the arms of the older, gorgeous, sensuous poetess Saba - played by Aishwarya Rai Bachchan.
Saba was a key character in
Ae Dil Hai Mushkil
and to the story of Ayan and Alizeh - a character who came into Ayan's life at a juncture when he needed a shoulder to cry on. With her beauty and charm, and her words- she attracted Ayan. And Aishwarya played the role to absolute perfection. She came only in the second half of the film and had screen time of barely 15 minutes - but in that limited time Ash proved she has evolved as an actor over the years. In a role that could also be called an extended cameo, Ash stole the limelight from everyone. Having lost oodles of post pregnancy weight, Ash looked million bucks and exuded charm and grace that very few actresses possess in today's time. She even made some extremely unrealistic, strange Urdu verses sound magical - even though a lot of it did not make sense to the audience. Saba was like a soothing antidote to the crazy, bizarre, immature antics of Ayan and Alizeh in the film.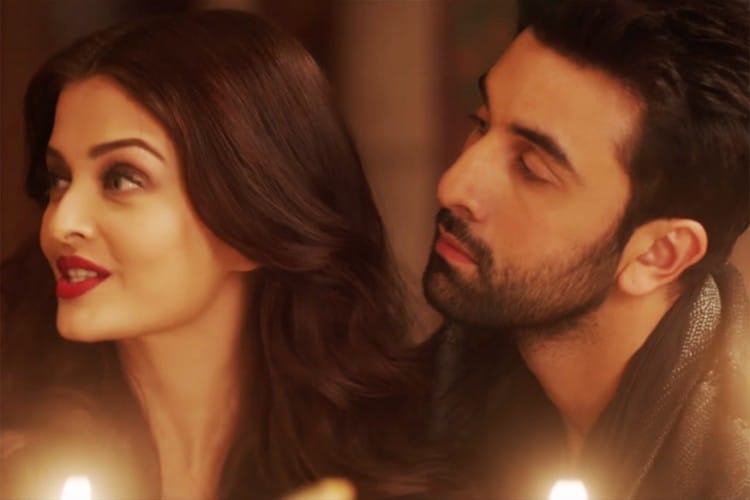 A still from Ae Dil hai Mushkil
Which is why one feels that Aishwarya's Saba should have had more screen time in the film - a film that talked about one sided love. A lot could have been done to explain Saba's love for Ayan because even though she set out to have an affair with him without any kind of commitment- she did fall in love with him. That one scene where Ayan, Saba and Alizeh meet and have dinner together is a poignant one. Where Saba looks much in love with Ayan and yet understands that he hasn't moved on from his heartbreak. Had Johar dwelled further into Saba's character- whose verses Ayan uses to become a YouTube sensation- Aishwarya would have perhaps got more scope to perform and make Saba a far more memorable character.
I will be honest- when the film's trailer came out- it appeared that it was a story of Ayan's unrequited love for Saba and his friendship with Alizeh. Perhaps credit should be given to promo editors who cleverly misled a lot of people into believing that the film's plot was such. The trailers promised a sizzling chemistry between Ash and Ranbir – but somehow it did not come across the same way in the film. Because Saba and Ayan's story was given too little time to develop.
Aishwarya has in the past proved that given a good role and solid story she can perform. Her performance in films like
Hum Dil De Chuke Sanam
,
Chokher Bali
,
Raincoat, Guru
and
Provoked
are still well etched in one's memory. All these characters were vastly different from each other and backed by a solid script, Aishwarya outshined others in all these roles. In the past year, she appeared in
Jazbaa
and
Sarabjit
- both films which gave her ample scope to perform but she was let down by poor screenplay. So expectations from Johar's film was high as he always manages to create memorable characters.
Johar could have used any actress for the role of Saba considering the character's relevance to the story. He did not need a global star like Aishwarya for it. Because a star of her caliber deserved a bigger, better, more well etched out role that what was given to her. But the director also capitalized on her beauty and made her look breathtaking. The actress in her had very little to do in the film.
At a time when Indian actresses are making heads turn in international cinema, perhaps it is time for Aishwarya to once again explore options in Hollywood. This time she would be able to pick roles that would suit her persona and do justice to the star that she is.