Why Bollywood Can Never Make a Film Like Christopher Nolan's Dunkirk
The history of war films run deep in Hindi film industry, from Chetan Anand's Haqeeqat to JP Dutta's Border and even Farhan Akhtar's Lakshya .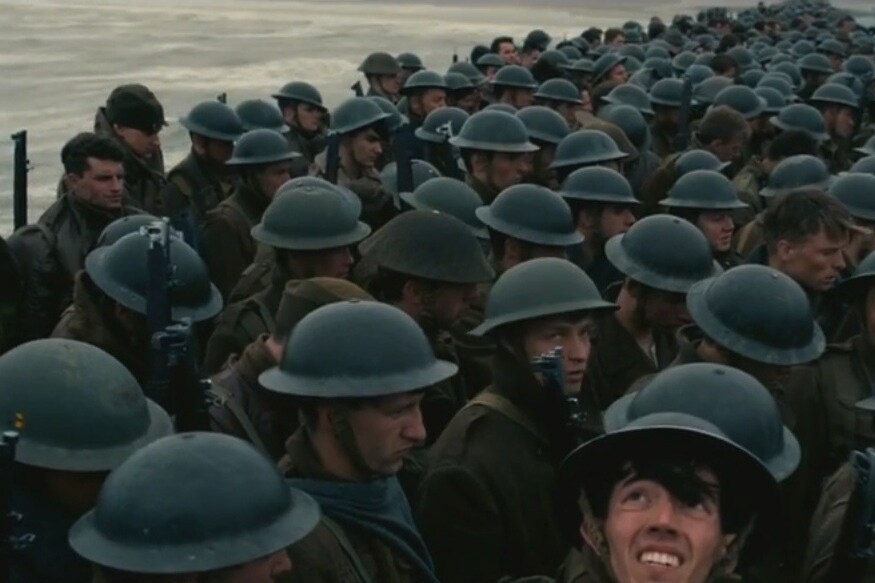 Image: Youtube/ A still from the film.
It's easy to convert bravery into an idol of greater pedestal but the real art lies in finding the flaws and still hold it in novelty. Christopher Nolan's Dunkirk beautifully presents the flawed, human aspect of one such novelty - soldiers. The film captures the essence of fear, homesickness, docility and selfishness of English soldiers, who have stuck in an enemy captured area, desperate to go home which was just a few miles away, but still too far. The entire stretch saw timely bombardments by the German soldiers, making their rescue chances bleaker with every passing hour. How those 3 lakhs soldiers survive and reach home is the crux of the film filled with high emotions of bravery, brotherhood, animosity, fear and a selfishness to survive.
Nolan is known for his complex filmmaking be it Memento or Inception or even The Dark Knight series. The face of neo-noir, Nolan's roots lie in the dark aspect of cinema and the art of deception. However, Dunkirk is probably the brightest of his films and warmest too. The man, who actually justified the goth-ness of a superhero, jumps to the human side in Dunkirk. The war film, although extremely honest in projecting the dark workings of the mind, portrayed the symbols of patriotism as humanely as possible, and this is what Bollywood has never been able to achieve.
The history of war films runs deep in Hindi film industry, from Chetan Anand's Haqeeqat to JP Dutta's Border and even Farhan Akhtar's Lakshya. Movies mirror how society thinks and rightly so, wars and soldiers have always been served as nothing more than propaganda to the public - the capeless superheroes, wearing the badge of bravery; the invincible souls who blow up to pieces yet destroy 70 men with a single round of fire. Soldiers have always been portrayed as an idea, rather than flesh and blood and this deception not only mocks the intelligence of the audience but also demeans the very clan that filmmakers hold up in high regards (at least in their films.)
Probably Chetan Anand's Haqeeqat and Farhan's Lakshya were the only ones which portrayed the nearly human aspect of a soldier. While Haqeeqat, based on 1962 Indo-Sino War showed the dilemma of a soldier whose life turns upside down because of the war, in Lakshya, Farhan tried to encapsulate the pre-defense life of a hero – full of flaws. Still, both films succumbed to the age old propaganda of nationalism where heroes don uniforms and somehow country comes first and not human survival instincts.
One can argue on the fact that the stories are based on the real-life account of soldiers who actually put in – country first formula - ahead of their own lives, but it's time to face the truth that soldiers are human too and are as flawed as you and me. They're just people who choose the job of protecting a piece of land governed by much more than patriotism. They are undoubtedly loyal to their government but that doesn't give us a right to use them as a tool of nationalist propaganda. But alas! The industry is no Britain and no filmmaker here is Nolan enough to bring to life the real emotion a man in uniform actually feels, while he's trapped in an enemy zone. Think of it like, will a real soldier, fearing for his life, sound like Sunny Deol shouting "Dhoodh Maangoge toh kheer denge, Kashmir mangoge toh cheer denge"? Will the millions of civilians away from border pay money to watch a fearful man keeping a watch over firing in an insurgent area? The answer is a definite no.
Dunkirk doesn't demean the job of a soldier. In fact, there is as much humanity in it as in the real world. There is a brotherhood in it as it exists in a battalion, but everything there is believable and real. Indian soldiers are as brave as soldiers in any other nation's army and thus deserve a representation of their innermost fears alongside their bravery. They are not mascots of agenda-based nationalism but a courageous lot who are duty bound by way of their choice to serve the country they were born in and love.
Only if filmmakers could realise that soldiers don't want a pedestal to be shown off at but a relatable story discussing their humane aspect of dangerous life, where they too, sometimes fumble and fall, only to fight again and again and again… Is it too much 'lowly' to be a dream for them? Maybe.
Get the best of News18 delivered to your inbox - subscribe to News18 Daybreak. Follow News18.com on Twitter, Instagram, Facebook, TikTok and on YouTube, and stay in the know with what's happening in the world around you – in real time.
Subscribe to Moneycontrol Pro and gain access to curated markets data, trading recommendations, equity analysis, investment ideas, insights from market gurus and much more. Get Moneycontrol PRO for 1 year at price of 3 months. Use code FREEDOM.
| Edited by: ---
Read full article