Why do we keep coming back to Gandhi as the ultimate freedom movement film?
Is Richard Attenborough's Gandhi the best available film on India's freedom movement?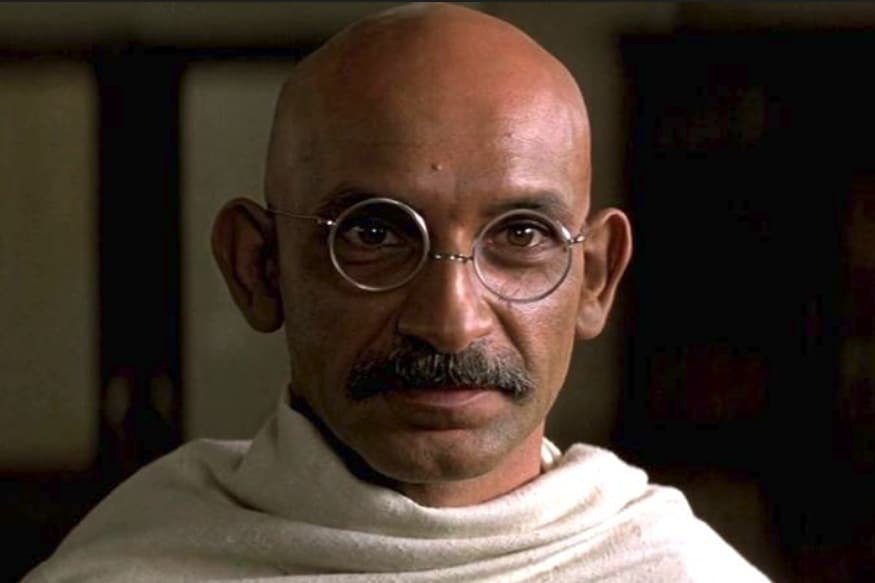 A still from Gandhi.
There is a reason Doordarshan, the national broadcaster, shows Richard Attenborough's Gandhi every Independence Day. There is hardly any other film that chronicles the journey of the Indian freedom movement in a similar way.
Bapu is synonymous with our fight against the British oppressors. That way, it was smart to base a film on him and tracking his evolution from an ordinary lawyer to one of the tallest leaders in the world. Somehow, Indian filmmakers couldn't find another thread. There are a couple of biopics but none of them shows the spectacular fight we put up against a mighty force.
MS Sathyu, whose iconic Garam Hava (1973), has now become a subject of film schools throughout the world, says it's about our attitude. He says, "It's a question of attitude. In other parts of the world, poets, writers, filmmakers, they immediately react to what's happening around them, we don't. They don't want to hurt the sentiments, I ask why not? That's the purpose of it. We don't want to be aggressive, we don't want to condemn anybody."
He adds, "Europe suffered many wars. They made many anti-war films. Americans made films glorifying the war. Unfortunately, we failed to document our freedom struggle and sufferings in the same way. Even, one of the worst famines of Bengal in 1943 hasn't been shown."
There isn't any film even remotely closer to Shyam Benegal's Bharat Ek Khoj, the 53-episode TV show. What stopped established filmmakers from covering the event in its entirety? It's not that there were absolutely no film on the theme of freedom struggle, but somehow they never came out of the shadow of films like Gandhi.
Sathyu says, "Shantaram made a film like Padosi on harmony between communities in the '40s. Then there was New Theatre's Hum Ek Hain. Another film called 1942 was there. They are significant but nobody talks about them. This happened in films of other languages as well."
Thankfully, something similar didn't happen to the historic event of partition. Sathyu says, "I made Garam Hava 25 years after the independence, that too by accident. It wasn't a deliberate attempt. Because my other subject was rejected by the film finance board, so we narrated this script and it was immediately accepted. 10 years later, Govind Nihalani made Tamas."
He elaborates, "We saw the partition, twice, in Bengal and in Punjab, but nobody really made a film on this. In Bengal, there were some attempts including some by Ritwik Ghatak. In Punjab, which suffered the most, almost all the filmmakers who migrated to Bombay didn't touch the subject."
So, what's so special about Gandhi that we keep coming back to it? "It's well-researched for sure," says a laughing Sathyu.
That mustn't be the only reason. Probably Gandhi never had a proper challenge from any Indian film.
Get the best of News18 delivered to your inbox - subscribe to News18 Daybreak. Follow News18.com on Twitter, Instagram, Facebook, Telegram, TikTok and on YouTube, and stay in the know with what's happening in the world around you – in real time.
Read full article