Bollywood Films in 2017 Had a Heart and a Conscience
As 2017 comes to an end, we take a look at some of the experimental gems that made their way to the hearts and minds of the regular Indian audience.
2017 will be perhaps remembered as the year that changed the Indian cinematic narrative in more ways than one. Filmmakers ditched the set formulae and formulated landscapes of their own, the lines between commercial cinema and art house blurred, heartland stories immigrated to mainstream Bollywood, and Khans, Kapoors and Co. seemingly missed a step around Rajkummar Rao, Pankaj Tripathi and other actors who became stars in their own right.
The most striking aspect of the year going by, however, is that 2017 wasn't led by typical commercial potboilers but by films that had a strong heart and an even stronger conscience. The works might not have left the cash registers ringing at the box office, but the sheer experiment of in making films like that managed to impress the critics and viewers alike.
As 2017 comes to an end, we take a look at some of the experimental gems that made their way to the hearts and minds of the regular Indian audience.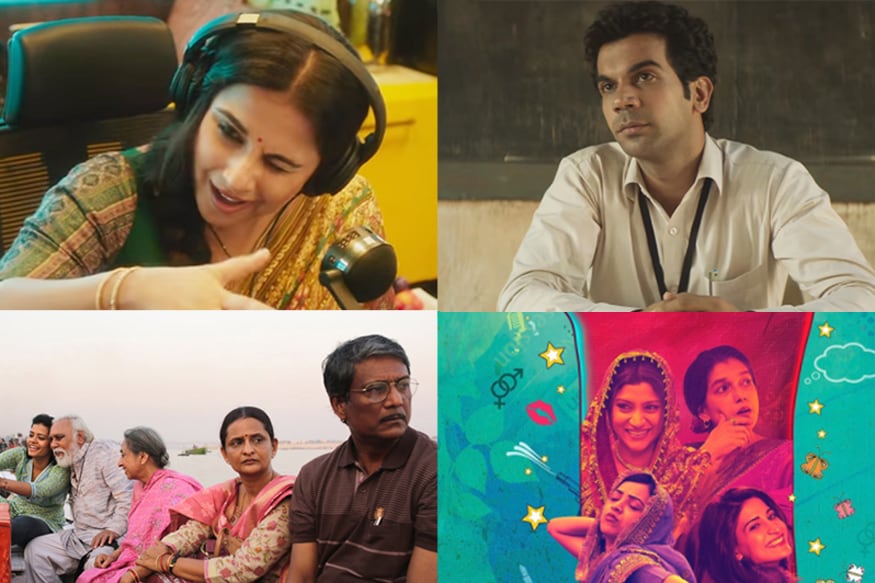 Image: Youtube/ Stills from Tumhari Sulu, Newton, Mukti Bhawan, Lipstick Under My Burkha
Mukti Bhawan
Who would have thought a film dealing with a subject like death will make the viewers smile? But Shubhashish Bhutiani's tragicomedy ended up being a rare film that dealt as somberly with the idea of death and salvation as it did with the dynamics of human relationships, along with a fresh take on the bond of a father and son. The story is of a 77-year-old Daya (Lalit Behl) who wishes to breathe his last and attain salvation in the holy city of Benares. Rajiv (Adil Hussain), his son, is duty-bound to accompany him and the story then unfolds in the form of conversation bringing to celluloid the ironies of life and mortality.
A Death In The Gunj
Konkona Sen Sharma decided to make her directorial debut with an unsettling piece of cinema set in the gloomy winters of 1979 in a colonial town of McCluskiegunj. With an ensemble cast including Vikrant Massey, Kalki Koechlin, Tilotama Shome, Ranvir Shorey, Gulshan Devaiah and Om Puri, the film ably dealt with a plethora of subjects including complex family dynamics, a doyenne's bullying, a soul craving for attention, a mind dealing with grief, the idea of masculinity among others. The film evoked a myriad of emotions but with the minute detailing and the use of cinematographic metaphors, the makers still left a certain room for viewers to revisit their deepest uncertainties.
Lipstick Under My Burkha
Directed by Alankrita Shrivastava, Lipstick Under My Burkha is a modern-day feminist fable that unfolds in the conservative town of Bhopal. After running in deep waters with the censor board over being too "women-oriented", the film featuring Ratna Shah Pathak, Konkona Sensharma, Plabita Borthakur and Aahana Kumra, released, and with it a conversation over women's sexual desires came to the table. Based on the disparate lives of four characters in differing age groups and phases, Shrivastava brought alive the unwavering and unattended 'lipstick waale sapne' of the middle-class womanhood existing in a small town.
Jagga Jasoos
In Anurag Basu's whimsical directorial Jagga Jasoos, Ranbir Kapoor's teenage character, Jagga, stammers and to pursue a communication free of stutters, his foster father, Tooti Footi (Saswata Chatterjee), suggests that he sing. The story was a simple tale of a young man's search of his missing father but the emotions and the style of musical storytelling made Basu's vision a tasteful watch besides being one of its kind in Bollywood. Even though many critics slammed the film left, right and center, Jagga Jasoos had its heart (and cinematographic elements) in just the right place.
Kadvi Hawa
Like Nila Madhab Panda's previous works, Kadvi Hawa also delves deep into existing social and environmental issues and brought the human cost of dramatic climate change to the fore. The film was as much about the crisis-ridden life of farmers as it was about the impact of climate change in peripheral areas, with perhaps an emphasis on the latter. The film revolves around an unusual bond that's developed between a blind old man, Hedu (Sanjay Mishra) and a loan recovery agent Gunu (Ranvir Shorey) in a Bundelkhand village where it hasn't rained adequately for more than a decade. At a time when many cities in the country continue to battle high levels of pollution, Kadvi Hawa continues to be as relevant than ever.
Tumhari Sulu
If English Vinglish gave housewives an identity, Tumhari Sulu breathes life in them. The beauty of Suresh Triveni's slice-of-life directorial is perhaps the fact that from beginning till the end, Sulu is that someone who most of us have met at some point of our life. She's that jolly enthusiastic housewife whose dreams and desires soar higher in a society that holds its pretensions so highly. The story is of Sulochana (Vidya Balan), a happy go lucky housewife who embraces and endures situations with a distinctive laugh. Her interests change by the day but her husband Ashok (Manav Kaul) encourages her whims and feeds her fancies. Things take an interesting turn when she decides to become a night RJ. The relatable depiction of housewives and the insecurities existing in middle-class nuclear households was one of the many spot-on elements of the film.
Newton
The backdrop of Indias '2017 film nomination for the Oscars might be election voting, but Amit V Masurkar's film doesn't confine itself to it. The film pans through various other elements of the current political and social scenario of the country – dowry, child marriage, and corruption among other things and raises important questions without sounding preachy or being too melodramatic. The film revolves around the self-righteous Nutan -- self-styled as Newton -- Kumar (Rajkummar Rao) who is sent to the conflict-riddled jungles of Chhattisgarh to conduct a free and fair voting process. Pankaj Tripathi plays Aatma Singh, the lieutenant commandant of the military forces stationed in the jungle and despite differences in the approaches, both Newton and Aatma depict two ends of the same machinery and hold a mirror to the times we live in.
Bareilly ki Barfi!
Of many films that originated from the heartlands of India, Ashwiny Iyer Tiwari's Bareilly Ki Barfi perhaps got most things right-the dialect, tone, authenticity, marriage stereotypes, mother's concerns and a young woman's yearning for a more progressive society among others. Featuring Kriti Sanon, Ayushmann Khurrana, Rajkummar Rao, Pankaj Tripathi and Seema Pahwa in key roles, the film was in sync with its title keeping the flavour of Bareilly intact. The story is of Bitti, a small town modern woman, who wishes to be accepted as she is. Having found acceptance in the pages of a book titled Bareilly Ki Barfi, Bitti sets out to meet Pritam Vidrohi (Rajkummar), the author of the book with help from Chirag Dubey (Ayushmann), who incidentally is the actual author.
Tu Hai Mera Sunday
Milind Dhaimade low-budget film Tu Hai Mera Sunday might have had it tough in attaining the appropriate number of screens and show times across cities but the film sure found its way to becoming one of the nicest films of the year. Featuring an ensemble cast including Barun Sobti, Vishal Malhotra, Avinash Tiwary, Jay Upadhyay, Nakul Bhalla, Shiv Subramanium, Rasika Duggal, Shahana Goswami, Maanvi Gagroo and Pallavi Batra and despite revolving around events of an everyday life, Tu Hai Mera Sunday is not a routine film. The filmmaking aspect is amusing in a way that the simplest message seems the toughest to convey- and that's what the film gets right. It sends out a beautiful message without being preachy, bossy or pretentious in its tone. The storyline is as basic as a tale of 5 (read 6) men who struggle to find a space to play football.
Secret Superstar
Advait Chandan's debut film Secret Superstar is a story of a 10th class student Insiya Malik played ably by Zaira Wasim, who dreams of becoming a successful singer in Bollywood. Her ever-smiling mother Najma Malik (Meher Vij) is the kind who'll make plenty of sacrifices for her children, but won't beat a drum over it. On the surface, Chandan's directorial might just seem to be a tale of dreams and passion, but the film shines a spotlight on domestic violence, an issue that's often brushed under the carpet and simultaneously shows how it takes a woman to be a woman's pillar of strength through the riveting mother-daughter bond. Plus, much of the beauty also lies in the fact that the film doesn't reduce all its male protagonists to abusers and hence features many superstars in the aptly titled film.
Get the best of News18 delivered to your inbox - subscribe to News18 Daybreak. Follow News18.com on Twitter, Instagram, Facebook, Telegram, TikTok and on YouTube, and stay in the know with what's happening in the world around you – in real time.
Read full article