Zaira Wasim, who shot to fame after playing the young Geeta Phogat in Aamir Khan's production
Dangal
, has opened up about suffering from depression and feeling anxious during the difficult period of her life. In a lengthy post on Instagram, the 17-year-old actor revealed her battle with anxiety, which left her contemplating suicide.
The National award-winning actor said she has always been "embarrassed and scared" to admit it not only because of the stigma that goes around with the word depression, but most importantly because of always being told that she was "too young to be depressed".
Zaira Wasim explained further in the post that it affected her life in ways big and small and that she had many thoughts that she could not control.
"Popping five anti-depressants everyday, anxiety attacks, being rushed to the hospital in the middle of the night, feeling empty, restless, anxious and hallucinations...from overeating to starving myself, unexplained fatigue, body ache, self loathing, nervous breakdowns, suicidal thoughts, were all parts of this phase," wrote Wasim.
Zaira Wasim recounts her first panic attack was at the age of 12.
"Now all I remember is losing count of the number of panic attacks, losing count of the number of medicines I've had and I'm still having..."
Wasim said she could never accept the fact that she had been suffering from a disorder called depression, which "affects almost 350 million people worldwide; without asking for their permission to ruin their mental and emotional state or asking them their age".
Now she has embraced it and understood it, and decided to share about the struggle "without being ashamed, embarrassed and having the fear of being judged for it".
Zaira Wasim said perhaps a "complete break from everything, my social life, my work, school and especially social media", might help her.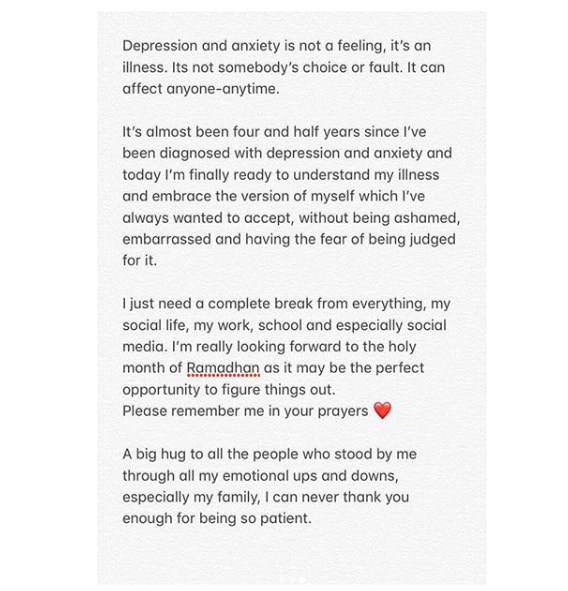 (courtesy: @
Zairawasim
)