NH7 Weekender 2013 is a tribute to its long-time fans: Vijay Nair
There are only 9,000 tickets up for sale. Wouldn't it disappoint other fans who won't be able to get the tickets?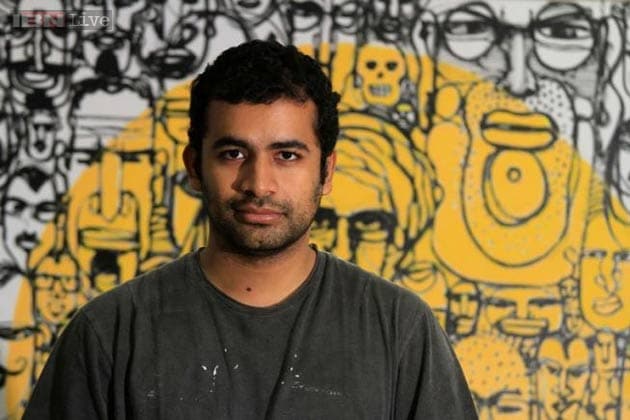 There are only 9,000 tickets up for sale. Wouldn't it disappoint other fans who won't be able to get the tickets?
New Delhi: What began as a little artiste management and booking agency in 2002 with a handful of people working out of an apartment in Mumbai's suburbs, Vijay Nair's 'Out Much Loud' has now emerged as India's live music and entertainment conglomerate.
Most definitely, there has been no looking back for Vijay ever since he dropped out of Mumbai's Sydenham College of Commerce and Economics in 2001, solely to pursue his love for music. Back then, he was 18 years old. Ideally, he should have been enjoying his transition into college, bunking classes, going for parties and feeling disillusioned about which career path to take but this young man had plans of his own. He opted for the road less taken, he opted to not choose the best career but to make the best career out of his passion for music, and rightly so .
After over a decade, Vijay Nair has to his credit a full-fledged business with additional wings now - a TV production house, an online music and alternative culture magazine and a music festivals division. That's not all. OML produces what is celebrated as one of India's most exciting live music events - Bacardi NH7 Weekender.
The festival that has already travelled to Bangalore and Pune this year is set to make a landfall in Delhi three days from now. As Delhiites rave about the festival, IBNLive spoke to Vijay Nair about what's going to be special about NH7 weekender Delhi 2013, its new artistes lineup, music, success mantra, what makes it different from other music festivals and much more. Read on:
Last year, NH7 weekender saw almost 45,000 fans attending the music festival in total. This year, there are only 9,000 tickets up for sale. Wouldn't it disappoint other fans who won't be able to get the tickets?
We wanted to scale down this year to focus on providing the best experience to festival go-ers before we scale up in the future. A lot of people buy tickets for the festival as soon as they are announced, and that's great, so if you buy tickets a little in advance, there's no way you'll be disappointed.
You haven't cut back on your arrangements, you haven't increased the price of your tickets but you have limited the sale of tickets, wouldn't this decision also affect the revenues. Keeping in view the above factors, what lead to the decision of 'smaller is better' this year?
Our reason for doing this is that we really want to focus on the fan's experience, and get that right, before we scale up. Bacardi NH7 Weekender for us has always been about providing the best possible experience and for music fans in India to get a real, true, festival experience.
This year, we printed T-shirts for the first 200 people who bought tickets, with their number and we gave those away to them. It's the little things that make people keep coming back to the festival, and we'd like to be able to give people a really happy, memorable experience. It's a tribute to our long-time fans.
How many people attended Bangalore and Pune events. Were you happy with the crowd turnout?
Absolutely. 9000 people came for NH7 in Pune and 6000 turned up in Bangalore this year.
Are all the 9,000 tickets for Delhi sold out?
Tickets for the festival are still available from www.nh7.in/weekend and www.bookmyshow.com
How is weekender 2013 going to be different from 2012?
We've always focused a lot on the art and decor at the festival, and we will continue to do that. But there are always new additions every year. We have official Bacardi NH7 Weekender merchandise this year. There's a lot of Bacardi bean bags which you'll see floating around at the festival. There's free wifi at the MTS Discover Lounge which festival goers seem to love. We also have a shuttle service through Grallo to make it easier for people in the heart of the city to travel to the festival, as well as tie-ups with hotels through Soundtrot for people coming from out of town.
Apart from the music performance, what more should people look for/expect at the event. Are there any surprises waiting?
There's lots of different kinds of food as well as other stalls where people can buy T-shirts, accessories and a lot more at the festival.
What was kept in mind while deciding the lineup of artistes and the arrangements for NH7 Weekender fans this year. How is it different from last year?
We think that people now expect us to introduce them to music that they might not have heard before. For the same reason, we have six stages at the festival to ensure that each stage gives out a different vibe to the fans.
There are two stages for electronic music; one is for live electronica - Eristoff Wolves Den, while the other consists of reggae and dub acts - Breezer Dub Station. The Dewarist stage is for Indian, folk and world music; the Bacardi Arena is multi-genre - it's the main stage and hosts the headliners; the MTS Other Stage consists of singer-songwriters and young bands; and the new stage this year is the Red Bull Tour Bus, which consists of indie and upcoming bands.
Also, is introducing fresh faces like Nischay Parekh a conscious choice to keep the event dynamic and attractive for the fans?
There's always going to be new music and newer bands like Nischay Parekh and Prateek Kuhad, solely because people expect to discover new music at the festival. Over the years, acts like The Maganiyar Seduction, The Staves and Seun Kuti have been festival discoveries for a lot of our fans. That's what we are here for and we definitely want to keep that going.
Does inclusion of Indian artistes help in lifting the event in case the international artistes fail to appeal to the tastes of the audience?
Bacardi NH7 Weekender will always have a mix of Indian and international artists to offer variety to our fans. Our main finale this year is Karsh Kale + NH7 All Stars, which is predominantly a finale with all Indian acts.
With another music festival - Sunburn that was also organised in Buddh international circuit, Noida earlier this year, are you trying to keep your event different from them in any way?
Bacardi NH7 Weekender is about the vibe, the music, and for us, it's about giving festival goers the best possible experience. After the first year, people started calling it the 'happiest' music festival, and that tag has stuck with it over the years. We've never tried to be different from other festivals.
Get the best of News18 delivered to your inbox - subscribe to News18 Daybreak. Follow News18.com on Twitter, Instagram, Facebook, Telegram, TikTok and on YouTube, and stay in the know with what's happening in the world around you – in real time.
Read full article