Remembering Salil Chowdhury: Why he is the most versatile Indian musician
Salilda was born on November 19, 1922 in a village called Gajipur in West Bengal.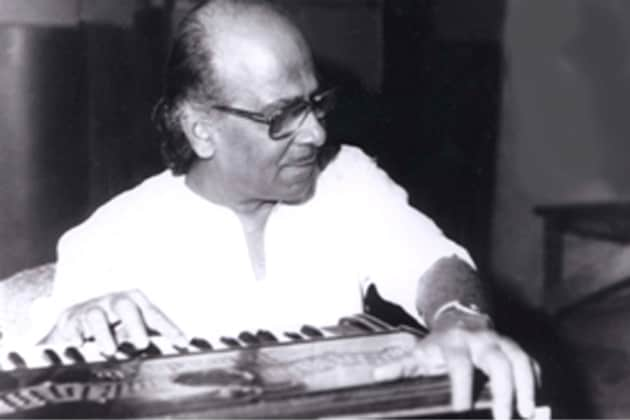 Salilda was born on November 19, 1922 in a village called Gajipur in West Bengal.
New Delhi: Salil Chowdhury, affectionately known as 'Salilda' to millions of his admirers was one of the greatest musical talents India ever had, a man of many talents. He was not only an outstanding lyricist and composer, an accomplished and gifted arranger, poet, writer and a playwright but above all an intellectual.
A master multi-instrumentalist, he played excellent flute, Esraj, violin and piano, with a deep and well-studied understanding of several other instruments as is evident from their creative use in his music. Salilda was born on November 19, 1922 in a village called Gajipur in south 24-parganas in West Bengal and died on September 5, 1995 in Kolkata.
He spent a few years of his childhood in the Assam tea gardens where his father was a doctor. He grew up listening to his father's large collection of western classical music and the folk songs of Assam and Bengal. This influenced him considerably and shaped his musical thinking. During his university years his political ideas were fast maturing along with his musical ideas. Living through the Second World War, the Bengal famine and the hopeless political situation of the '40s, he became acutely aware of his social responsibilities. This is when he joined IPTA (Indian Peoples Theater Association) and became a member of the communist party. IPTA, which went on to become one of the most dynamic performing art movements in India in the 1940s and 1950s.
IPTA had a rather modest beginning in 1942 before it became the chosen platform for the young and radical artists, actors, musicians and dancers of the period. The artists were not necessarily members of the Communist Party of India but they had left sympathies and asserted a kind of radical idealism that raised progressive political activism to a creative pitch. During this period Salil wrote numerous songs and with IPTA comrades took his songs to the masses. They travelled through the villages and the cities and his songs became the voice of the masses. These songs made people aware of the rampant social injustice and oppression which affected them. He called these songs the 'Songs of consciousness and awakening'.
Between 1945 and 1951 Salil Chowdhury composed some of his most important political songs. They were important both in their political impact and in their textual, tonal and structural novelty which proclaimed this young composer's uniqueness. The lyrics were clear, unequivocally direct and consistent in their themes. Moreover, Salil's lyrics manifested a significant poetic skill. Seldom before had a Bengali lyricist addressed the burning issues of his times in songs written with such an acute sense of immediacy, powerful imagery, and such a wealth of vocabulary.
But all these powerful lyrics would have been a waste, had it not been for the structures of the songs. Salil Chowdhury's song structures and his unique mode of phrasing words, melodies and rhythm patterns probably constitute the key to understanding his uniqueness. These are the most significant characteristics that set him apart as a composer from most of his contemporaries.
The most interesting feature of Salil Chowdhury's compositions in the '40s and early '50s is that he refused to follow any definite pattern or to be confined in any category which others could call typically Salil'. Every composition he made revealed a new face of the composer. He reintroduced rhythm variation in the body of a single song and departed from the accepted norms of modern Bengali song structure by writing complex phrases of a single movement which unfolded itself sometimes over several lines of the lyrics. In Salil's compositions, musical information in terms of application of notes, their combinations and movements, acquired a totally new dimension. The way in which he phrased and scanned his melody lines along with the inner movements of the rhythms he chose, vigorously syncopated them and relentlessly explored the possibilities of tonal expressions, permanently changed the face of modern Bengali song. Constant experiments with song structures have always been Salil's preoccupation - a characteristic that sets him conspicuously apart from almost all other Indian composers.
In the '50s Salil started composing modern Bengali songs which were so radically different in their style, lyrics and melody that Bengalees were startled. Till then the traditional role of a composer was just to compose a song with simple instrumental accompaniment or, at best, a kind of instrumental respite. The lyricist was someone else. Concept of an arranger and orchestration was not there. Salil was the first composer to arrive as the 'total composer'. He wrote the lyrics, composed the song and arranged the music. Salil rapidly established himself as the most talented lyricist/composer after Tagore. All through the '50s and '60s he composed numerous Bengali songs each one a superb composition. Lyrically and musically they still remain unparalleled.
One unique feature of Salil's compositions was the orchestration. Salil introduced a totally different style of orchestration with his songs which for the first time brought in 'voicing' of musical instruments, obbligato, counterpoints and harmony as the background and not just following the songs melody. It introduced a richness never before experienced by the listeners.
One of the salient features of Salil Chowdhury's orchestration has always been his own way of using rhythms, percussion, and percussive instruments. He clearly defines the rhythms and the rhythmic thrusts of his songs with instruments, sometimes a whole group of instruments, more suited to the purpose than just a Tabla which had been, for a long time, the standard rhythm instrument used in the production of modern Bengali songs.
His innovative application of percussion other than the obligatory Tabla in the early '50s was not only a welcome relief but a pioneering work as well. Moreover, he sharpened and enhanced the edge of the rhythm by using the piano which, in many of his early recordings, played rhythmic chords, accentuating the accompaniment.
After the initial success with a few Bengali films Salil's big break came with the film 'Rickshawallah', a film for which Salil wrote the story and composed the music. Bimal Roy was so impressed with the story that he invited Salil to Bombay to write the script of 'Do Bigha Zameen', the Hindi adaptation of 'Rickshawallah'. As it happened, Salil ended up composing the music of 'Do Bigha Zameen' as well. Following the international acclaim of 'Do Bigha Zameen' Salil was firmly established in Bombay. In the next few years Salil composed some wonderful and evergreen songs for films like 'Biraj Bahu', 'Naukri', 'Parivar', 'Taangewaali','Awaaz', 'Jagte Raho', 'Musafir', 'Chhaya', 'Anand' etc. His music was so completely different and his orchestration so unique that soon he earned the title 'composer's composer. In 1958 Salil received the Filmfare award for his monumental work in Bimal Roy's 'Madhumati'. Even after 60 years the songs of 'Madhumati' and its soundtrack surprise and delight us.
By shifting his place of work from Calcutta to Bombay in the '50s, Salil Chowdhury also moved out of phase of direct political statement in song. It would, however, be wrong to assume that his lyrics took leave of left-wing politics or social concerns. Moreover, despite the preponderance of political lyrics, Salil had also written songs in which politics was not the principal motivation. And it was this type of lyricism that tended to prevail in his work from the '60s. Along with the changing dimensions of his lyrics, there came newer dimensions of his music.
His exposure to wider horizons and varied experiences in the large film world of Bombay and later south India brought fresh challenges which he met by expanding and sharpening his compositional capacities. This was the period in which Salil Chowdhury's modes of composition and orchestration became more influenced by Western classical music on the one hand, and Hindustani 'ragas' on the other. It is interesting to note the growth of a young composer who came from rural Bengal with a flute in his hand, leaning heavily on folk music in the beginning. That young man travelled a long way to become almost a classicist, using wide and deep strings and horns with movements strongly resembling those of a classical Western orchestra and, at the same time, composing nostalgic tunes in Bageshri and Kalavati as well. Salil Chowdhury's treatment of and compositions in several 'ragas' are as remarkable and as uniquely his own as his experiments with Western classical music.
But, as observed before, Salil methodically refused to follow any convenient line of action. He refused to be satisfied with any definite mode of musical expression. His occasional flirtations with Mozart or Bach, his experiments with the relative minor and major scales, with harmonized choral singing, modern chord progression, his adaptations of the melodies of 'Soviet land so dear to every toiler' or even 'Happy birthday to you', which he reworked into quite a serious Bengali song, his encounters with west Indian rhythms or his sudden composition in Hamsadhwani in Ektal - nothing in particular can define him.
Salil's entry into Malayalam Films started with the film 'Chemmeen' directed by Ramu Kariat. Based on the touching novel of the same name by the renowned Malayalee writer Thakazhy Shivshankar Pillai, Chemmeen became a landmark in Malayalam Cinema. It also received the Presidents Gold Medal in 1965. The wonderful songs of Chemmeen along with the composer Salil Chowdhury became widely known in Kerala. Salil formed a formidable team with the Malayalee lyricist Vayalar and the poet ONV Kurup and composed music for over 25 Malayalam Films. In Kerala Salil Chowdhury has become a household name and is highly revered.
Since the mid '40s, in a career spanning over 50 years, Salil had composed over 400 Bengali basic songs for most of which he was the lyricist. He also composed songs for over 70 Hindi Films, around 45 Bengali films, around 26 Malayalam Films and several Tamil, Telugu, Kannada, Gujarati, Marathi, Assameese and Oriya Films. He has also composed some memorable background music for a number of films, documentaries and a number of TV-Serials and TV-Films. Some of his songs became immensely popular in various parts of India in their regional language and often with totally different orchestral arrangement. Salil brought Indians closer by sharing the love for his songs in their own language. No other composer in India has even come close to achieving this.
Salil was arguably the most versatile musician in the world of Indian cinema. To the music connoisseur he was better known as the non-conformist music composer whose unceasing search for perfection towered above everything else in his life. His meticulous attention to details, a scrupulous ear for musical content and insatiable desire for improvisation - it all remained with him till his last days. He was in fact a composer's composer, because unlike his market-driven counterpart, he never really set prose to music. To him the melody was sacrosanct and had to precede the words. The situation could then be adapted.
While his musical message reached almost all parts of the country as the multifaceted composer set even Telugu lyrics to music, the rest of India was denied access to his poetic abilities.
Salil's music was a unique blend of the east and the west. He had once said "I want to create a style which shall transcend borders - a genre which is emphatic and polished, but never predictable". He dabbled in a lot of things and it was his ambition to achieve greatness in everything he did. But at times, his confusion was fairly evident - "I do not know what to opt for: poetry, story writing, orchestration or composing for films. I just try to be creative with what fits the moment and my temperament" he once told a journalist.
In 1993, towards the end of his long career, Salil had commented in an interview "When I started my music career I imagined the whole world of music as a very tall tower for me to climb and now after all these years I see that the tower has remained as tall as before."
Many years ago Salilda wrote in one of his well-known Bengalee songs "Thunder and death will know my abode and I will leave my address with the storm".
Salilda's songs will always be with us and Salilda will always remain with us. It's just that he has moved to a slightly distant address.
About the author: Gautam Choudhury
As far as I can remember, I have always been an admirer of Salil Chowdhury's music. I remember back in my university days in India I would organize groups and we would all sing Salil's compositions such as 'O aalor patha jaatri' in harmony. But much before that, I mean during my early teens I was absolutely amazed with the compositions such as 'Jaa re ja re uDe jaare paakhi' or ' Naa jeo naa' by Lata or 'Moner janaala dhore' by Hemanta Mukherjee.
That was when I started playing harmonica and guitar. Salil's songs were in one hand a great challenge to play but they were also our great inspiration and musically very educational. In those heady days nearly everybody, at least most of my musical friends talked and argued about the complex chord progressions and the complicated harmony in Salil's songs.
We would wait like hungry children for any new Salil song to arrive in the shops and would just devour it. I am not ashamed to admit that my musical taste, knowledge and thinking changed completely after I started getting into Salil's compositions.
I knew then that I had to meet him. After I finished my masters degree I moved to Calcutta and started working for an oil company. My main interest however was to get into the music circle as soon as possible. This is when I formed a harmonica group playing popular western music in clubs and restaurants. We got our gigs through an agency run by an Englishman called Toby who cheekily named us 'The Bloworms'.
I guess I was the first in India to play the two-foot long Chord Harmonica in those days. Our gigs at the local Park Street restaurants and some clubs were organized by Toby. We played popular western and latin songs for the lunch and the evening crowd. I also joined Calcutta Youth Choir as one of the singers and played the rhythm guitar with the group. It was then that I also got opportunity to play guitar as a session musician in some Bengali films. The four years I spent in Calcutta was wonderful and I really learned a lot. I can't say that I was much impressed with my job. It was then that I decided to leave India and travel around a bit.
After I left India I settled down initially in the UK and decided to join the IT industry. In those days IT wasn't so much in favour, but I quite enjoyed it anyway. Besides I got really involved with the harmonica movement, joined several UK and European harmonica clubs and frequently traveled around Europe playing and attending harmonica festivals. I met some freelance film makers working on behalf of BBC TV who were planning to make a film on harmonica and I traveled with them all over Europe. The result was a 8-hour documentary, beautifully shot but after editing ended up as a film called 'Playing the Thing' - a 30-minute docu-story on harmonica. It has been shown all over the world and had received critical reviews.
After a few years I left UK and worked in Germany, Spain and Belgium before returning to the UK, got married and left for Holland. This is where I live now.
Before I moved to Holland I used to know quite a few harmonica players in Holland who helped us to make the film 'Playing the Thing'. One of the harmonica groups I knew asked me to join them as a Bass player. Since I could not play Bass at all I had to learn reading the Bass clef first and practice day and night to master the Bass. Learning the Bass was less of a challenge. The bigger challenge was getting the right sound, using the microphone correctly and playing with the group creating a professional sound. Well, eventually I was accepted and for a few years really enjoyed playing the Bass with a harmonica group called 'The Rapidos'.
Finally I met my idol and my 'guru' Salilda in the early eighties and since then I kept regular contacts by telephone, through letters and annual visits to India until the last days. I talked to him only a few days before he was taken ill and I was devastated when I heard that he has left us. I was very fortunate to meet him in the UK and in the US in the early '90s a couple of times. Before going on the tour of the US and the UK Salil recorded the background tracks of some of his most memorable compositions in his studio in Kolkata. During the tour Salil along with Sabita, Antara and Sanchari sang those songs in a number of live concerts. The concerts were just fantastic. As Salil explained to the audience - 'I spent endless days and a very large amount of money to record these tracks in my studio'. The result was a pure joy to hear. His new arrangements of all those well-known songs, using modern recording techniques and his use of instruments was really wonderful.
This is when I decided to record some of Salil's songs in my harmonica and talked to him about it. He agreed to help me to record some songs in his studio in Calcutta. The result was the album 'A tuneful tribute to Salil Chowdhury' released by HMV. Since then I have released a few more albums. After Salilda's sudden and untimely death, I decided to record another CD of some of his most memorable Bengali songs. This album is called 'Durer Thikana' and was released by EMI.
In 1998, This is when I also decided to host a website in his honour and at the same time search, find and digitally record all his compositions. My dream is to try and preserve all his compositions electronically for the coming generation. I know this is not going to be easy but that is my goal. The website www.salilda.com was launched on his 3rd death anniversary - September 5, 1998.
Since then, I have been busy perfecting the content of the website, adding new information, hosting songs and answering hundreds of emails I receive. I had no idea that out there, there are so many Salil admirers. It's a wonderful feeling sharing Salil's songs.
Read full article
Next Story
Next Story
Also Watch

IPL 2019: KXIP Vs KKR, Can Russell And Narine Push KKR To Semifinals?
Countdown To
Elections Results
To Assembly Elections 2018 Results