For an athlete, nothing can be worse than a career threatening injury and when it happens at the biggest stage of them all - the Olympics - it can sometimes break him or her down, mentally more than physically.
Vinesh Phogat was 21 and among India's brightest hopes of a medal in the 2016 Rio Olympics when disaster struck. Phogat dislocated her knee in the quarter-final bout against China's Sun Yanan and was stretchered off the mat in agonizing pain.
"The injury taught me a lot, it has certainly made me a lot stronger mentally. You think about winning and losing, no one really thinks of getting injured. But the experience has certainly prepared me to face anything in life," says Phogat, recollecting that horror moment.
She had been wrestling since the age of seven and this was the first time she had to stay away from the mat. Unable to walk, thoughts of quitting the sport crossed her mind.
"It certainly did, I thought my wrestling career was over. Initially I refused to undergo an operation because I knew that recovering after surgery is extremely difficult," she adds.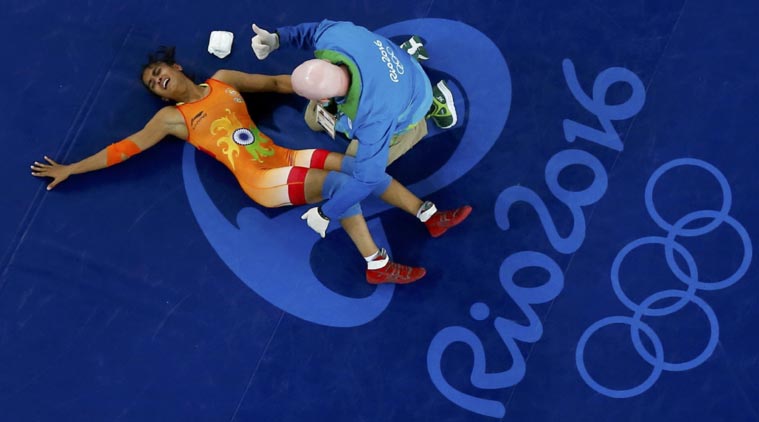 Vinesh Phogat lies injured on the mat after dislocating her knee. (Reuters)
But wrestling was all Phogat had done all throughout her life. The Olympic dream had kept her going and she wasn't going to allow one setback to tarnish that dream.
"Somewhere inside, when I used to be alone, I used to think that I should give it one last shot. That's just what I did, I clearly told everyone in my team that when I comeback I wanted to win and not just to compete. I don't care how long it takes, but I will wrestle again only to win," Phogat says, talking about her rehab period.
She underwent surgery and returned to the mat after a period of six months. It was an emotional moment for Phogat and she wrote after coming back.
"It's been four months since my knee was operated upon. These 120 days have perhaps been the toughest days of my life. It's been 15 years since I started wrestling and I don't think I have ever stayed away from the mat for so long."
"Wrestling is something that defines me, makes me the person I am and is something that is my biggest passion. This injury, the surgery and the rehabilitation has been a very challenging time. There were times when I have doubted myself, imagined whether I would be able to bring the same intensity once I go back on to the mat and been scared."
"However, the support of my family, my friends and all you wonderful people, through these four months has been extremely special. It has kept me going, kept me strong and brought a smile to my face on the most difficult of days. The love that I have got on social media, the concern that all of you have shown has been amongst the most touching things in my life and has given me tremendous motivation."
Now, competing in the PWL, Phogat has some personal agenda to take care of. She will be facing Sun Yanan, who is also competing in the league.
"That is a challenge I am looking forward to. Beating her will be a golden point in my life and it will help me settle the Rio incident once and forever," she adds.

2018 promises to be a big year for Indian wrestling with events like the Commonwealth Games and the Asian Games but Phogat has her eyes on the big prize - Tokyo 2020.
"Olympics is definitely on my mind but before that I have to take each event one at a time. I have to perform well so that I carry some confidence and momentum going to Tokyo," she says.
She isn't promising a medal yet but the focus remains on giving her 100%,
"I want to give my 100%, I don't care if it's gold, silver or bronze. My main aim is to give my all and then see how it goes," Phogat says, when asked about Tokyo 2020.

While no one can really guarantee a medal, Phogat talks about an athlete has to go through undue pressure when it comes to the Olympics.
"People only care about athletes from Olympic to Olympic, which come once every four years. No one cares what you do in between. This I believe is wrong. You don't become a star suddenly one night at Olympics. It takes a lot of hardwork and dedication over a period of time. I hope people take notice of our achievements beyond the Olympics," says Phogat, while signing off.