Municipal Corporations

0/10

TRS

0

INC

0

BJP

0

AIMIM

0

OTH

0
MUNICIPALITIES

0/120

TRS

0

INC

0

BJP

0

AIMIM

0

OTH

0
Refresh Data
CWG Gold Medallist Neeraj Chopra Elated With Khel Ratna Nomination, Focused on 90m Barrier
"By the end of the year, I want to see 3 metres added to my personal best which 86.48m which was in Poland," an ambitious Neeraj says.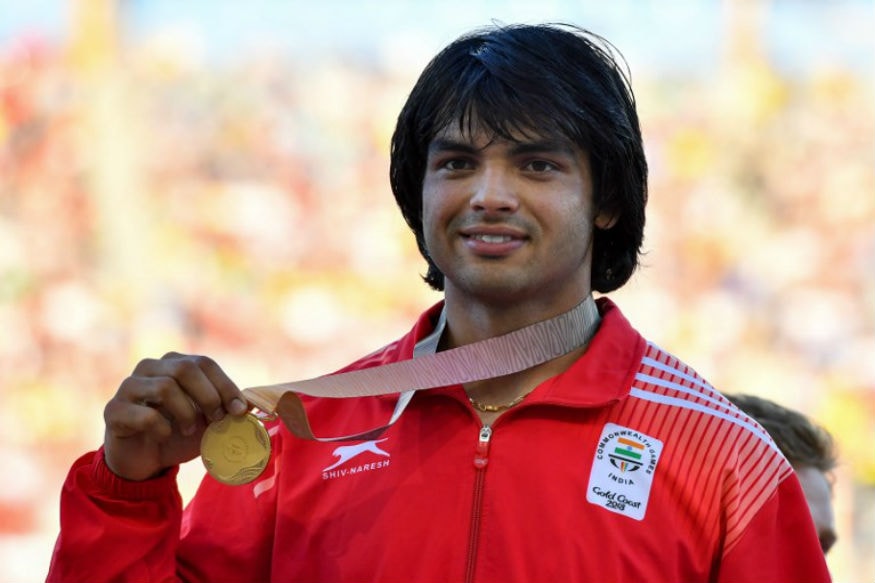 India's Javelin thrower Neeraj Chopra with his 2018 Commonwealth Games Gold Medal (Image: AFP)
New Delhi: Barely a couple of weeks after he won India's first Gold medal in the Javelin throw, Neeraj Chopra, who hails from Panipat in Haryana, was nominated for the highest sporting honour in the nation – Rajiv Gandhi Khel Ratna.
"It will probably be tough to bring this home, but that's ok. Even getting the nomination is a very big deal," says Neeraj. If conferred the award, Neeraj will be part of a select group of Indian athletes like Jyotirmoyee Sikdar, KM Beenamol, Anju Bobby George and the Paralympic Javelin thrower Devendra Jhajharia.
That though is for a later day, as Neeraj opens up about his next competition, the IAAF Doha Diamond League. The young man will be in action May 4th and his very mature side points out that more than a medal his concentration will be on giving a good account of himself.
"It is absolutely necessary that I throw better than at the Commonwealth Games because only then is there progress."
The 20-year-old, who is scheduled to leave for Doha on May 1st points out that the Diamond League will be a different cup of tea in comparison to the victorious campaign at the Commonwealth Games simply because the Doha will attract the crème de la crème in his field.
At Doha, competing in the javelin throw will be the likes of Olympic Champion Thomas Röhler of Germany, World Champion Johannes Vetter, 2018 Diamond League Champion Jakub Vadlejch, World Bronze medallist Petr Frydrych and Olympic silver medallist, Julius Yego.
Doha is Neeraj's second Diamond League after Paris last year where he threw 84.67.
"Most of the top athletes throw in the 90m and above region. Fortunately or unfortunately, a lot of them have not begun their seasons as yet. No doubt this will different from Paris, but my goal is to do well, better my personal best," Neeraj states unequivocally.
"Figuring out training schedules after returning from Australia though was a problem for me. We had some functions to attend and along with a small gap in between competitions for me, it was a little complicated."
The conversation veers towards the Commonwealth Games triumph and Neeraj is quick to impress upon the expectations. The young man says he was well aware that the nation had their eyes on him and was rooting for him to make the podium.
"On the day of the final (April 14), I felt good and confident and from then, thankfully things fell into place," Neeraj chuckles.
"There can be nothing better than winning the Gold. Coach Uwe Hohn was also very happy, but he did point some technical things which, if it had worked out, could have given me some more distance."
Commonwealth games 2018 Gold Coast 86.47m #javelin #nemethjavelins #nordicsport #nike #sweatmore pic.twitter.com/kyEFCHS2EX

— Neeraj Chopra (@Neeraj_chopra1) April 28, 2018
The CWG Gold Medallist, who has been consistently throwing well above the 80m mark, threw a season's best of 86.47m to clinch victory in Australia. Before the going to Australia, Neeraj trained with spent three months training under German coach Werner Daniels in Offernburg, home to some of the world's best javelin throwers.
"By the end of the year, I want to see 3 metres added to my personal best which 86.48m which was in Poland," an ambitious Neeraj's answers firmly when asked about his personal targets going into the long season.
"90m and more is the aim by the time I begin preparing for the World Championships."
At the 2017 IAAF London World Championships, where all the attention was centred on a certain Usain Bolt, Neeraj was unable to qualify for the final. The qualifying mark was 83m and he fell 0.74m short.
"In 2019, at the World Championships, I am aiming for a medal and nothing less. If I can break the 90m barrier like I intend to, I am quite confident of being on that podium, Neeraj concludes.
Get the best of News18 delivered to your inbox - subscribe to News18 Daybreak. Follow News18.com on Twitter, Instagram, Facebook, Telegram, TikTok and on YouTube, and stay in the know with what's happening in the world around you – in real time.
| Edited by: Abhimanyu Sen
Read full article