OPINION | Why Devendra Fadnavis Govt is Struggling to Placate the Farmers This Time
The 180-km protest march, christened the 'Long March of Farmers', steered by the Maharashtra unit of the CPM's farmers' wing, the All India Kisan Sabha (AIKS), is the latest in a string of farmers' protests Maharashtra has seen in a year.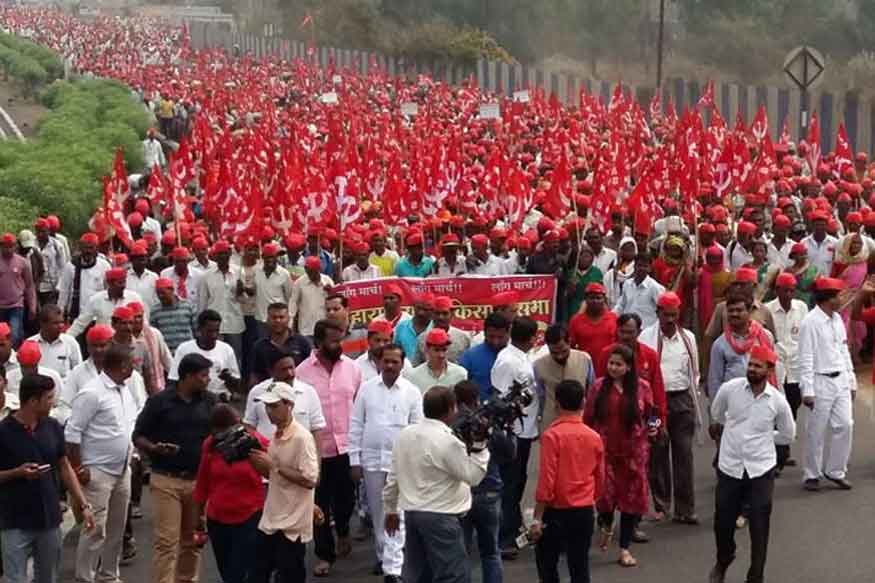 The farmers will stage a protest outside the Maharashtra assembly on Monday. (Image: Network18)
More than 30,000 farmers and tribals from across Maharashtra have marched on Mumbai from Nashik. They intend to surround Mantralaya, the state's seat of power, on Monday, to protest against what they call the government's breach of promises to them.
Young and old peasants, men and women are on the streets, halting along the roads or rivers, sleeping under the open sky, eating together, some of them walking bare feet, some of them playing the drums and flutes and singing folk songs, but briskly walking on to knock on the government's doors.
The 180-km protest march, christened the 'Long March of Farmers', steered by the Maharashtra unit of the CPM's farmers' wing, the All India Kisan Sabha (AIKS), is the latest in a string of farmers' protests Maharashtra has seen in a year.
The peasants are in Mumbai when the state legislature is in Budget Session. The state finance minister Sudhir Mungantiwar presented yet another "farmer-friendly" Budget for 2018-19, a day after the Economic Survey for 2017-18 showed a severe constriction of farm economy last fiscal.
Clearly, the marching protestors aren't impressed. 'Acche Din', alas, are nowhere to be seen, they say.
SHRINKING FARM ECONOMY
While the Devendra Fadnavis government claims it has delivered on its loan waiver promise and is doing more than what previous governments did for agriculture, why are farmers in Maharashtra angry?
Ravaged fields, sluggish delivery of loan waiver, and the Economic Survey yield some answers.
Vidarbha and Marathwada have seen an unprecedented devastation of cotton crop due to pink-worm attack — government's estimates district to district hover between 30% and 70%.
The tribal areas of north and eastern Maharashtra are witnessing a strong opposition by the BJP-Shiv Sena government to grant the community forest rights to the tribal communities under the Forest Rights Act. There has been a severe dent to rural and agriculture economy this past fiscal, following a 16% drop in long-term annual average rainfall furthering a sharp decline in farm yields across all commodities, save sugarcane that is witnessing bumper production, but it occupies barely 6 lakh ha of nearly 20 million ha cultivable land in the state.
Notably, Mungantiwar announced a raise in farm and allied sector spending in his 2018 budget to Rs 23,621 crore, but it was still only less than 6.5% of the total budgetary outlay.
In 2016-17, Maharashtra's farm sector grew, riding on good monsoon and bumper harvests, by 22.5%, pushing its overall growth to 10%. Even that year, sections of informal farm economy got hit by demonetisation.
Yet, that jump was due to preceding years of drought. In 2017-18, the farm economy contracted 8.3%, the Economic Survey said, owing to weak monsoon — it indicated growing distress. This decline in growth of agriculture and allied activities brought down the state's overall economic growth to 7.3%.
During the Kharif season of 2017, the survey said, sowing was completed on 15 million ha with minor increase over the previous year. The area under cereals, pulses, oilseeds and cotton decreased by 3, 3, 1 and 0.1%, respectively, while sugarcane acreage increased by 43% over the previous year.
The production of cereals, pulses, oilseeds and cotton, the Survey predicted, is expected to decrease by 4, 46, 15 and 44%, respectively, while the production of sugarcane crop would increase by 25% over the previous year. Maharashtra has cotton on a whopping 13 million hectares of land.
Same applies to the Rabi crops: The Survey says, as on January 5, 2018, the acreage is 31% less over the previous year. The area of cereals, pulses and oilseeds dwindled by 42, 6 and 60%, respectively, over the previous year. The production of cereals, pulses and oilseeds in Rabi is expected to fall by 39, 4 and 73% , respectively, as compared to previous year.
Small and marginal farmers — growing food crops and cash crops like cotton and soybeans — are taking a hit.
LONG-TERM STRUCTURAL PROBLEMS
Like the rest of India, Maharashtra's farm woes that are pushing farmers' distress are structural and they need more than band-aids.
Let's take this: The share of "agriculture & allied activities sector" in the total Gross State Value Added (GSVA), according to the Economic Survey, stood at 12.2% as against 15.3% during 2001-02, marking a declining trend over the period while a large part of the population is still dependent on this sector.
These were the years of a high incidence of the farmers' suicides, particularly in its dry and arid regions.
In the same period, or more, Maharashtra saw a steady reduction in average size of land-holding.
As Mungantiwar himself put it in his Budget Speech, "In 2010-11 agriculture census, the state, with average size of 1.44 hectare of operational land holding, is ranked 10th among all states."
In 1971, Maharashtra had an average land holding of 4.28 hectares and the total agriculture land was distributed among only 4.9 million landholders. Today, the average land holding stands at 1.44 hectares and the number of land holders is 13.7 million. Thus, more than 8.9 million hectares of farmland in the state, accounting for 45.2% of total cultivable land, falls in the category of small and marginal (up to 2 hectares), the survey points out, but more than 10.7 million farmers hold this land.
In other words, 78% of the state's 13.7 million farmers are small and marginal. Add to that the abysmal irrigation of 20%.
How do you turn dryland small farms that comprise a bulk of the peasantry is a problem successive state governments are grappling with.
The Fadnavis government has pinned its hope on 'Jal-Yukta-Shivar', a local sector rain-water conservation programme in drought-prone regions that it says is an alternative to big dams. Yet, the mounting farm losses coupled with a struggling rural economy is triggering unrest.
AGER BOILING OVER
Last June, bowing down to the pressure from farmers and political parties in the wake of growing anger and protests all over, CM Fadnavis announced a farm loan waiver that was then pegged at Rs 34,022 crore.
It was anticipated that about seven million small and marginal farmers will benefit from the scheme under the prescribed rules. A year has passed, but not all farmers have got a loan respite.
As of today, as the finance minister admitted in his budget speech, the banks have been permitted to grant loan waiver to 4.64 million farm households, amounting to Rs 23,102.19 crore.
The banks have passed on Rs 13,782 crore to 3.57 million beneficiary accounts, Mungantiwar said. That comes to a waiver of less than Rs 40,000 per household, far lower than the Rs 1.5 lakh cap that the government promised.
More than half the farmers are still waiting for a waiver amid confusion over the amount, the time within which they would get it, and whether they would be eligible for fresh loans.
Meanwhile, 2017-18 saw a decline in crop yields, massive devastation due to pest attack, and a recent onslaught of incessant rains that were accompanied by hails in parts of Maharashtra.
The government's promise on crop insurance, remunerative prices, doubling of income, compensation against pest-attack, and long-term investments in agriculture sector has turned hollow.
Maharashtra saw hundreds of cotton farmers fall ill due to accidental inhalation of pesticides in districts like Yavatmal, nearly 50 of them die during July-November period, triggering unrest among peasantry.
Last December, during the winter session of the state legislature, state agriculture minister Pandurang Phundkar, announced a per hectare compensation of Rs 39,000 to cotton farmers reeling under the pink-worm attack. Not a pittance has come through. It was a lofty promise on the floor of the House that would never be met by a government whose debts are piling up to over Rs 4.13 lakh crore.
None of the cabinet ministers has commented on the AIKS protest march yet or shown any inclination to talk to the protestors to dissolve the protests.
More peasants are joining the march every day. When it reaches Mumbai on Sunday, the gathering is expected to be over 50,000 farmers and forest dwellers.
"In 2015, we had protested for the farmers to get their [rights to the] forest land, better rates for crops, a loan waiver and so on," says Ajit Nawale, the state secretary of the AIKS and one of the farm leaders steering the ongoing march. "The government is pretending to fulfil its promises, but is not."
The demands include a total loan waiver, implementation of the Swaminathan Commission's key recommendation on paying 50% of the production cost as MSP to the farmers, and granting of individual and community forest rights to the tribal dwellers under the FRA, among others.
"We gave enough time to the government," Nawale has said. "Now we want concrete action. We won't call off this agitation until our demands are met."
(The author is a Nagpur-based journalist and a volunteer for the People's Archive of Rural India. Views are personal)
Get the best of News18 delivered to your inbox - subscribe to News18 Daybreak. Follow News18.com on Twitter, Instagram, Facebook, Telegram, TikTok and on YouTube, and stay in the know with what's happening in the world around you – in real time.
| Edited by: Puja Menon
Read full article