Are BJP and Sangh Parivar Appealing to Millenials With Ram Temple Pitch?
A closer look at what's happening at Ayodhya right now, reveals multi-layered strategy aimed at shoring up NDA prospects for 2019 Lok Sabha polls.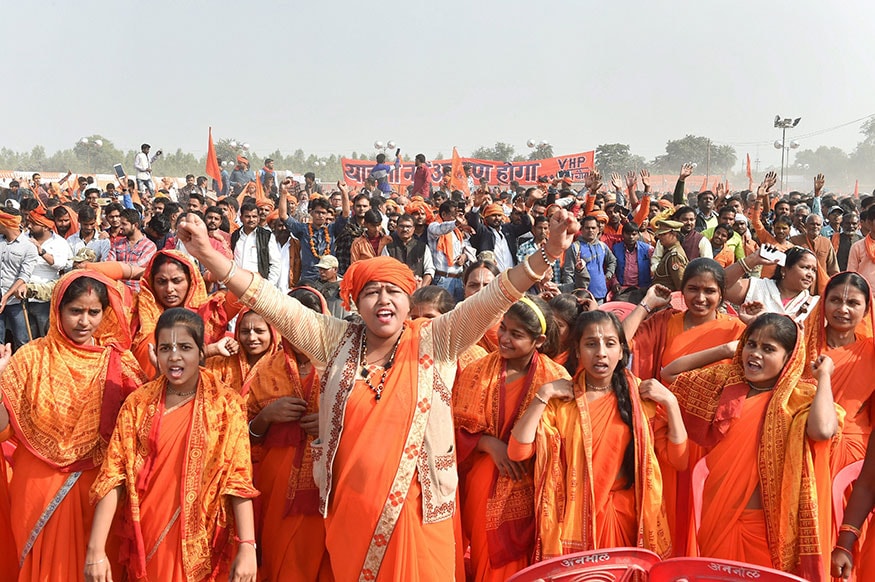 Sadhvis participate in 'Dharam Sabha' organised by the Vishwa Hindu Parishad in Ayodhya on Sunday (Image: PTI)
New Delhi: The Ayodhya cauldron is on the boil again with dharma sansad, religious congregations and presence of hawkish politicians. In a first instance, it appears to be part of a protracted 'check and mate' game being played between NDA allies — the BJP and the Shiv Sena. The Sena seems determined to embarrass the BJP with barbs such as 'mandir kab banoge' and 'pehle mandir, phir sarkar' in spite of being aware that Ayodhya dispute case is in the Supreme Court and a final verdict is expected sometime in 2019.
A closer look, however, reveals multi-layered strategy aimed at shoring up NDA prospects for the 2019 Lok Sabha polls. It also indicates how the Sangh parivar is cleverly pitting one party against another, as part of its holistic approach to provide centrality to the Ram temple issue, influence national discourse more towards primacy of faith, intimidate minorities and use Ayodhya plank as an emotive issue that would gloss over 'half empty glass' performance of the Narendra Modi government.
On a more significant count, Ayodhya build-up is to connect the first-time voters and those born after 1992, who have little or hazy understanding of Ramjanmabhoomi-Babri masjid dispute.
The outcome of five state Assembly polls is unlikely to have a major bearing on Ayodhya momentum. A poor showing by the ruling BJP in Madhya Pradesh, Rajasthan and Chhattisgarh would result in more clamour for a 'national law' or an ordinance to sanction construction of a 'bhavya' Ram Temple in Ayodhya. If the BJP manages to retain MP and/or Chhattisgarh, its spin-doctors and Sangh parivar sympathisers would dub the verdict as an endorsement for a 'national movement for the construction of Ram temple.'
The Congress faces many predicaments in either supporting or staying on as mute spectator in events relating to Ayodhya. Its otherwise politically correct instance of abiding by a court verdict has few takers outside its minority constituency. Instinctively, Congress president Rahul Gandhi is even unable to reiterate his father's stand taken in 1989 when as Prime Minister Rajiv Gandhi had launched his Lok Sabha campaign on the banks of river Saryu in Ayodhya promising "Ram Rajya."
Rajiv and his Home minister Buta Singh had even performed "shilanyas" there. In fact, throughout the 1986-89 period, the Congress chief ministers of Uttar Pradesh, Veer Bahadur Singh and ND Tiwari, had tried to occupy "Ayodhya centrestage" and twice came forward with a "Rajiv formula" to pave the way for construction of a Ram temple in Ayodhya.
The Congress is also wary of supporting any pre-Supreme Court verdict legislation for two reasons. Firstly, it brings nothing to Congress table. Secondly, and perhaps more importantly, there is little legal manoeuvring left after Narasimha Rao government's move to take over 67 acre of land around the dispute site in Ayodhya. A 1994 judgment by the Supreme Court upheld the acquisition by the Rao government. The land, in all probability, would be given to whosoever wins the all important title suit of the Ayodhya dispute.
Over the passage of time, Muslims across India have become wary of Ayodhya dispute. While a large number of them want to abide by the final verdict, there is no dearth of scholars and religious leaders who want a negotiated settlement. The biggest obstacle for conclusion of this line of thinking is absence of any fair arbitrator, mechanism or a forum.
A dominant view among Muslim community is also that the verdict will adversely affect them regardless of it going in favour or 16th century mosque or in favour of a Ram temple. The Muslim community will continue to be dubbed as insular and hostile towards the majority. The only way forward, for the Muslims is the apex court endorsing Allahabad high court judgment that directed the disputed land to be divided between the two communities on 2:1 ratio. The HC judges had agreed that the portion under the central dome should be allotted to Hindus.
If the Narendra Modi government and the BJP accept the verdict and implement the order minus violence, belligerence or euphoria, Muslim community leaders will be in a position to make some kind of 'unilateral' gesture of goodwill to make a "new beginning."
(The author is visiting fellow at the Observer Research Foundation and a journalist. Views are personal)
Get the best of News18 delivered to your inbox - subscribe to News18 Daybreak. Follow News18.com on Twitter, Instagram, Facebook, Telegram, TikTok and on YouTube, and stay in the know with what's happening in the world around you – in real time.
Read full article