Wild Animals Share India's Rural Landscape, Borders Made by Humans for Humans Are Killing Them
The past few months have seen a slew of wildlife deaths — elephants killed by overhanging wires, tiger cubs crushed by a hurtling train and lions killed by speeding cars. None of this is new and it is unlikely to stop unless those making the policies give up the dichotomy of wild and tame.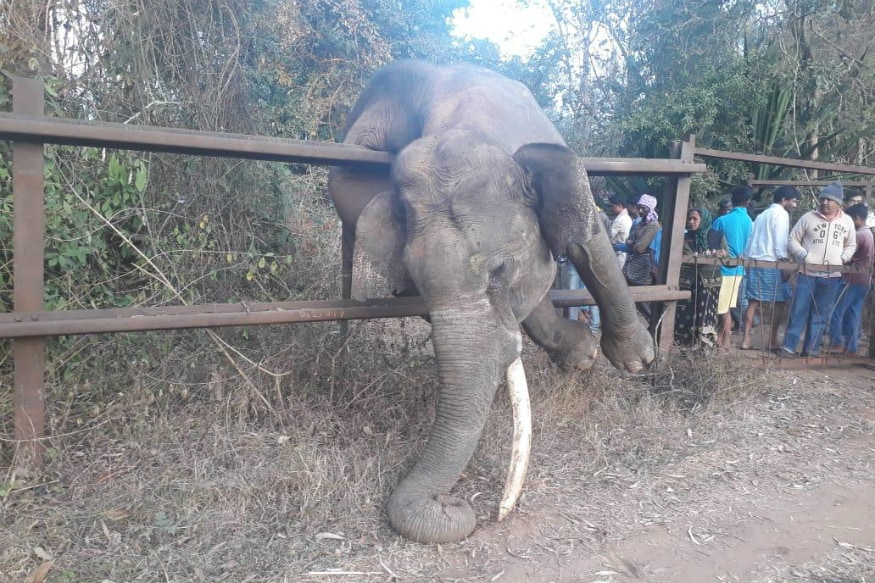 A 42-year-old wild tusker suffocated and died after being stranded on a railway fence in Nagarhole National Park in Karnataka recently.
New Delhi: It was always difficult to drive past the main town at Akole in Maharashtras' Sangamner area when we worked there. A single road with jeeps parked on both sides, dense traffic and no footpath, meant that pedestrians that little space for themselves. But at night, the area and adjacent rural areas would transform into a big empty space.
As people settled in for the night and bulbs gave way to moonlight, wild animals began their activities and the boundary between the wild and civilised disappeared.
A leopardess we once collared often spent her days sitting peacefully in a dense agricultural field. She would begin her movements in the evening, even crossing the same main town road looking for pigs and dogs. As far as she was concerned this was a land without humans.
The past few months have seen a slew of wildlife deaths — elephants killed by overhanging wires, tiger cubs crushed by a hurtling train and lions killed by speeding cars. None of this is new and it is unlikely to stop unless those making the policies give up the dichotomy of wild and tame.
The policies are often decided by those who've rarely visited these areas, people who believe that wild animals live only inside the forests or by biologists and wildlife professionals whose 'solutions' focus on just the human dimension.
We, the urban people, have constantly been bombarded with the 'truth' that wild animals live in forests. But for the most part, much of rural India is also home to countless wild animals who rule the place at night and then, with daybreak, make their way to safe little havens to avoid people.
In 2015, when we were setting up camera traps in and around Shimla to assess the biodiversity there, one elderly grandfather took our team to the porch of his house where a leopard would walk by every night. Holding on to the gentleman was his year-old grandson. There was no fear in him as he told us where to set the camera traps. The leopards were as much a part of his landscape as he was theirs. Here, the boundaries were blurred between people and leopards. Sure enough, we got a spectacular image of this leopard.
But it isn't just leopards, I realise. For instance, the rural landscape in western Maharashtra where I worked, had about 400 people per square km and the same number of, if not more, domestic animals. But the area also had populations of hyendas, jungle cats, rusty spotted cats, foxes and an occasional wolves, and the people were aware of their existence.
After collaring leopards with a GPS-tagged collar – which gave us the information on where their whereabouts – we learnt a great deal about the behaviour of these otherwise extremely shy and secretive animals, and how their behaviour differs from their counterparts elsewhere.
While in parts of Africa the largest home ranges are around 400 square kilometer since food resources are scarce, the croplands of Ahmednagar – a city merely 120 kms from Pune – we found that leopards had very small ranges: no more than 20 square kilometer. The landscape, rich in prey in the form of dogs, animal carcasses, feral pigs and the occasional goat, provided perfect habitats for the big cats.
In small towns, butchers discard their waste at the edge of town and a large number of feral dogs and pigs congregate there. These are the areas that leopards and hyenas go to for quick and easy meals. India, with its extremely high density of domestic animals, is a haven for carnivores. Which is why wolves still remain in the semi-arid landscapes where large number of goats and sheep are present and why lions can live outside the Gir National Park that has a high number of cattle.
Those who visited my work site would often ask, "But where are the forests?" There were only croplands and roads and people's houses, but no forests as far as the eye could see.
About 5 per cent land in the country comes under protected area and this area is inhabited. So what are all the wild animals doing outside? For one, the borders of wildlife parks are made by humans for human administrative use. Secondly, animals do not understand our borders, and thirdly, as long as they are not killed outside they will go where they want to go. Another important reason is that our landscape is very rich in domestic animals which make for an important food resource for the carnivores.
But why is this not the case in other parts of the world? To me, it is due to the cultural aspects of our rural landscapes where people have always shared their space with the wildlife. It is because of our stories and myths which also give space to other animal forms. It is also because of the laws which are often based on the cultural ethos they are set in, which gives wild animals the strictest protection even if they are outside the forests.
In Russia, which is with extremely low human density and tiger density, roads were still seen to be detrimental for tigers. These roads were used by hunters to kill animals in the night. In most parts of the world, wild animals can be killed outside the protected areas and is why they cannot live outside the protected areas.
But in India, wild animals cannot be killed. Not just that, most parts of India also have cultures and societies which have forged a bond with these animals, allowing them space to exist in harmony.
Earlier, we rarely considered the role of perceptions and culture in our studies of human-wildlife interactions. But people are increasingly realising that the way people view animals is extremely important for their persistence. The end result is that vast swathes of our country become wildlife areas in the night. Although this sounds good, it also implies that people who share spaces with these animals do suffer a loss of livestock and crops.
The author is an ecologist working on human wildlife relationships in the backdrop of socio-cultural ethos in India. Views are personal.
Read full article
Countdown To
Elections Results
To Assembly Elections 2018 Results