AYUSH Can Help India Tackle Growing Disease Burden, Govt Must Train Experts For Clinical Use
Critics argue that these so-called alternative systems are based on faith and not science. In fact, AYUSH systems need government support precisely for the same reason.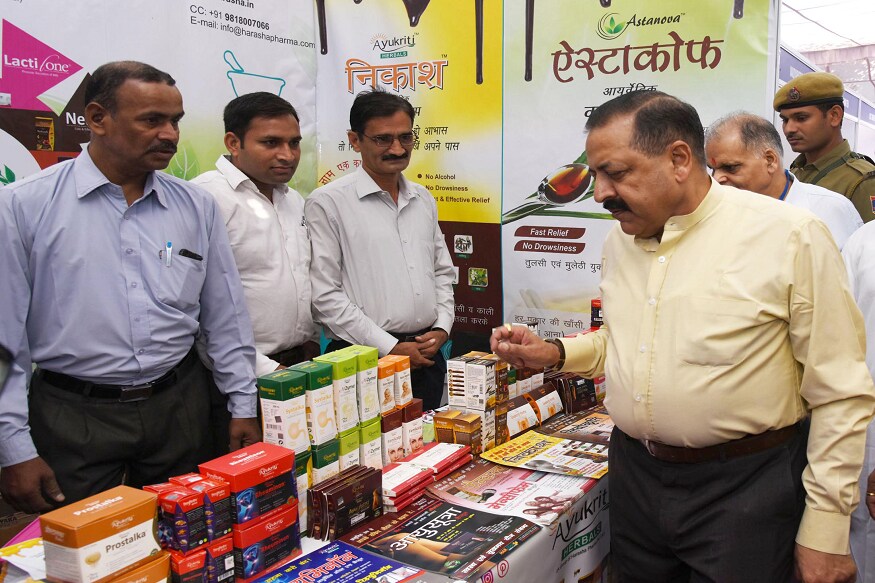 Union minister Jitendra Singh at a store on National Ayurveda Day.
After it set up a separate ministry for AYUSH (Ayurveda, Yoga and Naturopathy,Unani, Siddha and Homoeopathy), the Narendra Modi government has been accused of promoting unscientific and unproven medical practices at the cost of taxpayers' money.
To drive home their point, critics have cited some poorly designed surveys that show there were few takers for the AYUSH systems. The criticism has grown shriller after the National Ayurveda Day was announced along the lines of the International Yoga Day.
Though most of the critics have a soft corner for yoga, it is not true for other practices. This is because, unlike yoga, which relies only on non-pharmacological interventions, other AYUSH practices use several pharmacological interventions in the form of medicines administered through different routes - oral, rectal, nasal, transdermal etc.
Critics argue that these so-called alternative systems are based on faith and not science. In fact, AYUSH systems need government support precisely for the same reason. Since public money is involved, a meticulous and evidence-informed strategy is expected to form the basis of such an action.
Growing disease burden
The healthcare burden in India is shifting from communicable, maternal, neo-natal, and malnutrition-related illnesses to non-communicable diseases such as hypertension, obesity, diabetes, mental illnesses and other chronic ailments.
While biomedical sciences are struggling to come up with a concrete solution to these problems, AYUSH systems have immense potential to tackle them. Ayurveda has a unique approach that considers the "state of an individual" that leads to the manifestation of a disease to be more important than the "causative factors of a disease".
All people exposed to similar etiological factors do not develop the disease because every individual is unique. Therefore, Ayurveda treats different people with the same disease differently.
One of the pilot studies on rheumatoid arthritis that was published in Annals of Clinical Rheumatology in 2011 has shown that this approach of Ayurveda is as effective as conventional therapy and can even be subjected to rigorous scientific evaluation with well-planned study protocols.
We may have to wait till modern biomedical sciences develop this kind of understanding and translate it into clinical application. If the government succeeds in encouraging biomedical experts to take up these questions by training them in AYUSH systems, India can lead this field.
Ayurveda has originated in India and is interwoven into the sociocultural fabric of the country, an added advantage. Every household in India invariably uses Ayurveda in one or the other form - the simplest example is the use of spices such as turmeric, pepper, ginger etc.
Public interest first
There are considerable differences of how Ayurveda, Unani and Siddha, (or AUS) systems are taught and practised in India.
The Kerala pattern of Ayurveda, for instance, does not match with that of Uttar Pradesh or Bihar. Socio-economic factors such as literacy rate, poverty, population density, ease of access to healthcare, disease distribution etc. determine these differences. The regulating bodies, however, have not taken this into consideration and insist upon a uniform educational and clinical training process.
We must recognise that needs and expectations in different regions are unique and these must be addressed accordingly. A periodical survey to identify these patterns is essential to framing education policy and curricula. Poor exposure to clinical skills, poorly equipped colleges and reliance on rote learning are major deterrents to quality AUS physicians.
System-based clinical trials
Since AYUSH systems follow individualised approaches, clinical trials also must be designed accordingly. If clinical trials do not reflect how these systems are practised, they are futile.
Even good retrospective studies of observational type, if carried out in large established hospitals will be of immense help. Similarly, prospective observational studies will give much needed information on the uses of these systems.
Quality matters
Several reports have suggested adverse drug reactions during AYUSH interventions. A robust pharmaco-vigilance mechanism must be put in place and studies conducted to investigate these adverse effects. Strict implementation of good manufacturing practices and a ban on over-the-counter sale of dubious medicines should be looked into. Efforts should also be made to evaluate the classical formulations that are in use for hundreds of years instead of promoting new ones.
Evaluate preventive role
There is a need for conducting a well-controlled long-term cohort study to evaluate the preventive role of these systems. It is a well-established fact that good longitudinal studies such as Framingham Heart Study (started in 1948 and continues) and the British doctors' cohort study (conducted for 50 years from1951 to 2001) have been able to provide many vital insights.
To conclude, celebratory events and mass-media appeals to promote AUS systems won't work in the long run. We need a long-term planning to be able to put these systems to maximal use.
Note: In this article, the term AYUSH has been used to indicate the traditional medicine systems of Indian origin such as Ayurveda, Yoga and Siddha. Though to a certain extent it is applicable to Unani, it does not stand for Homoeopathy.
Prof Patwardhan is with the department of Kriya Sharir in Banaras Hindu University's faculty of Ayurveda.
Get the best of News18 delivered to your inbox - subscribe to News18 Daybreak. Follow News18.com on Twitter, Instagram, Facebook, Telegram, TikTok and on YouTube, and stay in the know with what's happening in the world around you – in real time.
Read full article