OPINION | Congress-Togadia Story: My Enemy's Enemy is my Friend. But at What Cost?
It is an open secret that former RSS colleagues Pravin Togadia and Narendra Modi had fallen out long back and never tried to keep it a secret.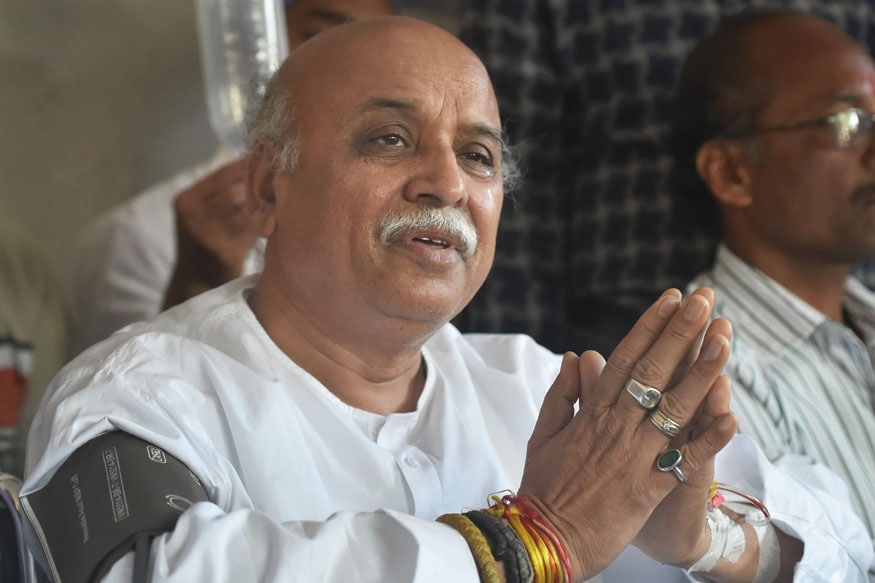 A file photo of VHP leader Pravin Togadia (File photo: PTI)
In his attempt to take on Prime Minister Narendra Modi and the BJP, Congress President Rahul Gandhi has turned for inspiration to an ancient proverb which is rooted in Kautilya's Arthashashtra and added a rider to it: The enemy of my enemy is my friend.
Nothing else explains why a host of veteran Congressmen rushed to the defence of Pravin Togadia, the Z-plus security-covered, venom-spewing working president of Vishwa Hindu Parishad who had fallen out with Narendra Modi long before he became the Prime Minister or for that matter why senior party leader from Gujarat, Arjun Modhvadia did the unthinkable of calling on him at the hospital after Togadia was found unconscious in a park even as the cops were out to arrest him in a decades-old attempt-to-murder case.
It is well-known that Modi is the Congress's prime enemy and Togadia an enemy of Modi from within the saffron camp.
Has the Congress bitten off more than it can chew with this support that was unimaginable even a week back? Is the latest move part of Congress' experiments with various models of soft Hindutva to find out which ones would hurt Modi most and dent his image? Will this unstated objective pay dividends or will it backfire on the Congress for trying to use Hindutva at the cost of irking its supporters among the minority community?
Even the party is unsure about how would this will play out, especially within and outside the party fold that is grappling with the fact that its leaders sided with the 62 year-old man who has been the face of virulent and rabid Hindutva and continues to ravage the Congress's credo of secularism and social pluralism.
Senior Congress leaders put up a brave front maintaining that the party has not compromised its secular and inclusive ideology and principles or weakened its resolve to fight the Sangh Parivar's brand of Hindutva in seeking an inquiry into Togadia's allegations of threats to his life.
The question remains whether this explanation will have an audience with the people though the Congress believes it will not affect its standing.
Did AICC Know of The Modhvadia-Togadia Meeting?
AICC has not made any official comment while the uncertainty of its leaders over the fallout of the action is evident from the fact that they go out of their ways to claim that Modhvadia did not seek sanction to call on the oncologist-turned-rabble-rouser Gujarati who was once his classmate.
Seeking anonymity, some Congress leaders even claimed that the former state unit chief, who lost his seat in the recent Gujarat elections, assured the party that he would not undertake such an exercise again.
But in the party, where nothing happens without the direct, indirect or tacit acquiescence of the central leadership, especially when it comes to interacting with ultra-Hindutva leaders like Togadia, Modhvadia could not have allowed himself to be seen in the same frame as his fire-spitting contemporary unless the party wanted to venture in the BJP-VHP troubled waters and try and corner the saffron regimes in Gujarat and Rajasthan in general and the Modi dispensation in particular.
But Modhvadia was not the only one to rally behind Togadia though he claimed that he met his fellow Gujarati in his "personal capacity" as he "had raised issues about threat of fake encounter. There have been instances like Haren Pandya… the Judge Loya case and other incidents. Just wanted to hear his version. He may be an ideological opponent but he has been targeted by his own people (sic).''
A host of other Congress leaders, including Bharat Solanki from Gujarat and Sanjay Nirupam from Maharashtra — too commented on the Togadia episode, wondering how a Z-plus protectee could go missing for 12 hours and be found unconscious in a park.
Party's Gujarat-in-charge Ashok Gehlot — who as Rajasthan chief minister had booked Togadia in 2002 for defying police orders — demanded an inquiry into Togadia's allegations of threats to his life.
The Congress's fellow traveller in Gujarat, Hardik Patel, too, had like Modhvadia visited the VHP leader at the Ahmedabad hospital.
Even though the Congress seems to be fighting on the same side as BJP's Subramanian Swamy — who urged Togadia to "resolve to recover and rise. We Hindus need you and will stand by you in the cause of Hindutva'' — the party was clearly trying to make the best of the opportunity to widen the wedge between the Modi regime and the VHP leader whose much awaited book 'Saffron Reflections: Faces and Masks' could provide political fodder if it is published before the 2019 General Elections.
It is an open secret that former RSS colleagues Togadia and Modi had fallen out long back and never tried to keep it a secret. Considered the shining star of rabid Hindutva in the 80s and 90s, Togadia began to lose his sheen and influence with Modi's emergence.
Indeed, after 2002, Modi eclipsed Togadia, VHP, Bajrang Dal and an array of BJP leaders, including L K Advani, as the poster boy and mascot of Hindutva. Togadia continued to remain irrelevant even though he was elevated as VHP's International Working President when Ashok Singhal stepped down in December 2011.
Why then is the Congress staking its reputation on a man who is virtually considered a spent force in his own camp? Why is it trying to shoot at Modi from Togadia's shoulders?
Subtext: Taking The Battle Into The BJP Camp
There appears to be a subtext in this political gamble and adventurism. And it is related to the upcoming elections in Congress-ruled Karnataka and BJP-ruled Rajasthan, Madhya Pradesh and Chhattisgarh this year and the all important Lok Sabha elections in 2019 during which, the Congress hopes to fight the BJP with the very weapon that Modi has been using against it.
The Togadia episode is being seen by many as an extension of Congress's soft Hindutva line illustrated best by 'Shiv Bhakt janeu dhari' Rahul's temple-hopping spree during the Gujarat Assembly elections, which the BJP barely managed to win against a formidable challenge posed by a Congress-led caste and social alliance.
A similar situation seems to be shaping up in Karnataka, where the Congress wants to prevent the BJP from polarizing the voters and walking away with the Hindu vote by raising the issue of the threat to the life of a man who was once the icon of Hindutva forces under the Modi dispensation.
This, despite the fact, that Togadia may not have any influence in the state and the party's anathema to his brand of politics. Like in Gujarat, the BJP's strategy in the southern state —which it once ruled — would be to build architecture of Hindutva and development to overarch the Lingayats-Vokkaliggas and other caste divides in the state.
The stakes are high both for BJP and Congress in Karnataka, where elections are expected in April-May before the year-end elections in BJP-ruled states.
After its Gujarat scare, the BJP would go all out to show that the Congress' challenge was an aberration while Rahul's party would be out to prove that it is not the BJP alone, which can renew its mandate in the state it is ruling. As a BJP leader said, "We have shown a number of times that we can win in states we are ruling but it will be a turning point for the Congress if it can win Karnataka, where it is ruling.''
Unwilling to let any opportunity slip by, the Congress, no wonder, is trying to use Togadia as a card even if it puts its voters in the minority community in a quandary and prompts the BJP — which has maintained silence on the VHP leader's statements — to ask Congress to spell out whether it supports him.
One would only have to recall how veteran Congress leader A K Antony underlined that one of the factors for the party's debacle in 2014 was the party's perceived "minorityism". As part of this effort to take on the BJP, Chief Minister Siddaramaiah called himself a good Hindu with "Ram" in his name.
(The author is a veteran journalist. Views expressed are personal)
Get the best of News18 delivered to your inbox - subscribe to News18 Daybreak. Follow News18.com on Twitter, Instagram, Facebook, TikTok and on YouTube, and stay in the know with what's happening in the world around you – in real time.
Subscribe to Moneycontrol Pro and gain access to curated markets data, trading recommendations, equity analysis, investment ideas, insights from market gurus and much more. Get Moneycontrol PRO for 1 year at price of 3 months. Use code FREEDOM.
| Edited by: Sanchari Chatterjee
Read full article