OPINION | Curtains Fall on the Script Writer, But His Dravidian Screenplay Continues
Senior journalists who have reported on the DMK for decades are filled with anecdotes of M Karunanidhi's humour, accessibility to journalists and responses to difficult questions.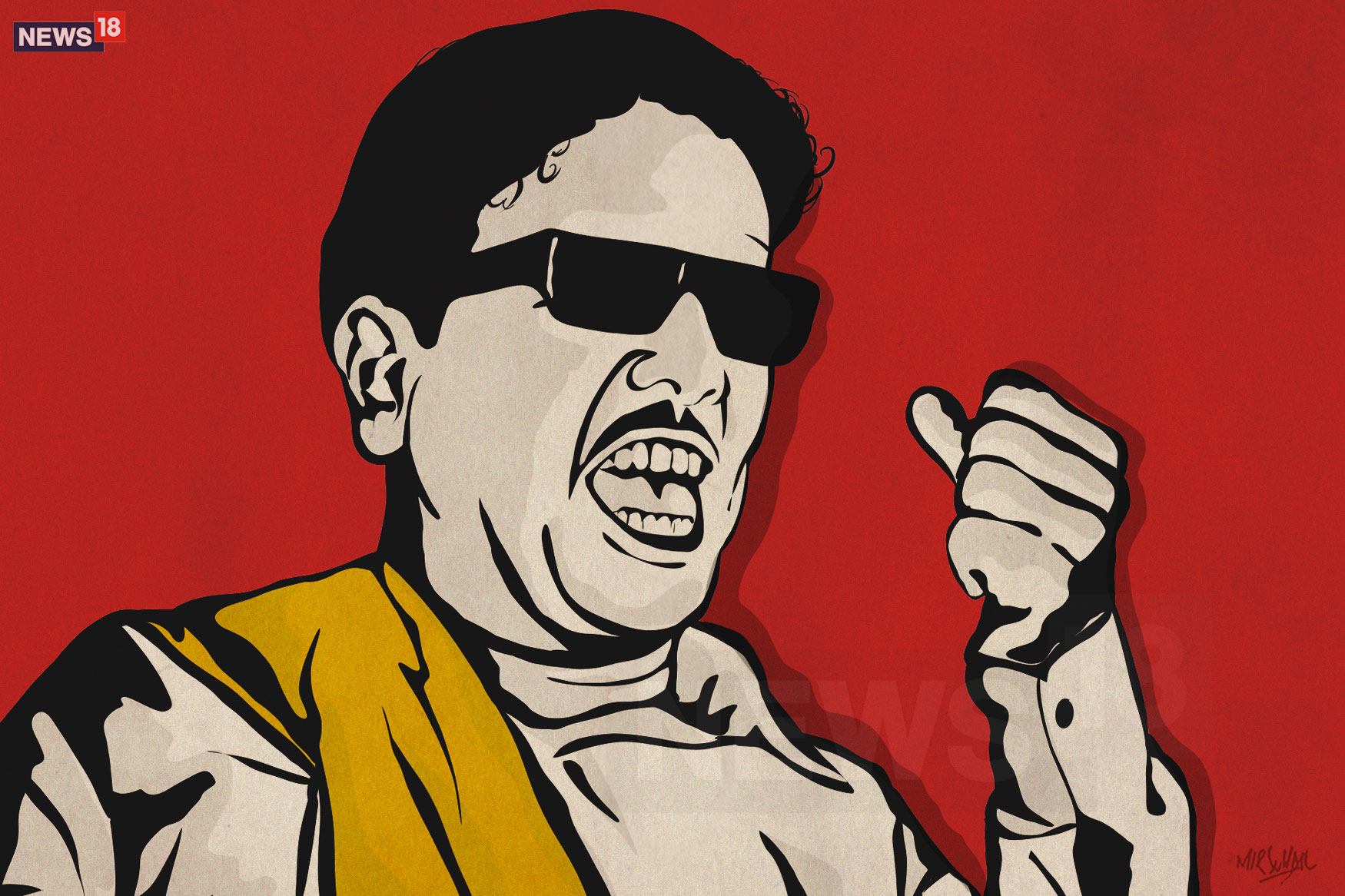 A Network18 creative by Mir Suhail.
It was the script writer who became the most enduring star in a melodramatic Dravidian political drama. His party had lost several elections, but personally he never lost an Assembly election since his party, the Dravida Munnetra Kazhagam, first contested in 1957.
The only time he wasn't a member of the Tamil Nadu Legislative Assembly was in 1984, when he chose to not contest the polls, and that makes it 13 times as an MLA and five times as Chief Minister. No other Indian politician has that record.
The DMK was not the 'family party' that it is today when its founder CN Annadurai, popularly called 'Anna' or big brother in Tamil, passed away in 1969. A young Muthuvel Karunanidhi, who emerged from the grass root anti-Hindi agitation, was one of Anna's trusted lieutenants, but there were others in the party who were equally popular, if not more.
It was through powerful oratory, emotional manipulation and cold political brinkmanship that Karunanidhi defeated his rivals, even those senior to him, to take over as party president and Chief Minister after Anna. DMK insiders would agree that within the party, his political assertions were often melodramatic and emotion was used in abundance to contain any threat to his leadership.
Interestingly, it was with the support of the enormously charismatic and popular star turned politician MG Ramachandaran (M.G.R) that he managed to take over a post-Anna DMK.
But once in charge there was no space for challengers or even potential challengers to his leadership and that became the genesis of a party that would eventually revolve around one leader and his family.
After the 1971 elections, which saw M Karaunanidhi return as Chief Minister, M.G.R, split the DMK to form the All India Anna Dravida Munnetra Kazhagam, in 1972. Differences between the star and the script writer had come to a full blown confrontation. Their battle was the foundation for the personality obsessed politics of Tamil Nadu today. MGR never lost power and remained chief minister till his demise in 1988. This period was perhaps the biggest test for the DMK president and he weathered a decade long MGR storm without losing control of the party.
Having survived MGR, the next chapter in his life was the rivalry with J Jayalalithaa, who succeeded MGR, and that rivalry dominated the state's politics for nearly three decades when Tamil Nadu was a see-saw battle between J and K! Eventually, Karunanidhi outlived Jayalalithaa, who passed away in 2017. In every sense, he was part of every turn in the politics of Independent India and faced opponents from successive generations and survived.
Senior journalists who have reported on the DMK for decades are filled with anecdotes of M Karunanidhi's humour, accessibility to journalists and responses to difficult questions. When I try to appreciate Karunanidhi's wit and oratory to journalists in North India, who cannot comprehend Tamil, the closest parallel that I can think of are stories I've heard of Atal Bihari Vajpayee.
One incident etched in my mind was when the Supreme Court delivered a judgment excluding 'creamy layer' from OBC reservations. A senior journalist asked Karunanidhi, in Tamil, if he thought the judgment was "motivated". He shot back, in Tamil, "It is not correct to cast aspersions on the judiciary, but I am sad that they have delivered a judgment that makes intelligent people like you suspect that it might be motivated."
This, to me, is testimony to his art of saying what he wanted without losing stature or sullying constitutional values. In another instance, when the BJP-DMK alliance was about to break before the 2004 elections, I had cornered him on camera and asked him, in Tamil, if he thought it was time to end the alliance. He replied, "Neenga enna ninaikaringalo naanum adhe dhaan ninaikiren" (What you think is what I think).
We were left confused as we could infer nothing from his comments and as we were standing for his convoy to pass he lowered the window panes of his car and smiled at us mischievously! He knew very well what journalists want and when to refuse them without refusing them!
Much of his wit, humour and stories may be lost in translation to the rest of India, but to those who comprehend Tamil it will remain legendary.
However, in terms of real politics, what he leaves behind is a political party revolving around a large first family. He has six children from three marriages and even detailing all the members can be exhausting. The power equation between the children is convoluted and fickle.
MK Stalin, second son from the DMK patriarch's marriage to Dayaluammal, is the undisputed successor and has a firm hold over the party. Stalin has had his share of grass root political experience and his succession has been asserted and re-asserted over the last two decades.
However, his real test would be to take the party to power. In the last Assembly elections, in 2016, the DMK fought under his leadership but lost to late Chief Minister J Jayalalithaa.
It was a blow to the party as Jayalalithaa was the incumbent and in the last three decades the incumbent, Jayalalithaa or Karunanidhi, had never returned to power.
Also, Tamil Nadu had only seen a Karunanidhi versus Jayalalithaa battle for the last two decades. In the absence of the two, it is not clear if conventional political arithmetic will survive in the state. Star entrants like Rajinikanth and Kamal Haasan too may have an impact.
Stalin needs to win an election to establish his position as THE leader. His older brother M K Azhagiri has had differences with him and Karunanidhi's daughter Kanimozhi has her own political ambition. In the absence of the father, all eyes are on the son and how he charts the party and hence the state's political future.
(The writer is a senior journalist. The views expressed here are personal)
| Edited by: Ashutosh Tripathi
Read full article
Countdown To
Elections Results
To Assembly Elections 2018 Results