Days Before Assassination, Indira Gandhi Had Warned Rajiv Against Drafting Amitabh Bachchan Into Politics
In a new book, 'Neta Abhineta: Bollywood Star Power in Indian Politics', Rasheed Kidwai delves into the intersection between the nation's two obsessions - politics and cinema. The following excerpt chronicles Amitabh Bachchan's relationship with the Gandhi family.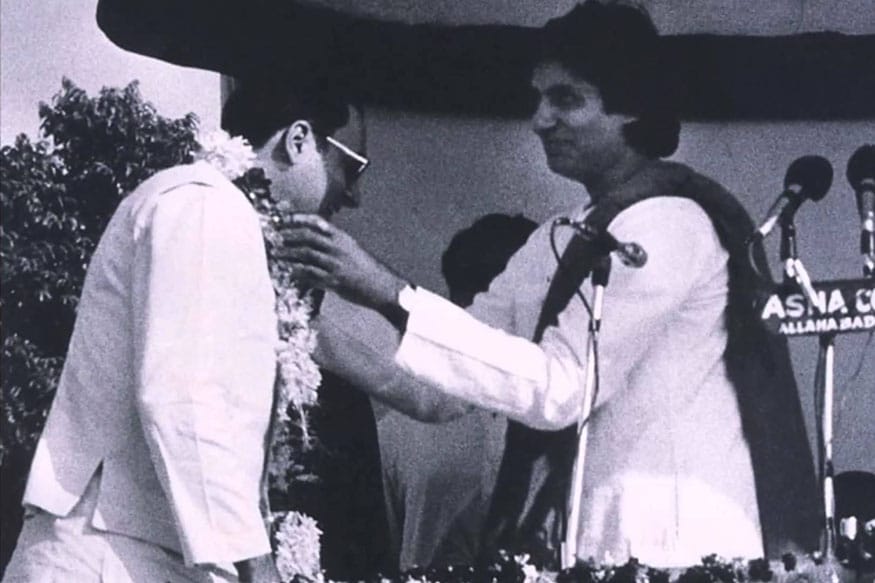 File photo of Amitabh Bachchan garlanding former Prime Minister Rajiv Gandhi. (Courtesy: YouTube)
Has Amitabh Bachchan been apolitical all along? A closer look at his eventful life speaks otherwise. His high-profile association goes back seven decades.
Many many winters ago, a young Amitabh had received Sonia Maino, a would-be bride of his childhood friend Rajiv on a cold and foggy January morning at New Delhi's Palam Airport in 1968. Sonia's bond with Bachchan brothers (Amitabh and Ajitabh) was instant. The tale of friendship continued when Rahul and Priyanka were born and as they grew up, they addressed Amitabh as "mamu."
Then came the Emergency. Amitabh, who was frequently seen in Sanjay's company, faced media wrath for supporting it. Throughout those 19 months, Amitabh remained silent on the ban imposed on Kishore Kumar by All India Radio and Doordarshan and the ostracism of the likes of Pran and Dev Anand, both outspoken critics of the government. Film journalism faced stiff censorship where even a gossip item about a young Amitabh and the sensational Zeenat Aman was not tolerated.
After Sanjay's death, the entry of Rajiv saw Amitabh offering his signature voice to the 1982 Asian Games opening ceremony in Delhi's Jawaharlal Nehru stadium. Rajiv, the chief organiser, sat in the front row as Amitabh anchored the show.
Following the Bofors uproar, Amitabh, who had by then become an MP from Allahabad, left politics, disillusioned.
The superman was accused of being a middleman.
Amitabh fought for his honour and won a protracted legal battle, but he could not sever his links with politics. Amitabh's parting with Gandhis singularly contributed to Rajiv's downfall as Allahabad Lok Sabha by-elections in 1987 gave a fragmented opposition a sense that together they can humble the Congress, which was holding 413 MPs in 542-member Lok Sabha.
There were, of course, minor instances of friction between the Gandhis and the Bachchans over certain issues even before 1987. There was the time in 1980 when Indira had chosen to give actress Nargis the coveted Rajya Sabha nomination, despite her own proximity to Teji Bachchan.
The move had allegedly upset Teji, as reported in the snippet column of Surya, a magazine edited by Indira's younger daughter-in-law Maneka. Indira Gandhi, however, stoutly defended her decision, insisting that the former actress deserved the recognition more than anyone else.
Going by ML Fotedar's account in his 2015 memoir, it appears that the relationship between Indira and Teji had been strained for a long time.
According to him, Indira had even warned Rajiv against drafting Amitabh into politics and, a few days before her assassination on 31 October 1984, summoned her son (the AICC general secretary at the time) for a meeting, along with Arun Nehru, a member of Parliament at the time and a distant cousin of Rajiv's, and Fotedar himself.
"During the course of conversation regarding parliamentary elections, she categorically told her son two things he should never do in future,' Fotedar recalled, going on to reveal what the first one was. "She said: 'Do not ever bring Teji's son – Amitabh Bachchan – into electoral politics'."
Indira's aide claims that Rajiv had heard out his mother in 'disbelief', without uttering a word. Fotedar added that when Amitabh was given a Congress ticket in the 1984 Lok Sabha polls, he could understand Indira's reasons for keeping the actor out, 'but since Rajivji was adamant I left it at that.' According to Fotedar, Indira had also advised Rajiv to keep Madhavrao Scindia, the former maharaja of Gwalior, at arm's length.
According to Fotedar, Bachchan was to wield a great deal of clout during his stint as a Member of Parliament from Allahabad (1985–87).
"I was also getting reports about Amitabh's interference in the appointment and transfer of officers in the ministries," he alleged, going on to add that many senior party leaders had complained about the actor's "interference in administrative matters".
Elaborating further on the subject, Fotedar said: "Allahabad is a place of academicians, intellectuals, judges and lawyers. However, Amitabh gave charge of his constituency to a person who people did not take seriously."
He claims that he "never reported to Rajivji about Amitabh's functioning", although the actor, it seems, persisted in interfering not only in the governance of Uttar Pradesh (a Congress-ruled state at the time), but even in that of other states like "Madhya Pradesh, Rajasthan and Maharashtra".
Fotedar, who was then serving as political secretary to Rajiv, claimed that the latter had once told him about Amitabh's insistence on the appointment of 'XYZ' as a chairperson of a women's wing in Rajasthan.
'I mentioned the matter to Hari Dev Joshi, the chief minister,' Fotedar remembers. 'Joshi refused to appoint the person. He said, "I [can] have anyone else."
When Amitabh finally fell out with his childhood friend in 1987, Fotedar says that he was, much to his surprise, not only roped in as a witness, but also as a 'player' in the events that followed.
Rajiv's political secretary gives a graphic account of the day Amitabh resigned: "Amitabh came to see the Prime Minister. They had discussions. That day around 2.45 pm when I was about to leave for lunch, [the] Prime Minister called me. He was accompanied by Amitabh, looking charismatic as usual in a white kurta pyjama. They were walking towards 7, Race Course Road [the Prime Minister's residence]. We went inside. The PM took a chair. On his right was Amitabh and I was asked to sit on his left."
With the natural flair of a storyteller, Fotedar continues, "Rajivji said, "Fotedarji wants you to resign. That was a surprise to me – and it must have been to Amitabh also."
Fotedar attributes to the actor the following response: 'If Fotedarji wants me to resign, I am ready to resign. Come on, give me the papers. What do I have to write?"
The political secretary then asked Vincent George, personal assistant to Rajiv, to fetch a writing pad with a Lok Sabha member's letterhead on it. "I told Amitabh: 'Write in your hand to the Speaker, I resign from the Lok Sabha.' In response, Amitabh said, 'That is it?' The note was sent to the Speaker and the actor's resignation was accepted."
Fotedar then adds, "The truth is that I had never discussed this matter with the PM nor had Rajivji ever discussed it with me."
Amitabh Bachchan's formal entry into politics had been as swift as his exit. When fresh elections were called following Indira Gandhi's assassination, Rajiv was looking for 'giant killers' to take on the likes of Atal Bihari Vajpayee, Hemvati Nandan Bahugana and others of their ilk.
Arun Nehru, who would go on to become Minister of State for Home during Rajiv Gandhi's tenure as prime minister, had proposed Amitabh's name and a telephone call was arranged. Rajiv did not have to spend much time persuading his friend to accept his proposal.
Excerpted with permission from , 'Neta Abhineta: Bollywood Star Power in Indian Politics', Rasheed Kidwai, Hachette Book Group.
| Edited by: Aakarshuk Sarna
Read full article
Countdown To
Elections Results
To Assembly Elections 2018 Results