From Mentor to Outcast: Why Rahul Gandhi's Congress Has Shunned Digvijaya Singh in Poll-bound Madhya Pradesh
The issue of Digvijaya Singh's isolation in poll-bound Madhya Pradesh is intriguing for many inside as well as outside the party. Singh himself was heard commenting in Bhopal recently that he was being shunned.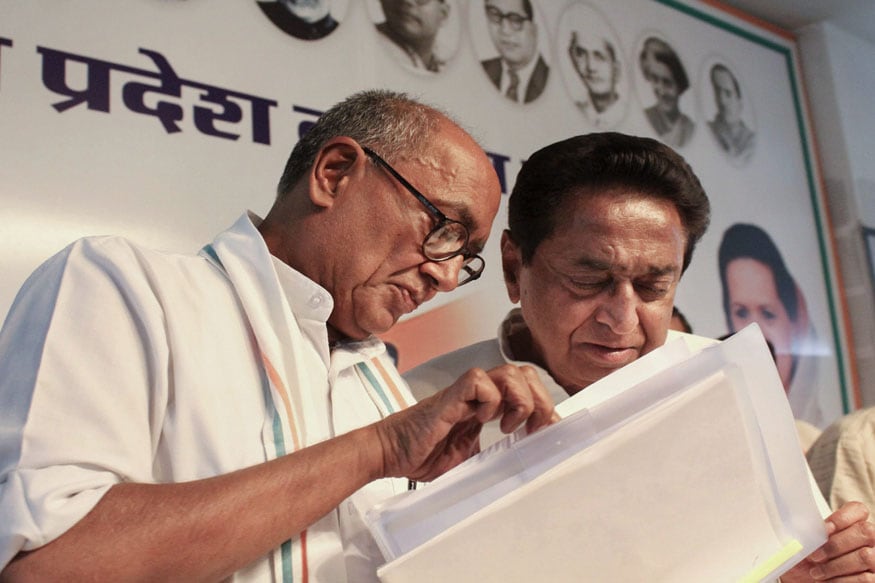 Digvijaya Singh and Kamal Nath in Bhopal. (File photo: PTI)
Has Digvijaya Singh lost his influential position in Rahul Gandhi's Congress or is the former Madhya Pradesh chief minister being kept out of the poll campaign as part of a strategy? Opinion is divided within the Congress circles.
The issue of Singh's isolation in poll-bound Madhya Pradesh is intriguing for many inside as well as outside the party. Singh himself was heard commenting in Bhopal recently that he was being shunned.
"Whoever gets the ticket, even if it's an enemy, we should make him win. I only have one work; no publicity, no speeches. Congress loses votes with my speeches, which is why I don't attend rallies," he said.
There was more to follow. The Congress list of 40 "star" campaigners for another poll-bound state, Chhattisgarh, seemed to confirm Digvijaya's apprehensions.
His name was missing even though he had served as chief minister of undivided Madhya Pradesh from 1993 to 2000 when the new state of Chhattisgarh was carved out of it.
The plausible explanation of keeping MP leaders out of neighbouring Chhattisgarh on account of simultaneous electioneering does not hold good as Jyotiraditya Scindia's name figures as 'number 12 star campaigner'.
Anyone remotely familiar with politics of Chhattisgarh would vouch that Singh enjoys more clout and understanding of the tribal state than Scindia.
But then in politics, obvious is often not so obvious. Some senior Congress leaders feel the isolation is more "strategic" than real and claim that the seasoned politician is privy to Rahul Gandhi's game plan to keep him at an arm's length.
According to this school of thought, the veteran leader has been a controversial figure on account of his hawkish, anti-Hindutva utterances.
During the UPA regime, when Digvijaya was the AICC general secretary, he had raised the bogey of "saffron terror" and expressed grave doubts over Batla House encounter and death of anti-terror squad chief Hemant Karkare during the 26/11 Mumbai attack.
With Congress under Rahul opting for soft-Hindutva, Digvijaya, on his part, is also trying to make amends. Between October 2017 and April 2018, he paid respect to thousands of seers and saints and visited hundreds of temples around Narmada River while undertaking a six-month long Narmada yatra on foot.
In Raghogarh principality, his camp is busy projecting the former ruler as "Hindu pati" (defender of the faith) and a strong votary of sanatan dharma. But as things stand now, he seems unable to shed his "anti-Hindu" image.
Singh's dismal performance as Congress chief minister in 2003 when the party managed to win merely 37 out of 230 assembly seats has added to his troubles.
In the initial days of his Jan Ashirwad Yatra in June-July 2018, BJP chief minister Shivraj Singh Chouhan had targeted him, reminding the voters of "those dark days" when there were frequent power cuts and bad roads. The older generation of voters were seen nodding their head in approval but the subsequent Congress move not to field Singh as a campaigner has deprived Chouhan a favourable punching bag.
Singh's son Jaivardhan is a two-time MLA and slated to become a state minister in the event of Congress coming to power in the state. Such a scenario is not a bad bargain for Digvijaya, whose fatherly instincts wish Jaivardhan to be stepping in his shoes sometime in 2023.
In Madhya Pradesh and Congress circles, Singh has been a towering figure. He is among the very few politicians who has been elected representative in all three layers - nagar palika, state assembly and parliament. He has been head of town corporation, MLA, state minister, Lok Sabha and Rajya Sabha MP and chief minister in addition of holding numerous party posts.
During 2012 Uttar Pradesh polls, he was an AICC general secretary in charge of the state and worked closely with Rahul to such an extent that many had dubbed him as young Gandhi's mentor.
Post December 11, 2018, when verdict of MP and four other states will be declared, Digvijaya's standing in Rahul Congress will become clearer. It may have bearing on many other senior memebrs of the Congress as well.
(Rasheed Kidwai is a senior journalist. Views are personal)
| Edited by: Ahona Sengupta
Read full article
Countdown To
Elections Results
To Assembly Elections 2018 Results