How Mizoram Went From Only State to be Bombed by IAF to 'Island of Peace' With Zero Poll Violence
Political violence is a distant reality in the state. So much so that a recent video of a Congress cavalcade of vehicles honking while driving past a town square where another party's campaign rally was being held was widely circulated on social media and condemned.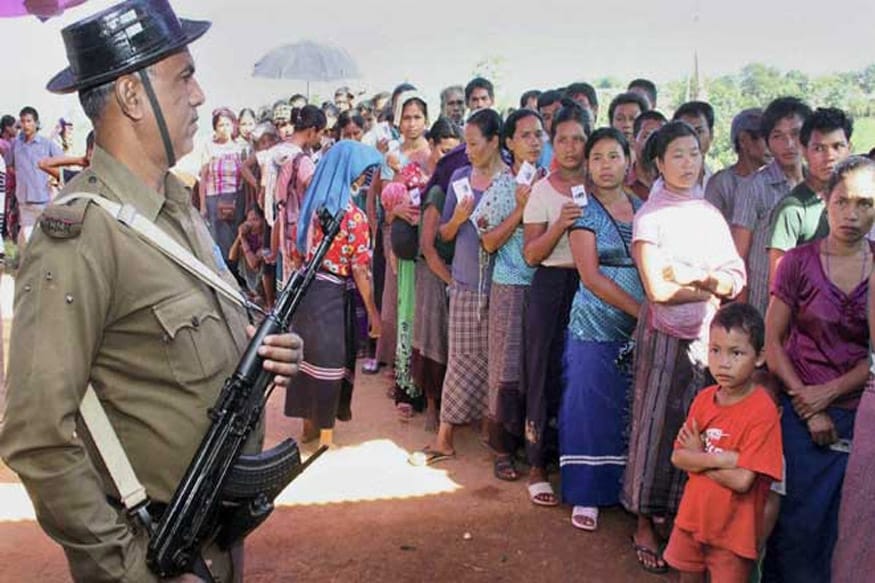 This was the first elections in Mizoram where there have been zero verified reports of militant activity. (File photo)
In March 1966, what is now the state of Mizoram became the first and so far only part of India to have been bombed by its own Air Force: the IAF's bombing and strafing of Aizawl and several other settlements came days after the Mizo National Front led by Laldenga, miffed at what it saw as government inaction and inefficiency at addressing a famine caused by a rare, natural cyclical phenomena a few years earlier, declared independence from New Delhi.
The MNF insurgency was the second major rebellion against New Delhi's rule in the country's north-eastern frontier (the Naga rebellion had been around for about two decades prior to this) and it was one of the fiercest, culminating in a 20-year-long state of disturbance in the Mizo hills.
Despite an entire generation growing up under the shadow of human rights abuses from both sides, forced relocations of entire villages, curfews and armed violence, come 1986, the MNF rebellion was resolved, famously proclaimed as the only armed insurgency to be done away with the stroke of a pen.
Three decades on, Mizoram is poised to vote in an election where insurgency and violence are non-issues, yet again. In this regard, the state is unique among its north-eastern neighbours. While militant activity is staple news in the other states even outside election season, Mizoram has been given the tag "an island of peace" by several writers and observers.
Of course, the state has had its share of militant activity since Laldenga came overground with the MNF and sat inside the State Assembly with Lal Thanhawla and the Congress, who by a peace agreement conceded power temporarily to the rebel-group turned political party.
There was, for example, a simmering Hmar insurgency in the state's northern borders with Manipur, but the main group entered a peace deal with the state in 1994. Despite at least two factions plodding on, they were not widespread and were largely operating from within Manipur.
The larger of these factions also laid down arms earlier this year, and the other has been largely dormant. There had also been Bru insurgents for about a decade starting in the mid-1990s along the state's western areas, but those too came overground over a decade ago.
Apart from this, the NLFT, which was born in Tripura and which operated from Bangladesh's eastern borders, carried out sporadic kidnappings inside Mizoram with the help of Bru armed gangs, but that too has subsided over the past two or three years.
Despite these militant activities having existed in the frontiers of Mizoram over the years, they are and have always been on the fringes, and certainly did not affect a majority of the state or its population, and certainly did not envelope life in the hills as the MNF insurgency did.
And despite that, this is the first elections in Mizoram where there have been zero verified reports of militant activity, and where the security apparatus has not really been geared to counter threats from existing militant groups, simply because there are none.
So why has Mizoram been largely peaceful for the past three decades? The trend began as early as 1966, just weeks after the MNF insurgency began: Church leaders and spirited individuals immediately took up the mantle of intermediaries between the government and the rebels, even to the point of calling out human rights abuses by either side.
In the 1970s, spirited, systemic campaigns were launched against such abuses, and the People's Conference led by a retired Indian Army Brigadier, Thenphunga Sailo, morphed into a political party and won elections based on peace-desiring sentiments.
The Congress too re-emerged on a campaign cry of peace in the 1984 elections, and to this day claims credit for the Mizo Accord of 1986 after its leaders capitulated and allowed the MNF leadership to take the reins of power.
Given these calls for peace and an end to abuses that a state of conflict entails and the electoral support such calls have always been able to garner, it is unsurprising that Mizoram has largely remained peaceful over the years.
But it isn't just militant activity and violence that is largely absent. Even political violence - of one party physically clashing with another on the streets - is a distant reality.
So much so that a recent video of a Congress cavalcade of vehicles honking while driving past a town square where the ZPM was holding a campaign rally was widely circulated on social media and condemned.
In another incident, the MNF also immediately condemned through a statement a minor damage (a cracked windshield) to a candidate's vehicle by unknown miscreants just days ahead of polls.
Such condemnation of even the slightest non-genteel acts during election campaigning is not always spontaneous either. The Mizo People Forum or MPF, an election watchdog made up of various church denominations and community-based organisations, has for several past elections inked agreements with various political parties that, in effect, tries to strengthen the model code of conduct.
For example, the MPF branches in various parts of the state have, even during this campaign season, issued statements whenever there have been breaches of the MCC, such as distribution of cash or hosting of feasts by parties or their candidates.
These public announcements, made through public information systems, local newspapers and newsletters and on social media, have been a standard operating procedure for the MPF, even as its leaders have separately met all political parties' leaders and urged them to campaign fairly and without the use of money and muscle power.
The terms of the agreement have been relaxed this time around, in fact, as door-to-door campaigns are now allowed. In past elections, candidates did not canvass from house to house but rather took part in 'common platforms' organised by local MPF units, whereby a town or village square would host all candidates in a round of debate, and mudslinging and smear campaigns were not allowed.
(Adam Saprinsanga is the editor of the Frontier Despatch. Views expressed in the article are his own)
Get the best of News18 delivered to your inbox - subscribe to News18 Daybreak. Follow News18.com on Twitter, Instagram, Facebook, Telegram, TikTok and on YouTube, and stay in the know with what's happening in the world around you – in real time.
| Edited by: Aakarshuk Sarna
Read full article