'I am Basant Rath and I do what I do': How One Man is Bringing Order to J&K's Roads
While the Basant Rath phenomenon has taken ordinary citizens in J&K by a storm, the rumour in the civil secretariat is that even the cabinet ministers, elected lawmakers, senior bureaucrats and top police officers are now wary of his looming presence on the roads.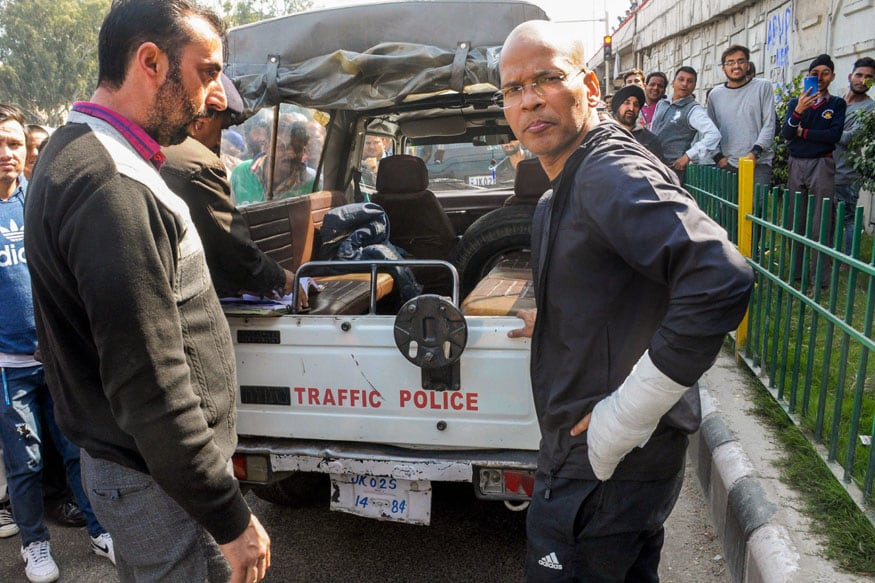 Inspector General of Police (Traffic) Basant Rath (right) during a traffic inspection Jammu. (PTI file photo)
Desperate diseases must have desperate remedies. These days, one such remedy, impossibly administered on an hourly basis to reckless commuters in Jammu and Kashmir, is Basant Rath, an IPS officer of J&K cadre and a self-taught poet who has penned some of the most beautiful English lines on the tragedy of Kashmir.
A post-graduate in Sociology from Bhubaneswar, Basant was appointed J&K's inspector general of traffic police last month, despite a controversy over his 'anti-national' writings that have appeared in an online portal. But it has also come at a crucial time as roads in the state are fast turning unmotorable due to burgeoning vehicular mass, decades-old infrastructure and traffic bottlenecks caused by illegal parking and encroachment of roads.
Take the example of the city centre Lal Chowk in Srinagar. At peak hours, it sometimes takes you more than an hour to traverse a barely two-km stretch from Jehangir Chowk to Rajbagh. Even in the city's outskirts, there are regular traffic snarls. The condition in rural J&K is also not encouraging due to steadily increasing number of vehicles that have doubled in the last decade on the same stale and stagnant road infrastructure.
There are no easy solutions to J&K's traffic problems. Once the schools open after winter vacations and the durbar, the civil secretariat, which shifts to Jammu for six months, moves back to Srinagar in May, there will be chaos on roads. Implementing law in letter and spirit will help immensely and Basant is leading by example. In Jammu, where the action is unfolding these days, he has started from basics.
For example, why should a shopkeeper illegally park his bike or car on the road upfront? Why should vehicular traffic stop ahead of zebra crossings and not behind the line? Which law allows traders to showcase their products on pavements meant for pedestrians? Why should cops overlook flagrant violation of law by riders without helmets? Why shouldn't drivers in public transport sector face penalty for not wearing uniforms?
Using his personal social media accounts, he seems to be on a mission to discipline the commuters and pedestrians alike. And it works. In north Kashmir's Pattan, for example, a one-km stretch which would take you between 15 to 25 minutes to cross, today it takes just five. Ask the ordinary people of Jammu and they will tell you how much traffic scenario has improved in the city since Basant took charge.
But his good work has dealt a blow to the system which was refusing to move. In his attempt to restore some much-needed order on the roads, he has had his brush with the mighty and the powerful of Jammu and Kashmir. In one incident, he "disciplined" a ruling party youth leader near a top hotel in Jammu earlier this month. In another, he seized the Audi car of an army official, the son and son-in-law of two senior IPS officers in J&K. Both Rath and the army official filed FIRs against each other.
"I am Basant Rath and I do what I do," is one of the most quoted lines from the IPS officer on social media where, apart from earning massive praise, and some angry outbursts too, he has become very adept at examining suggestions of his followers and going after the culprits who are caught violating the law on tape or photos.
While the Basant Rath phenomenon has taken ordinary citizens in J&K by a storm, the rumour in the civil secretariat is that even the cabinet ministers, elected lawmakers, senior bureaucrats and top police officers are now wary of his looming presence on the roads. One minister told me that he has ordered his driver to wear a uniform while driving him to work from home and back, lest he is caught on the wrong side of law.
But in an attempt to tarnish the good work of Basant, some politicians and even police officers have joined hands to launch a smear campaign against him so that he is removed from his posting. One lawmaker, who was associated with a state-sponsored militia in Kashmir in early nineties that killed hundreds of innocent people in Kashmir, termed him "insane" and demanded his immediate ouster.
But where there is a will, there is a way. None other than the principal secretary of J&K's finance department, Navin Chaudhary, backed him in a post on Facebook. He has also earned accolades from some senior ministers and his colleagues in police from J&K who know what it takes to bring even a semblance of normalcy on our roads.
According to insiders, he has the blessings of his seniors and has been given a free hand to 'clean up' the roads.
Apart from his love for work, his love for Kashmir is reflected in his dazzling work of poetry. People who know him and work closely with him say he is in the process of writing a novel and has almost completed a collection of poems, mostly on Kashmir. But his writings have made him so controversial that a cabinet minister in J&K has labelled him a "militant leader".
A poem by Basant titled 'Unmarked Grave' on mass graves is one of the most poignant depiction in English of the state ravaged by war over the last three decades.
No marble. No flowers.
No traffic. No crowd.
No fatal date engraved.
Everything nameless
by force of habit.
On this side of the Pir Panjal
we deny the dignity of death
to the one who dies in absentia.
By force of habit.
In another poem, he writes about 1989, when an armed insurgency erupted in Kashmir and a tragedy started unfolding around it in the Valley.
I'm 1989 and a bright kid
who can't write in cursive.
My teacher didn't care
how a child holds his pencil
as long as he could cram a page.
One day I told her:
"Miss, please strike off
my brother's name
from your register.
He died in a mine blast".
It is 1989 and Sopore.
Anantnag and Islamabad.
Miandad and Gavaskar.
A sufi song and Jihad.
A neighbour of my neighbours.
They ate with us.
They ate like us.
And they ate us.
J&K deserves Basant. We owe him one year, at least, and it is very likely that we will wake up to a new reality on the roads, where we neither feel harassed nor are endlessly stuck in traffic jams. His appointment may become the biggest confidence building measure that the J&K government has yet taken to stop the madness on the roads.
(T
he writer is a senior journalist. Views are personal
)
| Edited by: Bijaya Das
Read full article
Countdown To
Elections Results
To Assembly Elections 2018 Results