Kerala Floods: When a Mumbai Stockbroker Wrote a Cheque of Rs 5 Crore for Relief Fund on Live TV
Flood disaster has brought many positives for Kerala which is in for a construction boom, demand for labour, inflow of dollars and the resultant economic revival. But the government is deep in debt.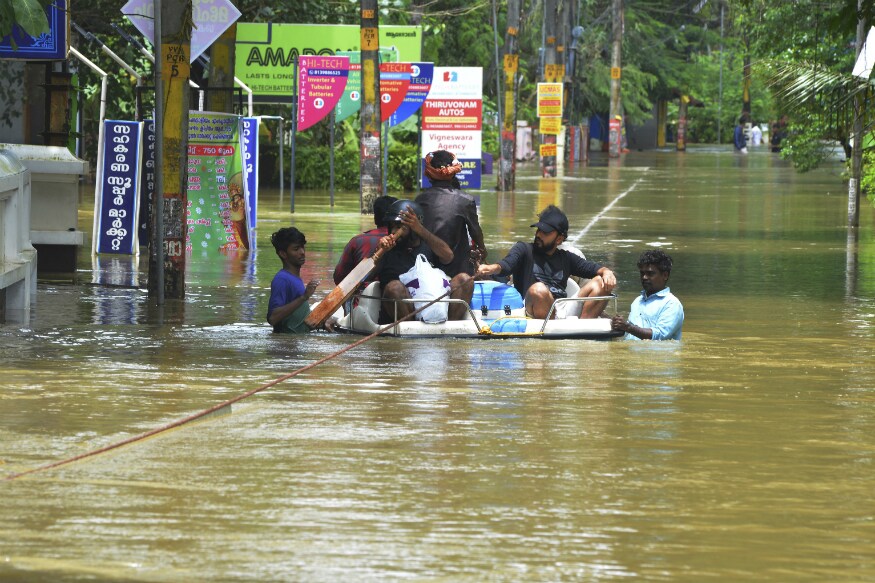 An image of Kerala Flood Victims being rescued in inflatable boats. (AP)
Heavy rains in early August in Kerala followed by floods caused by the opening of two dams, resulted in the death of around 400 people, apart from loss to property estimated at around Rs 8,000 crore, though estimates wary.
It was a flood situation which the authorities should have seen coming, considering that the rains were heavy during the first week of August. Kerala took 2191 mm of rain till August 16, about 30 percent of national rainfall.
The aftermath of the floods saw an impressive national support to the small state. The disaster and the huge inflow in money, material and volunteer support showed how India cared for Kerala. We had the rare sight of a Mumbai stockbroker writing out a cheque of Rs 5 crore for the relief fund on live TV. For an entire month, the country was focused on relief efforts in Kerala, something not seen before. Money poured in, and by latest count had crossed Rs 1000 crore mark.
It can be said that the disaster was actually minor to middle level and not by any standards a national calamity.
For comparison, consider the Uttarakhand floods of June 2013 in which 7,000 people perished and entire villages were wiped out. No village was wiped out in Kerala mainly because houses even in remote areas are pucca and well built, all signs of a developed society. Uttarakhand survived we know. So will Kerala.
Kerala is not an industrialised state nor is it agriculturally big. For its food, Kerala depends on Tamil Nadu. Though a shortage of rice and some other commodities is being felt in Kerala this month, it is not likely to escalate since the other southern states, being agricultural states, are ready with supplies.
Even in the south, Kerala stands alone with its economy model, a remittance-service-hospitality model, and has made inroads into the knowledge industry as well. It cannot compete with any southern state for industries. So when a disaster happens all these holes show up and the economy will have to withstand severe tests. The main reason is that tourism is a fickle industry. The first sign of trouble and all the tourists will vanish leaving empty hotels and resorts. So for at least next two months, the tourism industry will take a big hit.
The insurance sector, of course, will be the other to take a hit but state sector insurance companies can see through this. Kerala does not create much wealth but is a hugely consuming society. A senior Tata Motors official recently said after Delhi/NCR, Kerala is the largest buyer of cars, even high-end cars and car companies have to have showrooms in every district. So the car sales have slumped y-o-y about 1 percent due to the floods and this trend will continue for a couple of months more. But this can turn into positive since hundreds of vehicles which are write offs, will be replaced once the insurance payments come in.
"People who have Rs 100 will spend Rs 90 on building back. The nature of spending is going to change. This is consumption positive. What I'm excited is they are talking about building a new Kerala. This means good investment and a long range planning. Resources will come to build physical infrastructure. The issue is to rehabilitate small businesses. That's near term pain. We should not pass judgment for six months. If by October things start looking better and momentum comes back, then massive construction business is going to happen — 50,000 to 60,000 km of roads," Shyam Srinivasan, CEO, of Federal Bank told Indian Express.
Rebuilding can be positive but there could be long-term pain as well in terms of interest repayment. Thousands of people will have to rebuild homes and entire interiors will have to be refitted. Where will these monies extending up to Rs 10-20 lakh per household come from? Mostly by gold pawning, a favourite Kerala habit of raising funds, though it doesn't make economic sense at all. Firms like Muthoot Finance and Malabar Gold are in for a bonanza with huge payouts at interests of up to 36 percent. Banks too will benefit since small loans will go up.
Another big positive for a remittance economy is the rupee depreciation which will see huge amounts of money pouring into Kerala banks in the next few months.
Kerala's bridges are all old and the state has had no money to upgrade them. Now there is no option but to rebuild most of them not just the 36 bridges which collapsed but the entire lot of them.
The government estimates Rs 20,000 cr spend but from where will the money come from? This will be the long-term pain that the state will have to bear.
Kerala is hugely in debt to the tune of Rs 86,453.68 crore, according to the 2017 Economic Survey.
Kerala has just enough money to pay wages. Clearly, money will have to be diverted from other sectors and new taxes added.
Ironically, most of the rich Malayalis stay abroad (Kerala has 10 NRI billionaires) and the government get no cut from their pie. So, Kerala is a paradox which we don't really understand. This post flood planning will show up the state for what it really is, minus all the whitewash and painting.
(The writer is a senior journalist. Views expressed are personal.)
Get the best of News18 delivered to your inbox - subscribe to News18 Daybreak. Follow News18.com on Twitter, Instagram, Facebook, Telegram, TikTok and on YouTube, and stay in the know with what's happening in the world around you – in real time.
| Edited by: Ahona Sengupta
Read full article