OPINION | Media's Voyeuristic Instincts and Viewers' Sadistic Pleasures Create Circus Around Sridevi's Death
To say that Indian television channels were the most insensitive in their coverage of the actress's death would be an understatement. The most glaring example was a television reporter doing his piece to camera by lying down in a pink bathtub.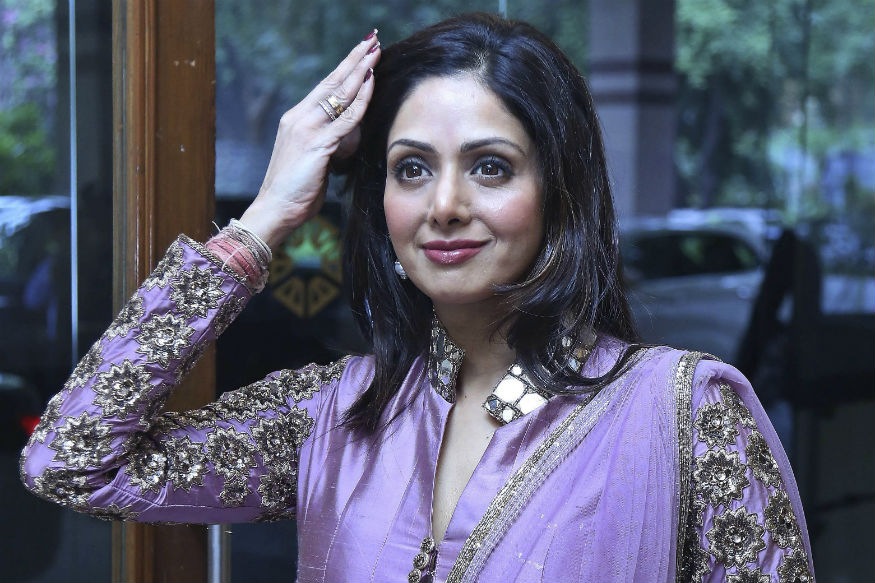 Sridevi passed away in Dubai on Saturday after drowning in a bathtub. (AP)
In the morning, I received a text from a friend asking, "What's the actual story behind Sridevi's death?" It is hardly the sort of thing one likes to wake up to. However, this wasn't the only disturbing text about Sridevi or her death I have received in the last few days.
In a group chat, a male friend observed on Monday that "it was perhaps the Botox that led to her heart attack". Although, I am certain he knows nothing of Botox, heart attack or any plausible link between the two.
My mother lamented throughout Sunday about how it was such an untimely death, praised Sridevi's unparalleled beauty, and then asked me how her kids were doing. I told her I don't know yet and they haven't made any public appearances. She was disheartened not to get any updates.
She then informed me that Sridevi's younger daughter, Khushi, was with her in Dubai when the actress died, and her older daughter was shooting for her debut film. She went on talking about Sridevi's family as if she knew them intimately. As if somehow, for all these years, I was oblivious to the fact that we were related to Sridevi, Boney Kapoor, Jhanvi and Khushi.
My mother may be an extreme example, but she isn't the only one who feels an intimate connection with the actress. In fact, it is not just Sridevi, all celebrities in general, become part of our lives in strange ways. They are our first crushes, our inspirations; their pictures are perhaps one of those few inanimate objects we don't feel stupid talking with. We idolise them like gods and goddesses.
And yet, they are mortal beings. They die, like other people we love. And in their death, we, as a society collectively feel a profound sense of loss. We want to know every detail of their last minutes on Earth. We want to know the cause of their deaths; we want to see them and feel connected to them for one last time.
It is perhaps this feeling of ours as a society that feeds the bottom-dwellers of journalism. Within hours of Sridevi's death, as eulogies, fan girl accounts and obituaries were being written, several media outlets began speculating. The actress was heavily criticised for her lifestyle choices and habits. Even before the forensic report was out, some media outlets were quick to compare her 'tragic death' to Mona Kapoor's, Boney's first wife. There were analogies drawn to Divya Bharti's death as well.
To say that Indian television channels were the most insensitive in their coverage of the actress's death would be an understatement. In the last couple of days, a television reporter did his piece to camera by lying down in a pink bathtub. A Hindi TV channel raised an important question, 'Kamra Number 2201 mein kya hua? (What happened in room no. 2201?).
The video had images of Sridevi walking on a ramp juxtaposed on a white bathtub because the forensic report said the actress had died by drowning in her hotel tub. The video recreated events which supposedly led to the 'mysterious' death of the actress with amplified suspense music in the background that can put Bollywood thrillers to shame.
The video, as salacious as it is, has already received thousands of hits. The new facts from the forensic report have led many television channels to speculate that Sridevi's death wasn't really an accident. Conspiracy theories have been framed; new story angles are being worked on. One leading TV channel had a criminal psychologist saying how the circumstantial evidence points towards something dubious (what the circumstantial evidence is - who knows?).
Another Hindi channel is asking, Sridevi ne sharab shok se piya tha, ya tanav mein aa kar?' (Did Sridevi drink for pleasure, or because she was stressed?), Kya tanav ne hi li Sridevi ki jaan? (Did the stress kill Sridevi)? All these videos have received considerable views and comments that are equally obnoxious, if not more. One viewer claimed that "May be Boney Kapoor killed her and then orchestrated the entire drama." Another asked, "Why did Boney allow her to go to the bathroom in an intoxicated condition?"
This seems to be a cyclic evil; while certain media outlets feed off of the viewers' voyeuristic instincts to know the intimate secrets of actors or actresses' lives (and deaths), the viewers, in turn, derive some sort of sadistic pleasure in knowing that all was not perfect after all, in the lives of their almost perfect favourite stars. This may go on ad infinitum if media doesn't get its act right.
Let's face it, Indian media has never been the flag bearer of journalistic ethics. From media trials to yellow journalism, we have been accused of many shortcomings in our code of conduct, and rightfully so, in most cases. However, the way Sridevi's death has been made into a public circus is especially troubling.
It is not only about pointing a finger at one another and calling out media outlets that speculate and sensationalise news or rant about how facts are being butchered or fictionalised. Media is the watchdog of India, and it is, of course, our responsibility to scrutinise our own actions as press.
However, it is also our job as a community to acknowledge what our problems are in covering an event such as Sridevi's death. A senior journalist I spoke to squirmed at the mention of the recent media reports of the actress' death. He isn't the only one. Several senior journalists have already taken to the social media to express their displeasure with the reportage. Barkha Dutt has written up a piece for The Washington Post that goes with a catchy hashtag #NewsKiMaut.
However, despite many within the journalistic community being understandably upset with the current reporting, why is it that obscene, speculative media reports are still being filed as we discuss the issue?
Is it because, in a rush to cover the death of one of India's most celebrated actresses, the media seems to have forgotten to draw a line between journalism and the business of journalism? With live blogs competing with one another for the top slot on Google and more traffic; and as the Indian prime time television struggles to catch more eyeballs, has taken urgency over accuracy?
If so, it certainly isn't a recent development. Over the years, even English news channels, like their Hindi counterparts have started catering to the lowest common denominator of the viewers for the sake of TRP. Sridevi's death coverage just happens to be the most recent unfortunate example of this phenomenon.
The author is a senior journalist. Views are personal.
Get the best of News18 delivered to your inbox - subscribe to News18 Daybreak. Follow News18.com on Twitter, Instagram, Facebook, Telegram, TikTok and on YouTube, and stay in the know with what's happening in the world around you – in real time.
| Edited by: Aakarshuk Sarna
Read full article