OPINION | 4 Years of NDA 2.0: Brand Modi Stronger But Team Modi Still Chasing Achhe Din
The Narendra Modi government can boast of introducing transformative measures, but these have been overshadowed by the failure to substantively improve public delivery systems and, therefore, good governance.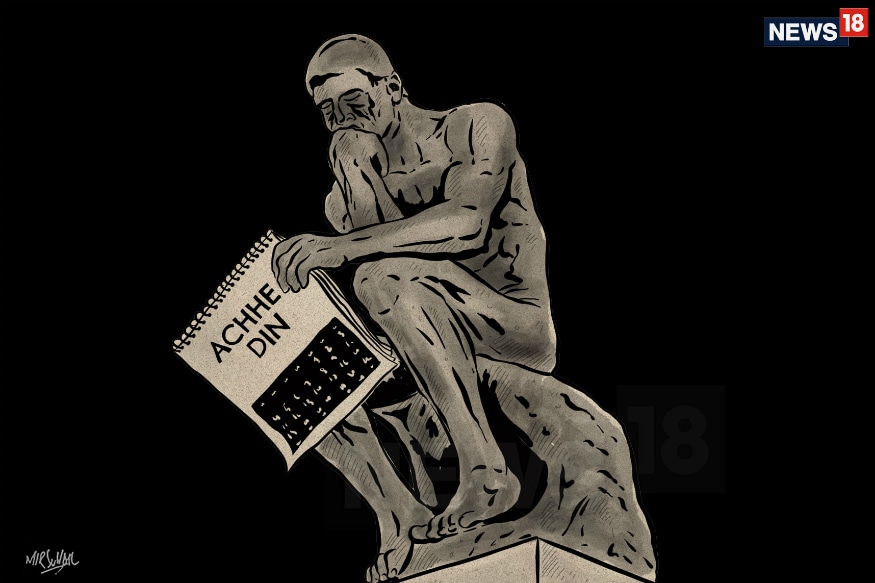 (Illustration by Mir Suhail/News18.com)
Four years. 21 elections. 15 victories. 19 states. Electorally, NDA II has notched up outstanding numbers. On all other fronts, the picture appears dim as compared to 2014.
In assessing four years of the Narendra Modi-led government, let's acknowledge that analysts and voters evaluate ruling parties differently. Analysts focus on specific policy issues with regard to the economy, health, education, diplomacy, legislation etc. Voters rely on a more general appraisal of government performance, that is, the value — both material and emotional — it brings to their lives.
The first is largely objective and the second, largely subjective. Objectively, demonestisation was horribly implemented and adversely impacted farmers, small businesses and jobs.
Subjectively, individual suffering was trumped by emotional well-being, engendered by a sense of participation in a larger national cause (curbing black money). Conversely, while GDP figures may be inching up, the 'hope factor' is sliding and 'achhe din' is a standing WhatsApp joke.
Analysts employ different yardsticks in weighing government achievements. Easing FDI norms in defence, aviation and retail (resulting in higher inflows) or extending fixed-term employment to all sectors of the economy may meet with unqualified approval from some, but be seen as a sell-out by others.
In assaying NDA II's big bang economic reforms, the glass is either half-full or half-empty. Diesel prices have been de-regulated, but kerosene hasn't. GST has been introduced but excludes critical products like fuel and real estate.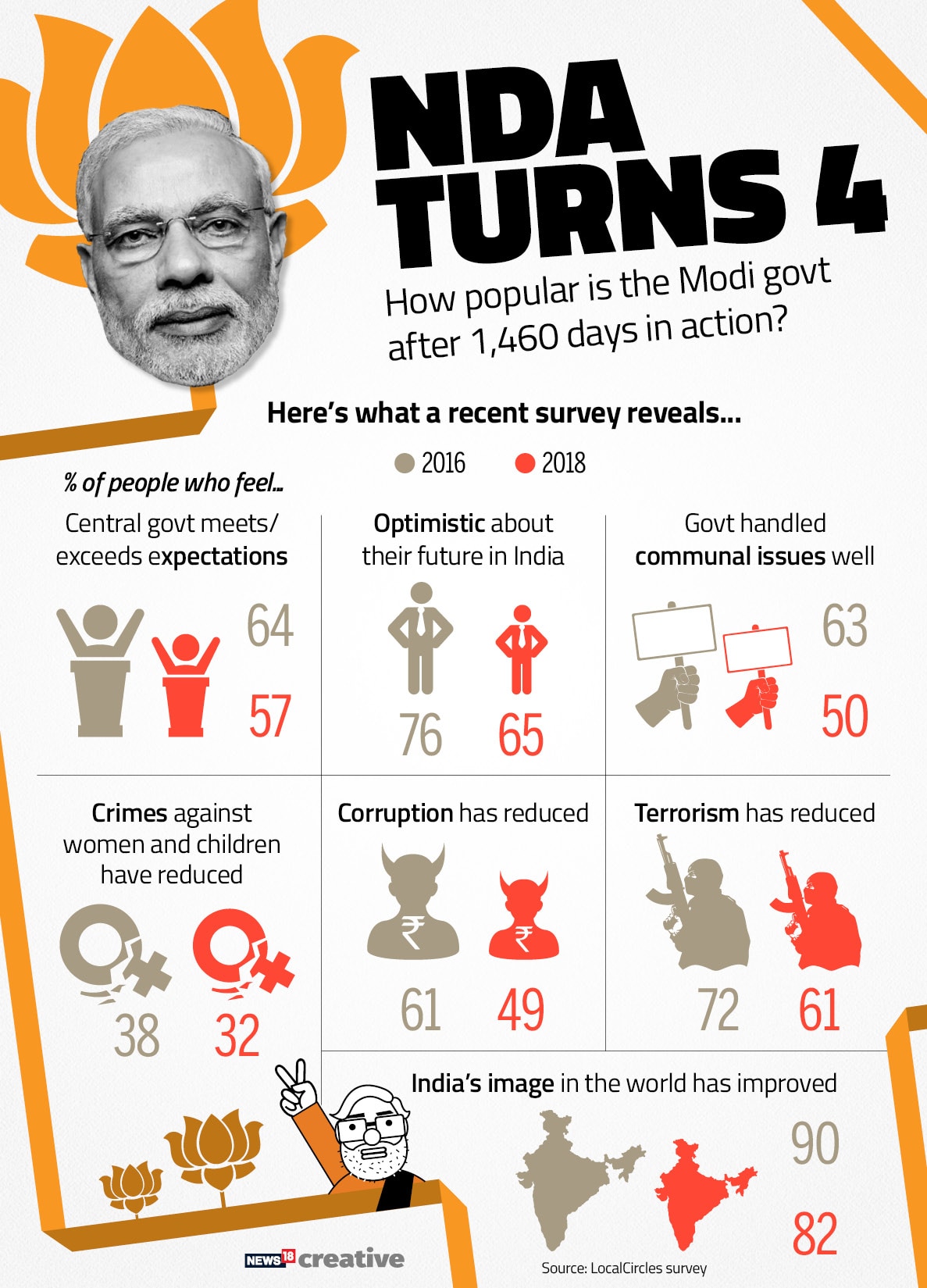 The much-needed Insolvency and Bankruptcy Code (IBC) is in place but took all of two years to achieve its first real success (with Bhushan Steel, one of India's biggest loan defaulters). Direct Benefit Transfer (DBT) of subsidies has been introduced but subsidy reforms are nowhere in sight. Direct tax collection has improved but tax terrorism is rampant.
It is generally accepted that NDA II's biggest failures have been in reforming public sector banking, addressing the farm crisis and jobless growth.
While the Modi government can boast of introducing transformative measures — like auctioning of natural resources, Jan Dhan accounts and UPI and mobile-based transactions, as well as lesser known but equally impactful measures like mandatory neem-coating of urea, energy-saving appliances, the online reservation system in e-hospitals and democratisation of the national awards — these have been overshadowed by the failure to substantively improve public delivery systems and, therefore, good governance.
The new crop insurance scheme, Ujjwala (for universalising access to cooking gas), e-procurement (GeM), unique identification number (UID) for the disabled, the venture capital fund for Dalits, the smart cities project, Swachh Bharat etc all ran aground in the face of bureaucratic apathy.
In the absence of administrative reforms, accountability is nil, even as government servants are rewarded for non-performance by the 7th Pay Commission.
Health spending is down, farm incomes have shrunk, the rupee is in free fall, fiscal deficit targets exceeded, education is just about beginning to recover under Prakash Javadekar, and the Ganga is not much cleaner.
So, how will voters perceive the government's performance? There's no gainsaying the widespread disappointment and unmet expectations of even committed BJP supporters.
How effective will the anti-incumbency factor be, given that the Opposition has no powerful counter-narrative to offer?
Anti-incumbency generally arises from a perceived abuse of power, as in UPA II, rather than a failure on the public policy front. So scams, if they are big enough, can oust a government. Retail corruption is a fact of life and the incumbent government rarely gets the blame. But scams involving identifiable players are not easily forgiven. NDA II, unlike its predecessor, has the advantage of being relatively scam-free so far.
Its credibility, however, has suffered from the lack of quantifiable results from the war on black money. And while investigations are underway, the wrong-doers the BJP had promised to bring to book are still thriving. The 'escape' of white collar offenders like Vijay Mallya and Nirav Modi is laid at the government's door, even though their scams may be seen as a legacy issue.
Failures on the law and order front can also fuel anti-incumbency and the last four years have been eventful in this respect. Gau rakshaks ran wild, Dalits and minorities were attacked, activists killed and child rapes were reported every other day.
Law and order is a state subject, so it's not clear whether the blowback will be felt in the general elections, or how much traction the Opposition narrative of intolerance and divisiveness will have. It all depends on the relative efficacy of spin doctors.
On the plus side, the NDA took baby steps towards a Uniform Civil Code and aggressively promoted the 'Beti Bachao' campaign. Its attempts at outreach and participatory governance, through such platforms as MyGov and events like the Smart Indian Hackathon, are commendable.
Politically, the BJP is in trouble, as the cracks in the NDA seem irreparable and the Opposition is ganging up. The Modi-centricism of NDA II is not in tune with coalition dharma and has also furthered Opposition unity, to the point where the general election promises to be a 'BJP versus the rest' contest.
The party could have done with a Pramod Mahajan and the RSS with a Balasaheb Deoras, to 'manage' the allies and engage with the Opposition.
It's not just the allies who are upset; within the RSS-BJP ranks, the authoritarianism of the Modi-Shah duo is much censured. Even Cabinet ministers are uncomfortable in the PMO-centric dispensation, which has proved a big bottleneck in the business of government.
What the NDA could have done without is hubris. The dubious adventures in government formation, the undermining of the Supreme Court's power over judicial appointments, the exit of the popular RBI governor Raghuram Rajan, the abortive Ordinance on land acquisition and the failure to take the Opposition — or the Cabinet — into confidence on matters of national importance are prime examples.
Yet, in election after election, Brand Modi, as distinct from the NDA, has triumphed. The PM continues to be seen as pro-poor and pro-development and a veritable icon of nationalism. And the more the Opposition attacks him, the stronger he gets.
To borrow from a popular country music number, he must be doing something right: "Don't know what (he) did to earn a love like this, but baby (he)/Must be doin' something right".
(The author is a senior journalist. Views are personal)
| Edited by: Nitya Thirumalai
Read full article