GET Stock

Quotes


OPINION | A Free and Fair Pakistan Elections Will be Ultimate Tribute to Benazir Bhutto
The successive polls —third in a row — would be among her everlasting contributions to Pakistan politics. It will be in accordance with the legacy of legacy of the founding fathers who sought Pakistan to be an egalitarian state.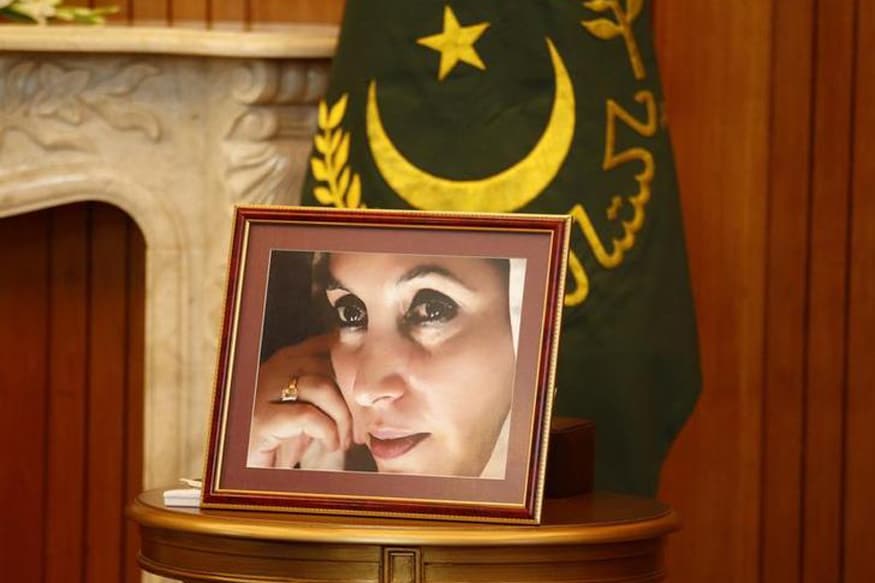 A portrait of assassinated Pakistani prime minister Benazir Bhutto (Reuters)
Pakistan's third general elections — perhaps the most historic since its Independence — will be held in five weeks' time. They coincide with 65th birthday anniversary of martyred Benazir Bhutto, one of the most charismatic leaders.
Benazir couldn't live to see the return of electoral democracy due to a dictator's "conspiracy" to eliminate her.
The successive polls —third in a row — would be among her everlasting contributions to Pakistan politics. It will be in accordance with the legacy of the founding fathers who sought Pakistan to be an egalitarian state.
On the other hand the former commando president, self-claimed victor of Kargil and many other pyrrhic misadventures as catalogued by author/journalist Nasim Zehra in her book From Kargil To the Coup, has shown his back to a very generous offer of the Chief Justice of Pakistan Justice Saqib Nisar to come back home to file his nomination papers and contest elections to prove how popular he is.
Renegade from law, facing treason and charges of murder of Benazir Bhutto and Nawab Akbar Khan Bugti, the runaway commando, despite out of the way guarantees by the highest judiciary to provide him more than a level playing field for participation in elections, is scared of the justice that befell previous dictators.
I am sure General (Retd) General Raheel Sharif who engineered the commando's safe passage to save him from facing treason charges for violating the constitution must be regretting bailing out his former boss. Any way his absence from polls would only be big disappointment for the masses that had been itching to teach him a lesson for his crimes of omission and commission.
He failed to provide Bhutto reasonable security for obvious reasons and the fact that both the scenes of crimes were "hose washed" instantly destroying all evidence that could have led to him or to the killer are enough evidence circumstantially for a conviction.
Though it was a loss of a peerless leader and the vacuum caused by her assassination is yet to fill, her legacy of democracy remains a gift that the nation should protect from the falling prey to political opportunism. Last year before the UN General Assembly, British Prime Minister Theresa May recalled her friend Benazir (on her tenth assassination anniversary) as a brave world leader who gave her life for democracy, empowerment of the less privileged and who was eliminated by "people who actively rejected the values that all of us here at the United Nations stand for."
Benazir climbed to the top despite insurmountable hurdles in a man's world and a society overly strangulated by obscurantist moorings, including forces of status quo, powers that be and bigotry opposed to change. Yet she rose to the pinnacle of popularity. Though she was physically silenced, her impact on Pakistani politic remains a catalyst. Today despite democracy's roller coaster existence, it is credit to her legacy that all is set for elections a third time.
There have been several setbacks for Pakistani democracy that culminated with the corruption under Nawaz Sharif that broke all previous records. However, it does not mean that democracy has not taken roots. How well entrenched it is despite its fragility has been tested by time in its defiance of the onslaught of the machinations, engineering and foul play by powers that be to uproot it. Like Zulfikar Ali Bhutto's "judicial murder" by General Zia that impacted Pakistan too adversely, Benazir's too continues to have its ugly ramifications. However, that does not undermine Benazir's political stature. Her assassination remains an ulcerating wound, yet the respect, honour and affection she enjoys at home and abroad shall remain an indelible imprint on the sands of time.
Benazir's legacy was a mission of a life time to strive, to seek and not to give up. And had she been alive today Pakistan would have been much better off. When unbiased history would be written she will not be judged by her shortcomings but by the successes against the heaviest odds that left no stone unturned to subvert democracy.
Best tribute to her would be cleaner general elections, guaranteeing transparent accountability, rule of law, independent judiciary and a free press. That would surely be a catalyst that we all want to move to a better, prosperous, progressive and peaceful Pakistan.
(Author is the former High Commissioner of Pakistan to UK and a veteran journalist. Views are personal)
Also Watch
Read full article