Amid Flip-Flop Over Talks, What Does Rajnath Mean When He Calls on Pakistan for 'Jointly Launch Actions'
Is India now calling on Pakistan to cooperate in not only intelligence sharing but suggesting that Indian and Pakistani agencies should jointly develop leads on potential terrorist attacks?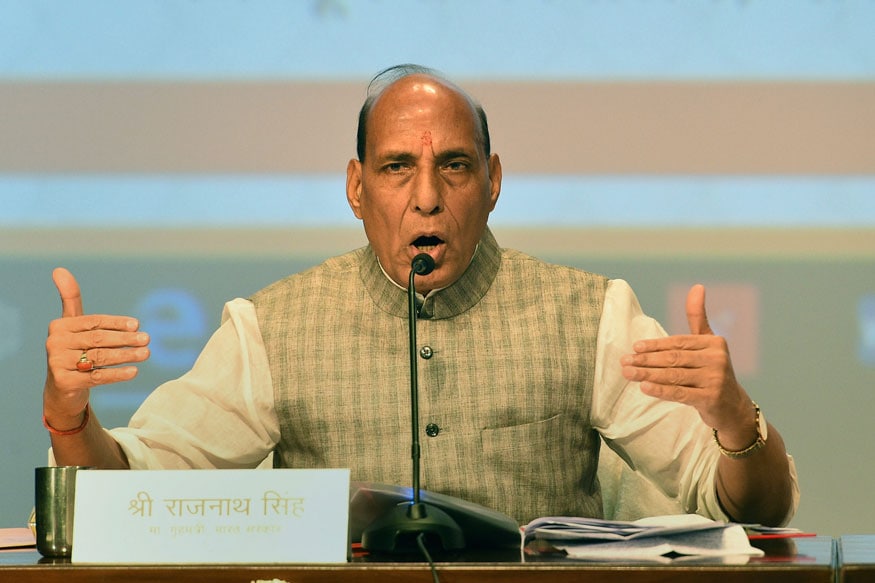 File photo of Union Home minister Rajnath Singh.
In a recent interaction with a leading Indian daily Home Minister Rajnath Singh said that India was ready to talk to Pakistan, but not as long as infiltration was going on.
He called on Pakistan to show some initiative and come forward to "jointly launch actions" against terrorists.
Rajnath Singh's linkage of talks and infiltration is in keeping with the current Indian position that Pakistan must abandon terror for a full dialogue to begin between the two countries. However, the Home Minister has gone into new territory with his call to "jointly launch actions". What does this comment mean?
Is India now calling on Pakistan to cooperate in not only intelligence sharing but suggesting that Indian and Pakistani agencies should jointly develop leads on potential terrorist attacks? Or is it going further to call for joint ground India and Pakistani actions against terrorists? Prima facie the latter seems unrealistic; it is impossible to conceive that Pakistan would allow Indian security personnel on territory under its control.
If such a comment had been made by a junior minister it could have been ignored but as it has come from the senior most cabinet minister the government needs to clarify the Home Minister's remark especially as it comes in the wake of several bilateral interactions in recent months. These have led to the speculation in both countries that the Modi government is preparing to seriously re-engage Pakistan.
The National Security Advisors of India and Pakistan have maintained quiet contact. Their last known meeting had taken place in December 2017 in Bangkok but the channel is open. Has there been such forward movement that the Home Minister had felt confident to call for jointly launched actions?
In this context it is important to recall Pakistan army chief General Qamar Bajwa's comments on India-Pakistan relations during his address at the Pakistan Military Academy in April.
Bajwa said, "It is our sincere belief that the peaceful resolution of Pakistan-India disputes, including the core issue of Jammu and Kashmir, runs through comprehensive and meaningful dialogue". He went on to say, "While such dialogue is no favour to any party, it remains the inevitable precursor to peace in the region. Pakistan remains committed to such a dialogue, but only on the basis of sovereign equality, dignity and honour".
Bajwa's comments are part of what the Pakistan army is calling the Bajwa doctrine. The army chief had elaborated on his worldview during a four-hour interaction with a group of senior Pakistani media persons in March. While the army has not made an authoritative comment of what he said then some newspapers reported it. Bajwa had then outlined his vision of Pakistan's place in the world as a 'peace-loving country living in peaceful co-existence with the world'.
On India-Pakistan relations, Bajwa, ruling out war, had felt that the Modi government will 'give up its stubbornness and in two to three years talk to Pakistan because of India's growing economy".
Till then Pakistan will maintain a wait and watch approach.
On the Track II diplomatic circuit Pakistani participants have been stressing Bajwa's interest in improving India-Pakistan ties and for that purpose to resume the bilateral engagement.
At the same time no Pakistani, official or non-official, is willing to give any commitment on stopping the issue of terrorism. In essence, therefore, all that Pakistan is seeking is the continuation of the process that has been going on since it instigated the troubles in J&K in 1990. And that process is: Dialogue, followed by a terrorist attack at a time and place of Pakistan's choice, followed by a break in dialogue till time cools down tempers in India, followed by dialogue again. This cycle has gone on and on.
The question is if the Modi government will once again follow the on-off dialogue process or show the stamina to insist that Pakistani terrorism is unacceptable and unless it is abandoned meaningful dialogue will not take place. That does not mean that there will be no contact between the two countries.
As India and Pakistan are neighbours they have to interact on humanitarian issues under established mechanisms. These official level meetings should go on. The recent meeting of the Coast Guard chiefs of both countries has to be looked at in this light.
Thus, dialogue means a full engagement to build cooperative mechanisms and resolve issues while contact connotes merely a focus on mechanisms that are necessary between neighbours to address people-to-people matters.
External Affairs Minister Sushma Swaraj commenting on India-Pakistan ties on May 28 said that for India talks with Pakistan were not dependent on elections in that country because it was willing to hold them at any time.
Sushma Swaraj also linked talks to Pakistan giving up terrorism. While Pakistan's India policy is in the hands of the army and hence an India-Pakistan engagement can begin anytime the fact is that the army now stands behind the curtain and the civilian government has to be in front.
As elections have been announced in Pakistan for July 25, it is impossible for any talks to be held before the new government comes in.
After a new Pakistan government takes charge in a few months, India must not soften its stand on terrorism. Some Indian commentators want India to concede the Pakistani demand that dialogue should continue even in the wake of terrorist attacks. Apart from being politically unsustainable it will only feed the notion of the Pakistani generals that they do not have to change course for India eventually comes to the negotiating table.
Meanwhile, there is the urgent need to clarify what Rajnath Singh meant by 'jointly launched actions'.
(Vivek Katju is former Indian diplomat who served as a secretary at the Ministry of External Affairs.)
Get the best of News18 delivered to your inbox - subscribe to News18 Daybreak. Follow News18.com on Twitter, Instagram, Facebook, Telegram, TikTok and on YouTube, and stay in the know with what's happening in the world around you – in real time.
Read full article