OPINION | Bengal Panchayat Poll Violence Was More About Daily Bread Than Politics
Unfortunately, the creator itself proved to be the spoiler. Left front continued to be in power for 34 years. For more than three decades, the amount of time they invested in creating cadres in the government and unorganised sector could be well utilised in job creation for the youth of Bengal.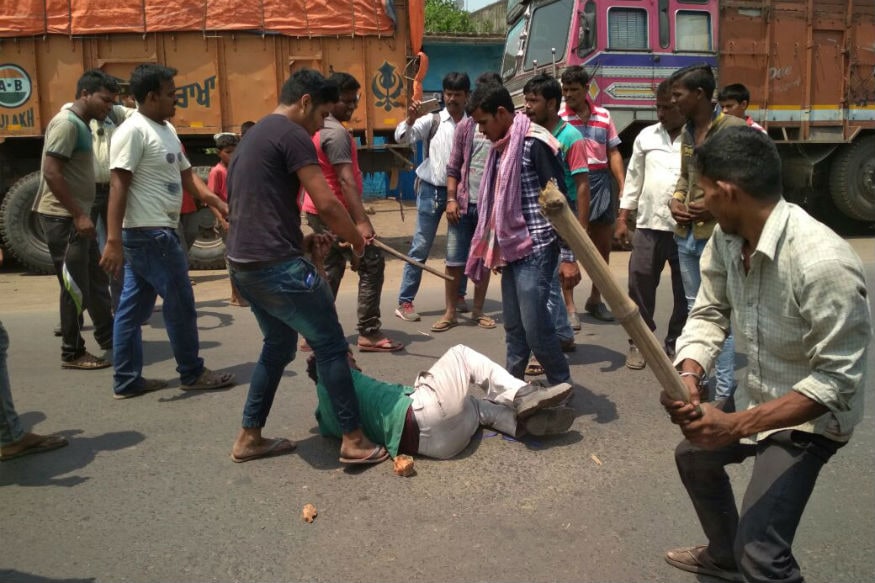 Villagers rough up alleged TMC worker for booth capturing in Kanksa in Durgapur. (Sujit Nath/News18.com)
'Bengal burnt in Panchayat brunt' -- Since Monday evening social media has been flooded with such headlines. Even then many people said with a mundane face, "What's new in it? This was expected."
But why? Why would one expect this? Vote means violence to a common man in Bengal today. They have been indifferent to the vehemence and its intensity. But what made it so ordinary and part of routine? Is there some other reason behind it?
I personally opine, the reason behind "this was expected" is not so straight and simple as we see it. The main cause of this fervour stands very different. That is to save one's livelihood. This may not be held true for everyone, but most of the people engaging in this forcefulness have seen this win in the Panchayat election in the light of ensuring their daily breads.
You win, and you are safeguarded for the next 5 years. The kind of violence West Bengal saw two days ago was majorly based on this. A fight to ensure daily living. No form of ferocity is bad for them. They are confirming livings.
Yet we should see this in the background of history. In 1977, Left front came to power in Bengal. They restructured the panchayat system anew in early 80's. The three-tier panchayat model was substantial in decentralising power and local self-governance. Rajiv Gandhi liked it and implemented the model across the villages of India.
But unfortunately, the creator itself proved to be the spoiler. Left front continued to be in power for a span of 34 years. Jyoti Basu was the chief minister for 23 years. For more than three decades, the amount of time they invested in creating cadres in the government and unorganised sector could be well utilised in job creation for the youth of Bengal, which was completely ignored by the Left.
On the contrary, one after the other, factory and manufacturing units closed down. Unfruitful party gatherings, unproductive demonstrations and "cholche na cholbe na" slogans left the state barren for the years to come.
Basically, as the importance of job creation got totally unheeded by the Left front, many comrades and cadres started mastering the art of "fill your own pocket" politics. And this gradually guzzled the significance of Panchayat system in the last 10 years of the Left front tenure.
So much so that in a place like Junglemahal, the tribal infested retrograde base of Bengal, once a communist, proletariat, a Panchayat head of CPIM, didn't even mind building his palatial house, barring all shame. Thus, they set a trend of shamelessness going oblivious to ideology.
That tradition is continuing. Before losing the power to Trinamool, at least few people in the Left front still had the faith in the political philosophy. According to the structure of the party, there still was a thing called Local Committee (still is).
This committee had a control over local politics, however little it was. But Trinamool party neither has any ideology as such, nor do its members have any accountability. Their only motto was to oppose CPIM.
But now no Left, no motto. For many Trinamool party members indulging in blind politics is similar to earning their livelihood. From Syndicate to Panchayat – you may find several names of the same practice. As there is no possibility of new job creation in the state, more and more people from the villages and smaller towns are depending on this.
Last Monday, on May 14, Bengal witnessed a bloodstained fight to protect one's living. One noteworthy point is not only BJP, CPM and Congress were beaten or killed by Trinamool, it killed its own people too. Because, if one leader succeeds in ensuring his bread for the next five years, rest of the aspiring Trinamools lose their breads. The winning guy does no good to his party or fellow members, and that is the only reason that record number of Independent candidate were in the fray this time.
Chief Minister Mamata Banerjee might have realised this core truth. So, she harped on cautioning her party members not to engage in any form of violence. She gave a clear message to the party men – I don't mind losing a seat or two in the Panchayat, I won't tolerate murders.
But the real picture of violence that surfaced two days ago proved that the TMC high command does not have the control on the lower layers of the party. Neither many of her party members care for her messages once they manage to get a ticket for the candidature. They spend from their own pockets to appoint the hooligans who in turn manage the election for their master, from vandalising the polling booth to killing of the opposition party aspirants.
Not only on poling day, People of Bengal witnessed this on May 17 again -- the counting day. To prevent the opposition from winning, they again tried to disrupt the counting at some places and indulged in bombing and killing too.
Still we may hope that this violence and bloodshed will be restricted within the Panchayat election. The Lok sabha election will have very less vacant seats. Same with Assembly election. But this savagery may again come back in 2020, when Bengal will have its municipal elections. That will be another competitive exam for new jobs.
(Author is a senior journalist. Views are personal)
Read full article
Countdown To
Elections Results
To Assembly Elections 2018 Results