OPINION | BJP's Assembly Poll Campaign, Seemingly Low on Intensity, to See Modi Push in Post-Diwali Dhamaka
Informed BJP sources say that between November 12-26, Modi is likely to address many public meetings in the BJP-ruled states.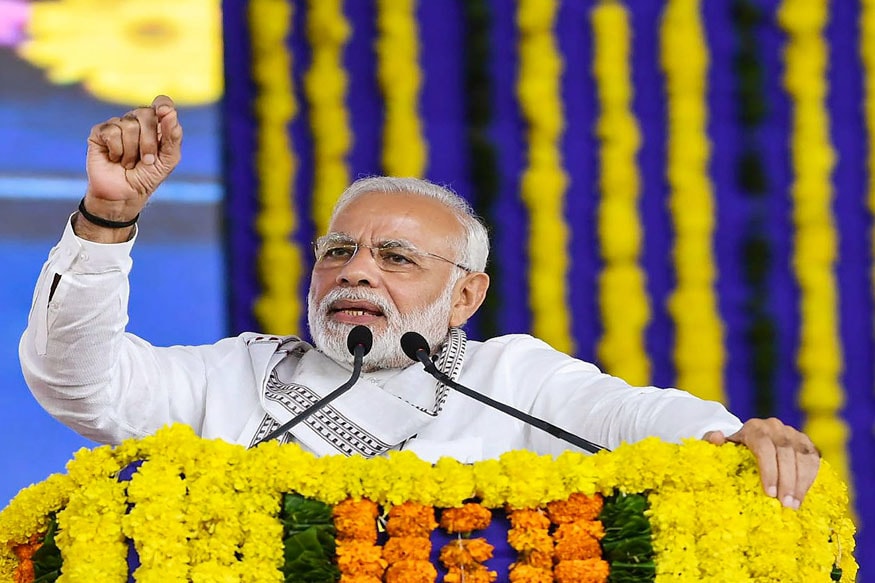 File photo of PM Narendra Modi addressing a public meeting (PIB Photo via PTI)
Where is Prime Minister Narendra Modi in poll-bound states of Chhattisgarh and Madhya Pradesh? Eighteen Assembly seats (mostly Naxal affected in eight districts) in Chhattisgarh are set to go to polls on November 12 (campaigning would end on November 10) perhaps without the BJP able to field its ace poll campaigner.
In Madhya Pradesh too, both the Congress and the BJP have named most of their candidates and the season for intensive campaign is on. However, there is no sign of Narendra Modi joining the campaign before Diwali. Informed BJP sources say that between November 12-26, Modi is likely to address many public meetings in the BJP-ruled states.
Modi is also likely to campaign for the remaining 72 seats of Chhattisgarh where voting is scheduled for November 20. As Rajasthan goes to polls on December 7, the PM is likely to visit many constituencies there before electioneering concludes on December 5.
Madhya Pradesh polls are being keenly fought. For some, political situation in the central Indian state is similar to Gujarat where Assembly polls were held in December 2017. The PM had started visiting his home state from October 20 onwards. His weekly visits, followed by intense 34 public meetings, helped the BJP emerge stronger, enough to edge out an upbeat Congress from causing a major upset.
Going by daily C-voter tracker (telecast by ABP news channel), the Congress is consistently ahead of the BJP within the range of 43-44 percent of votes against BJP's 39-40 percent.
More significantly, the C Voter daily tracker has found Sachin Pilot and Jyotiraditya Scindia of having far bigger ratings than incumbent chief ministers of Rajasthan and Madhya Pradesh. Even Congress' in-house claimants such as Ashok Gehlot and Kamal Nath are way behind Pilot-Scindia duo.
In May 2018, another credible poll survey agency, CSDS had recorded a difference of 15 percent (Congress 49, BJP 34) between the two. For some inexplicable reason, CSDS did not conduct subsequent surveys closer to November-December 2018 state polls.
Stakes are high for the BJP in Madhya Pradesh, Chhattisgarh and Rajasthan to retain power in these states. In both Madhya Pradesh and Chhattisgarh, the BJP has been in power for past 15 years. If the Congress wins any of the two states among Rajasthan, Chhattisgarh and Madhya Pradesh, it will provide a boost to not only the grand old party, but pitch its president Rahul Gandhi as a major challenger. Rahul's road shows in Gwalior, Indore, Bhopal and parts of eastern Madhya Pradesh have been spectacular both in terms of crowd and response. His temple visits, raising questions on Rafale and VYAPAM, have made him a vote catcher of sorts.
Madhya Pradesh, Rajasthan and Chhattisgarh polls will be a a major test for the BJP, even though it has been winning Assembly polls with ease, as it faces a resurgent opposition. The BJP, however, did struggle to retain Gujarat and Goa, two states where it was in power. The Congress, on the other hand, has emerged victor only in Punjab where the collapse of Akalis and Amarinder Singh's emergence as a cult figure had helped the party defeat the Akali-BJP combine.
In Chhattisgarh too, C-Voter daily tracker (telecast on ABP News) is giving the Congress an advantage in terms of vote percentage (43 percent against BJP's 41). While some pollsters predict more seats for the Raman Singh-led BJP, a quick look at November 2013 may be useful when the Congress trailed behind 10 Assembly seats in spite of polling less than one percent votes than the BJP. In September 2013, Modi was named BJP's prime ministerial candidate for May 2014 Lok Sabha polls and there was great euphoria surrounding him in these states five years ago, which greatly benefited both Raman Singh and Shivraj Singh Chouhan stay in power.
Interestingly, the Congress camps in Bhopal and Raipur are pretty confident of tiding over "Modi factor" in the coming round of intense campaigning. Assembly polls, according to them, are being fought on local issues where entire election revolve around BJP chief ministers Chouhan and Raman Singh who have been in office for 13 and 15 years, respectively. For Modi, the campaigner, it will be difficult to replace them and project himself as the lead player as he did it in Gujarat. After all, Gujarat was PM's homes state where his personal prestige was at stake.
December 11 verdict has high stakes for both Modi and Rahul. Given Modi's style of functioning and hunger for success, the PM is likely to give his cent percent in his post Diwali poll campaign in Madhya Pradesh, Chhattisgarh and Rajasthan. Among many things, electoral success in any of two states would give him a lot of breathing space for the 2019 general elections. For Rahul, a success in Rajasthan alone would not suffice.
(The author is visiting fellow at the Observer Research Foundation and a journalist. Views are personal)
| Edited by: Ashutosh Tripathi
Read full article