Opinion by 'Khurafati Nitin' | It's Time to End TB, Along With the Stigma
With increased awareness and empowerment, we can normalise the conversation and change deep-rooted misconceptions around Tuberculosis.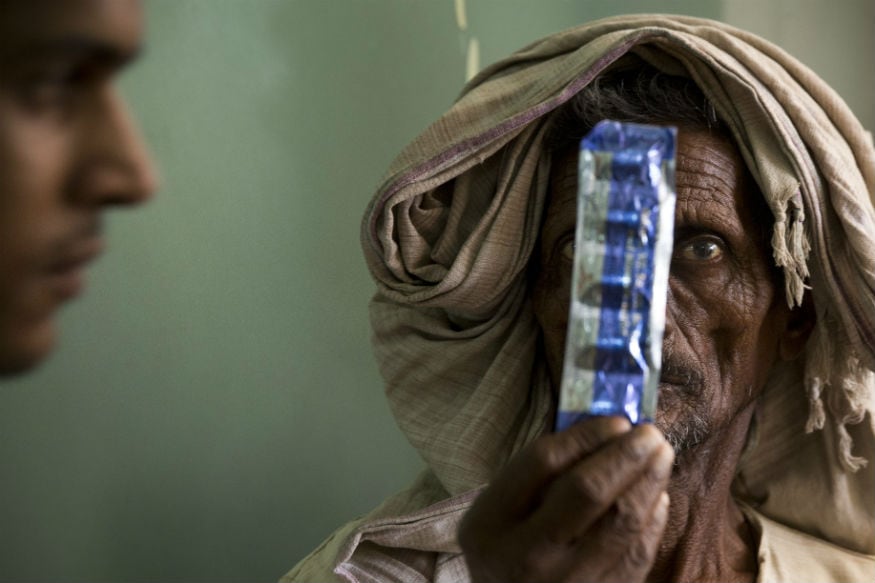 A tuberculosis patient holds medicines at the Lal Bahadur Shastri Government Hospital at Ram Nagar in Varanasi on March 13, 2018. (AP)
Steve Allen once famously said that radio is the theatre of the mind.
Through the years, media has expanded, evolved and pioneered innovation, but radio continues to be a medium for the masses in India, thanks to its connectivity and appeal.
The role of a radio jockey isn't just limited to playing music and entertaining people, but also to raise important issues of the day by weaving them into discussions that generate a meaningful dialogue among the listeners.
Close to two decades as an RJ, I have had the good fortune of interacting with thousands of people, each with their unique life story.
One story that inspired me was that of a Tuberculosis survivor who featured on my show on World TB Day. Her story changed my perception of the disease. In addition to dealing with the disease and side-effects of the medication, she also had to deal with social stigma. So much so, that her own doctor advised her to hide the illness, as it would hamper her personal and professional life.
Her bravery and resilience, left an indelible mark. Her story dispelled many misconceptions on TB. Until then, I thought TB, like any other illness could be cured with medication in a matter of few days. While most people still associate it with lungs, TB can affect any part of your body, the treatment can go on for almost a year and in some cases even more.
Over 1,300 Indians lose their lives to TB every day. TB patients and survivors are known to face discrimination, which forces them to isolate themselves. The stigma around the disease is so strong that it affects families and relationships. In the absence of a strong support system, many TB patients are confined to their loneliness and are unable to communicate their problems or seek help. The social discrimination leads to an enormous psychological impact on the patient who may already be suffering from the physical effects of the disease.
When Amitabh Bachchan publicly revealed details about his battle against TB, he inspired millions of survivors and patients fighting the disease. "After completing my treatment, I am standing here healthy before you," he said to a shocked audience at an event. "You don't have to stop working because you have TB," he said.
Even though TB can happen to anyone, it is well-known that it affects the poor disproportionately. The disease often deprives families of their breadwinners, thus pushing them further into poverty.
Each year, a significant proportion of children from families affected with TB are forced to drop out of school or seek employment. The Indian government has taken some important steps to eliminate TB by 2025, five years ahead of the global targets.
In addition to providing free treatment and nutritional support, the government has begun reaching out to TB patients and the survivor community to make the TB program more patient-centric.
With increased awareness and empowerment, we can normalise the conversation and change deep-rooted misconceptions around the disease. TB does not spread by touching, shaking hands and sharing food.
If you know anyone who shows symptoms of TB, encourage them to get diagnosed and start the treatment.
It is clear though from the scale of the epidemic that this fight is not the government's alone. It is important for people from all walks of life to do their bit in this fight. It is only with a united front that we can achieve TB elimination. Let's end the stigma, let's end TB.
TB Harega Desh Jeetega!
(Jonathan Philemon Nitin Brady a.k.a 'Khurafati Nitin' is a popular radio jockey and has been nominated as a 'TB eliminator' by the Ministry of Health and Family Welfare. Views are personal)
| Edited by: Nitya Thirumalai
Read full article
Countdown To
Elections Results
To Assembly Elections 2018 Results