Opinion | China Bamboozled By Indian Army Chief's Remarks. Will It Be India's New Template To Deal With China?
The Narendra Modi government is paying China back in the same coin and keeping it confused as part of a conscious strategy.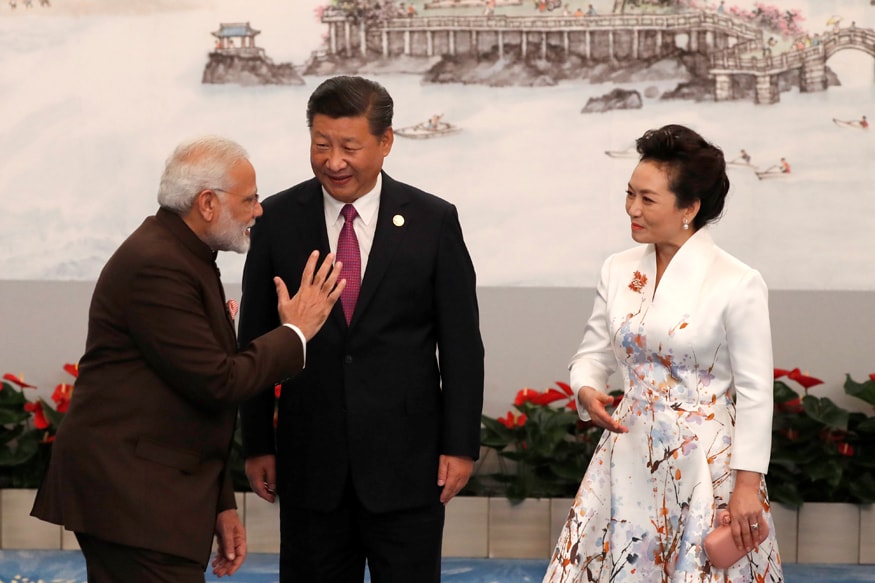 Chinese President Xi Jinping and his wife Peng Liyuan greet Prime Minister Narendra Modi at the BRICS Summit in Xiamen (File photo: Reuters)
Indian Army chief General Bipin Rawat's straight talk underlining the need for being wary of China indulging in "salami slicing tactics", meaning a series of small actions taken covertly by a nation to acquire foreign territory, has infuriated China and perhaps also bamboozled the Dragon. But the significant thing is that there is no official clarification or denial by the Indian government ever since the remark was made on September 6 morning.
Therein hangs the tale. It conveys many things.
1. The Narendra Modi government is paying China back in the same coin and keeping it confused as part of a conscious strategy. China has been a past master in the art of speaking in many voices. It has employed its state-owned media and "experts" at various Chinese think-tanks in issuing open threats to India, using abusive language against Indian government functionaries – in short, saying those things which go contrary to what the Chinese government had been maintaining, officially. Remember the Global Times commentary in late July this year just a couple of days before National Security Advisor Ajit Doval's China visit wherein he was described as "the main schemer" behind the now-resolved Doklam standoff? General Rawat's remark is India's response to similar tactics by China.
2. The Modi government has given the armed services a free hand in real terms and has possibly embarked on a new strategy, especially in case of China. This implies that Gen Rawat's remark was neither just a personal opinion nor a flash in the pan, but a covert move encouraged by the government.
3. While the remark of an Indian official like the Army chief may appear to be much different from whatever provocative anti-India articles the state-owned Chinese media had been carrying in the past and will surely continue to publish in the future (an argument that Beijing will inevitably make to New Delhi, if it hasn't done so already), actually there isn't much of a difference. China routinely employs its state-owned media against foreign countries like a veritable extension of its foreign office sans the official seal and accountability. India doesn't have that heft being a vibrant democracy and the media is not state-owned. That's why the need for such remarks by important official functionaries even though such individuals have nothing to do with the Indian foreign policy.
4. This wasn't the first time nor will it be the last when a top official concerned with the defence of the country has made remarks with huge implications on Indian foreign policy. Remember the famous remark by the then Indian defence minister George Fernandes in the aftermath of Pokhran-II nuclear tests in 1998, wherein Fernandes had said the tests were conducted with an eye on China, India's number one enemy, not Pakistan! The million dollar question is whether such remarks by the chiefs of Army, Air Force or Navy will become more common in future.
5. Gen Rawat's remarks came a couple of days before Nirmala Sitharaman took over as the new defence minister and that too when she is the first full-time woman defence minister of India. This may well be a tactic choreographed at much higher levels to convey not only to China but also to the Indian defence minister herself that this would be a new template of the Modi government vis-a-vis China and Sitharaman may well stitch her coat around this button.
Now consider what Gen Rawat actually said.
While speaking at a seminar organised by the Centre for Land Warfare Studies in New Delhi, he said India should be prepared for a two-front war as China has started "flexing its muscles", while there seems to be no scope for reconciliation with Pakistan, whose military and polity saw an adversary in India. He referred to the 73-day long Doklam standoff and cautioned that the situation could gradually snowball into a larger conflict on the northern border, maintaining that India cannot afford to let its guard down against China.
Here is Gen Rawat's exact quote: "As far as northern adversary is concerned, the flexing of muscle has started. The salami slicing, taking over territory in a very gradual manner, testing our limits of threshold is something we have to be wary about and remain prepared for situations emerging which could gradually emerge into conflict."
China got furious not just over the remark but also by its timing as it came barely ten days after the amicable resolution of the Doklam standoff on August 28 but and only a few days after a positive meeting between PM Modi and Chinese President Xi Jinping in Xiamen, China.
Geng Shuang, a spokesperson for the Chinese government came up with this livid counter statement: "Just two days ago, President Xi Jinping pointed to Prime Minister Narendra Modi that the two countries are each other's development opportunities, not threats... We don't know whether he was authorised to speak those words or it was just his spontaneous words or whether his words represented the position of the Indian government."
Apart from being angry, the Chinese are confused too. They seem to be at their wits end in deciding what the Modi government is actually up to. But this may well be a well choreographed move of the Modi government as explained above.
The Chinese dragon is being given a tit-for-tat treatment by the Indian elephant. While Gen Rawat may have just become the second-most hated Indian functionary in China after Ajit Doval, the fact remains that the Chinese will not be able to anything. So far, they have even failed to get an official clarification from the Indian government. The chances are that Gen Rawat's remarks will go uncontested!
Will there be repercussions from China? Well, time will tell.
| Edited by: Sanchari Chatterjee
Read full article
Countdown To
Elections Results
To Assembly Elections 2018 Results