Opinion | Congress Chose Rahul Gandhi as its Next President 13 Years Ago, Not This Week
Despite media scepticism and debate, Rahul Gandhi's elevation as Congress President was as defined and preordained as that of Akhilesh Yadav.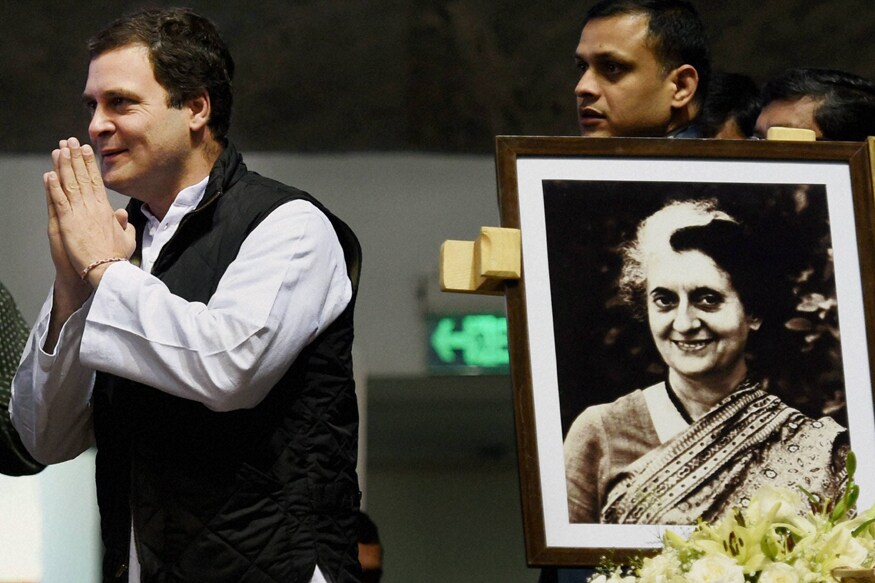 Congress President-elect Rahul Gandhi at the party's Jan Vedna Sammelan at Talkatora Stadium in New Delhi. (PTI Photo)
New Delhi: Congress, in power or in opposition, knows how to keep secrets. Nothing unusual was evident in the party circles through the precocious spring of 2004. Not even the regulars at Congress President Sonia Gandhi's constituency office in Delhi had an inkling of the moves afoot.
The BJP was riding on India Shining, having called for an early election. Journalists at the Congress headquarters would regularly discuss with party leaders whether the Congress tally in the upcoming elections would drop down to a double digit. Some, though in a lighter vein, teased the AICC staff on how the party would find it difficult to pay their salaries after the elections.
One fine Sunday afternoon, the Congress media department called for a press briefing. The conference room was half empty when General Secretary Ambika Soni started to read out the first list of the Congress candidates for the General Elections.
"Pratapgarh, Ratna Singh. Sultanpur, Satish Sharma," Soni read out slowly.
"Rae Bareilly" she took a pause and added, "Smt. Sonia Gandhi". She continued, triggering a buzz in the room. The Congress President had decided to shift to the constituency once held by her mother-in-law.
"Amethi," Soni again took a pause… "Rahul Gandhi".
Within minutes, the junior reporters who had been deputed on a Sunday to cover a routine press conference were breaking perhaps the biggest political story of the year.
Since that summer of 2004, the year he was drafted into contest from Amethi, Rahul Gandhi's elevation to the top Congress post has been the favourite pastime for scribes.
During his decade-long tenure, former Prime Minister Manmohan Singh was asked this question as many times, perhaps as many times as Priyanka Gandhi was beckoned to lead the party. However, party politics in not newsroom politics. It is serious business. Political parties don't plan or change their strategy in anticipation of weekly TRP ratings. Despite media scepticism and debate, Rahul Gandhi's elevation as Congress President was as defined and preordained as that of Akhilesh Yadav.
No doubt, dynasties and their effects on Indian politics is a matter of debate and discussion as it should be in any healthy democracy.
At the same time, dynastic or otherwise, political parties spend decades in preparing their next line of leadership. It's not an event. It is a process. Thus, once settled, parties tend to keep the course.
In the past 13 years that he has been in politics, Rahul Gandhi has seen the highs and the lows. He has led the party to a handsome performance in Uttar Pradesh, winning almost the twice the number of seats as the BJP in 2009 general elections. He has faced a concerted backlash from the party's old guard, afflicted by after-me-deluge syndrome.
He's seen the entire top leadership of the party wiped out in a Naxal attack in Chhattisgarh just ahead of 2013 Assembly elections. He has also seen people leaving his public meeting while he was only half way through his speech during the Delhi Assembly elections, the same year. And he has faced what politicians loath to bear — lampoon from his adversaries and people at large.
Despite all of this, Rahul Gandhi has been elected the President of the Indian National Congress, because it had to be so. The Congress held its internal elections in the winter to coincide with the Gujarat polls. Irrespective of the outcome in BJP's own bastion, Sonia Gandhi has decided to hand over the reins to Rahul, just two days ahead of the Gujarat verdict.
| Edited by: Sanchari Chatterjee
Read full article
Countdown To
Elections Results
To Assembly Elections 2018 Results