OPINION | 'Constitution Already Includes Muslims, What New Can You Offer, Mr Bhagwat?'
If we go by the past record, the dream and aspiration of Hindu Rashtra is based on the exclusion of minorities. As a result the Muslims have been subject to slurs and dog-whistle politics.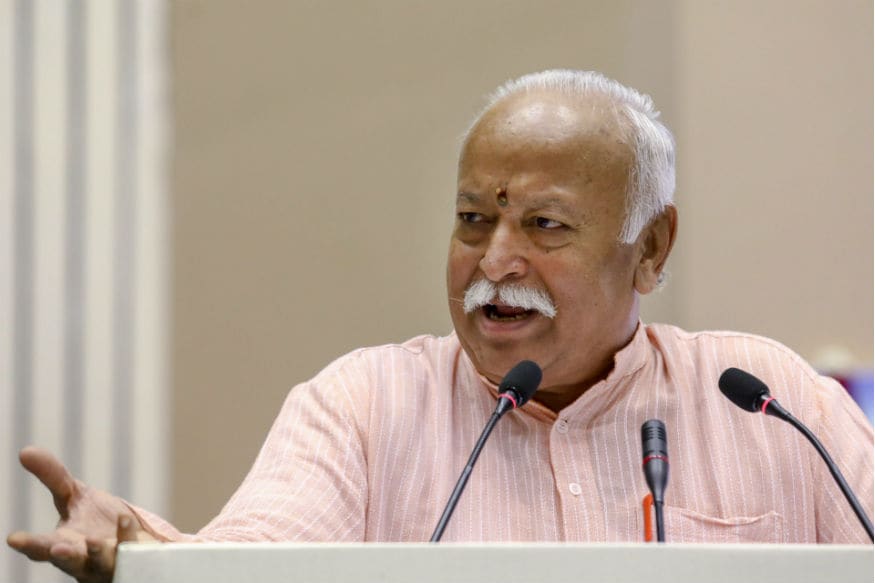 RSS chief Mohan Bhagwat speaks during the RSS lecture series event in Delhi. (PTI File Photo)
In Hindutva's vishwa kutumb (world is family) Muslims are included. On the face of it, this statement by RSS chief Mohan Bhagwat is welcome, but if you read deeper you realise the Indian Constitution has already included Indian Muslims in the country.
In Indіa, the safeguards for mіnorіtіes are assured under the Constitution of Indіa in the form of fundamental rіghts. The Constitution nowhere dіscriminates among the citizens of India on the grounds of relіgіon, race, caste, etc and second, the rіghts conferred under Artіcles 25 to 30 are fundamental rіghts. The state іs duty bound to protect it. To be honest, there is nothing new that has been bestowed upon Indian Muslims by him, but wait, Mr Bhagwat, you can do more.
To start with, the Sangh and the Sarsanghchalak can break from the past and denounce and condemn all the anti-Muslim and anti-minority comments made that dehumanised the existence of Muslim minority in the country. If we go by the past record, the dream and aspiration of Hindu Rashtra is based on the exclusion of minorities. As a result the Muslims have been subject to slurs and dog-whistle politics.
There have been political provocations telling us to go to Pakistan. The BJP leaders have made insinuations like choose between 'Ramzadon' (those born of Ram) and 'haramzadon' (illegitimately born). The Muslim and Hindu relationship is seen as 'love jihad', not long ago a Muslim man was publicly beaten for attempting to marry a Hindu. Merely on suspicions of cow slaughter and beef consumption, Muslim men have been beaten and lynched. You will have to say all of this is wrong and should not be repeated to put a moving picture to your words. Will Bhagwat's condemnation prevent all the functionaries of Sangh Parivar from speaking against Muslims.
The political marginalisation of Muslims is appalling. The BJP has not taken Muslims along, especially electorally. No tickets for contesting state Assembly election and parliament elections were given to the Muslims. There is no point in showing Mukhtar Abbas Naqvi and Shahnawaz Hussain as Muslim poster boys of the BJP. Other than them, the BJP has not enabled the political empowerment of Muslim community.
Lot of work needs to be done in development and political processes. Saying that in the idea of Bharat, Muslims are included is not enough. This is part of RSS doing a lot of public awareness informing everyone about their goals and objectives, and I see this statement as part of that drive, where he is trying to address the fears of the Muslims, which are based on past experiences.
It has to also undo a lot of action and initiate new actions. The project of vikas should trickle down without religious bias and Bhagwat can tell the PM and the BJP ministers this too.
Though as a Muslim woman I am very happy about the stand of the government in the affidavit in triple talaq case, the government acknowledged that the instant oral and unilateral triple talaq is not essential to Islam. It is not welcome in Muslim countries, and should not be allowed in India as well. The government stood for gender justice for Muslims, and reiterated that Islam considers it incorrect. It really won the heart of several Muslim women. But Muslim women are part of large Muslim society.
Showing inclusiveness towards the citizens should be the first step for the RSS.
(Zakia Soman is a women's rights activist and one of the founding members of Bharatiya Muslim Mahila Andolan. Views expressed are personal.)
Get the best of News18 delivered to your inbox - subscribe to News18 Daybreak. Follow News18.com on Twitter, Instagram, Facebook, TikTok and on YouTube, and stay in the know with what's happening in the world around you – in real time.
Subscribe to Moneycontrol Pro and gain access to curated markets data, trading recommendations, equity analysis, investment ideas, insights from market gurus and much more. Get Moneycontrol PRO for 1 year at price of 3 months. Use code FREEDOM.
Read full article