Opinion | Don't Need a Man as Saviour, You Can Eat Fruits Off Your Hat And The Things Sridevi Taught Me
Veteran actor Sridevi passed away around 3am after suffering cardiac arrest in Dubai, where she had gone to attend a wedding.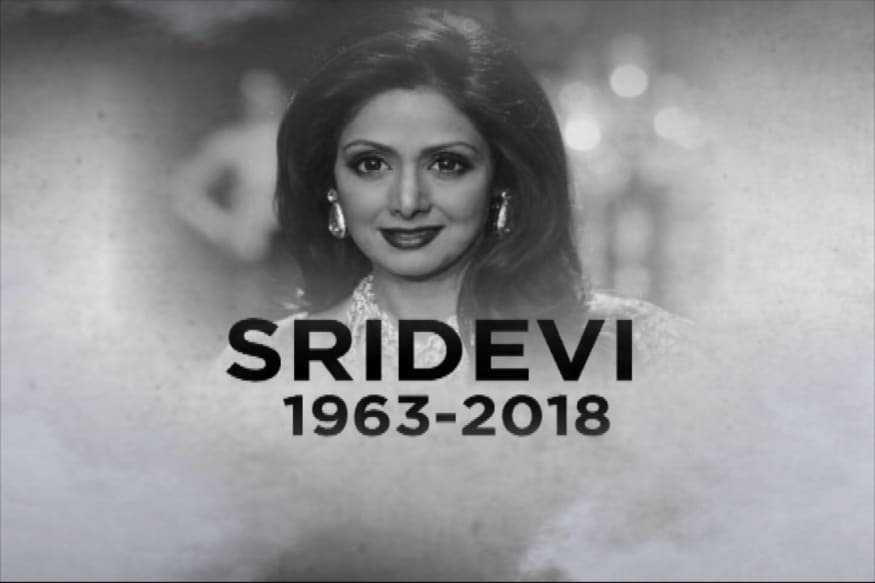 The actor passed away after suffering a massive cardiac arrest in Dubai on Saturday (News18)
In our tiny apartment in Kolkata, for years, the 'idiot box' was no larger than the size of the head of the 'Onida Devil'. This is where I met Sridevi. With that shimmering golden outfit and a hideous headgear, she won my heart. There was an instant feeling of 'I want to be her.' For years, I would stare into the mirror trying to do those eye movements that she did in the song 'Hawa Hawai' while holding a broomstick, that— in my head— resembled her yellow-coloured hand-fan.
Sridevi
could do everything. As Seema in Mr. India, she could wear a fruit hat— and well, even nibble the fruit off her hat when she was wanted to. She could hold a knife with ease and yet make her audience laugh with her iconic "Jaani… ye chaku hai.." dialogue. She could be coy in one moment and mimic Charlie Chaplin the next moment.
She was probably the first actor to be able to make us understand that wearing a red chiffon, doesn't mean you can't tie your shirt and wear pinstripe pants.
When the news arrived late last night that the 54-year-old actor is no more, it felt like a personal loss— it felt like losing someone who I have known for years. But well, it must have been the same for a lot of us for who Sridevi has been an icon for a large part of our lives.
Manju, Chaalbaaz (1989)
How often have you seen a heroine in a Bollywood film beat up goons? Sridevi as Manju, did that long, long back. In the first scene of the film, she beats the living daylight out of a bunch of goons. When Anju's tormentor Balma tries to harass her, she teaches him the perfect lesson. Sridevi, as Majnu, taught me that women don't ALWAYS need a man as their saviour. A woman can be another woman's saviour too.
Sheetal, Laadla (1994)
In this movie, Sridevi plays the role of a woman who is overly ambitious. She owns a factory where Anil Kapoor (Raju) works as a worker. In a turn of events, Sridevi marries Raju (Because she wanted to) and then makes him stay in her house. The movie was like a fresh breath of air. Although Sheetal was portrayed to be not a "good woman" because she didn't take care of her husband's mother, what it taught me was that ambition isn't a bad thing. Well, she could wear suits, have a beautiful bungalow and drink when she wished to!
Rekha, Himmatwala (1983)

At a time when Bollywood heroines had to have the 'perfect' body to don a bikini, Sridevi danced with Jeetendra in 'Naino men Sapna', wearing skimpy clothes, giving two hoots about whether her body was perfect according to the Bollywood standard. When the movie became a huge hit, Sridevi came to be known as 'Thunder Thighs'. And, it didn't matter to her.
In a 1992 interview
, the actor was asked if she was peeved by the tag - Thunder Thighs - once given to her. Her response is what stayed with me, "No, I didn't take that seriously."
In the same interview, she said, she would turn down "Mother roles, sister roles, because it's not yet time for me to do them, especially when there's nothing new about them."
Sridevi taught me how to be me, and if wearing a bikini with my 'thunder thighs' is what I want to do, it doesn't matter what others say.
Seema, Mr India (1987)
Besides teaching all the teenage girls how to bat eyelids, she showed us that a 80s heroine is very much capable of donning a moustache and imitating Charlie Chaplin. She proved that she wasn't there just to be your ordinary heroine. And she didn't mind being laughed at, at all.
In the movie, Seema has a job, she lives on her own, struggles to pay her rent— and is basically just all of us. Or, any working woman.
This iconic scene from the movie is one of the ways she was the real, let's say, Mr India.
Chandni, Chandni (1989)
Sridevi as Chandni proved that a woman can decide who she wants to love. And it's not always up to the man. Given that the movie was in the made in the late 80s, with the heroine's name as the title, it broke a couple of ceilings in itself. In most of Bollywood's love triangles, the focus has been the man's perspective. This wasn't your run-off-the-mill love story.
Yes, Chadni is sweet, passive, the one who is pursued and reacts to pursuits. She has no big career goals or dreams of her own. But in the end, she decides what she wants. For once, Sridevi forced us to reconsider the traditional romances we see on the screen. Here, we watched the heroine and how she reacts when she's in love.
Shashi, English Vinglish (2012)
The idea was simple. Shashi was more than just her laddoo-making abilities. And in short, she proved that a woman can change her situation, and most importantly, love herself.
Sridevi, in this movie, taught me the art of confidence. It cannot be easy to move to a new country where you struggle with the language, enroll yourself in a class of people who are very different from you— and yet, manage to win the situation.
RIP, Hawa Hawai! You gave us a lifelong lesson on how to be a confident woman, unapologetically.
| Edited by: Puja Menon
Read full article
Countdown To
Elections Results
To Assembly Elections 2018 Results