OPINION | How History's 'Heroes' and 'Villains' Are Playing Lead Roles in Gujarat Poll Battle
Fact and fiction blend seamlessly into the electoral pottage, as combatants lay claim to heroes of yore and invest their rivals with all the vices of long-dead scoundrels.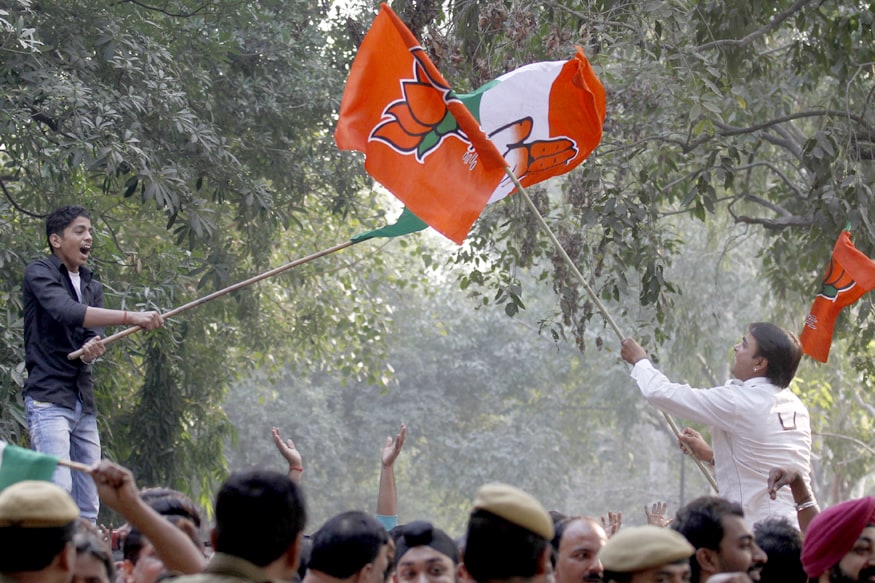 Representative image / Getty Images
What are General Dyer, Alauddin Khilji, Tipu Sultan and Chanakya doing in Gujarat? A colourful cast of heroes and villains have been dragged forth from the crypt of history to feature in the on-going election campaign. Fact and fiction blend seamlessly into the electoral pottage, as combatants lay claim to heroes of yore and invest their rivals with all the vices of long-dead scoundrels.
The BJP, seeking to parley the furore over Sanjay Leela Bhansali's Padmavati into votes, has likened Rahul Gandhi to Khilji, presumably because the sultan, taking time off from lustful pursuit of the lovely queen, jackbooted his way across Gujarat, destroying temples in Somnath, Modhera and elsewhere. Voters are exhorted to endorse Rani Padmavati's brave choice of combustion over molestation, by voting for the guardians of cultural nationalism rather than the sons of Khilji.
The BJP's desperate mobilisation of cultural symbols is understandable, given that the Congress is not playing fair in Gujarat. The rules of the game demand that Congress leaders exhume the ghosts of 2002, hurl epithets along the lines of 'maut ka saudagar' at Prime Minister Narendra Modi, visit Muslim shrines and generally give credence to the charge of minority appeasement. Instead, Rahul Gandhi went temple-hopping, declared himself a Shiv-bhakt (Vaishnavites, take note), focussed on caste consolidation and kept his motor-mouth resolutely shut on Padmavati.
The shift of strategy is doubtless motivated by simple mathematics (Patels = 12 per cent; OBCs = 40 per cent; Muslims < 10 per cent) and the acknowledgement that the Congress has zero traction on its own. The triad of Hardik Patel, Alpesh Thakore and Jignesh Mavani, the engine of the Opposition's campaign, are indifferent to 'Miya' interests - Patel-Muslim clashes in 2002 are a matter of record - and so, the Congress has tactfully kept the Muslims off the agenda. Where, after all, will they go? Ashok Gehlot is its pointsman in Gujarat, although Ahmed Patel struck the first blow with his Rajya Sabha victory.
The BJP was caught off-guard. With Saurashtra and South Gujarat slipping through its fingers, it flopped like a beached whale, with party members alternately accusing Rahul of playing at 'soft Hindutva' or dubbing him "as secular as a Nagar Vadhu (courtesan)". In previous elections, caste consolidation along community lines has worked like a charm for the BJP. Now, here's the Congress going one better, with caste consolidation across the board.
Somehow, the voters must be reminded that the Congress is a 'Muslim' party. What better way to jog their memory than to identify its current leader with a cruel Turko-Afghan invader, over whom Padmavati won a great moral victory? (The fact that virtually all Rajput rulers other than those of Mewar, played footsie with the Mughals through matrimonial alliances, is naturally forgotten). The celebration of 'Tipu Sultan jayanti' in neighbouring Congress-ruled Karnataka has been cited as further evidence of the party's minority-ism.
The very fact that the Congress honoured Tipu, who apparently loved converting Hindus to Islam (by the sword if necessary), reveals the party as a wolf in sheep's clothing, BJP spokesperson GVL Narasimha Rao reminded voters.
Quite as odious and incongruent as the Khilji-Rahul comparison is the characterization of BJP president Amit Shah as a latter-day General Dyer, by Gujarat's very own Napoleon, the wunderkind Hardik Patel. Like the French Emperor, who became a general at 24, Patel is a precocious leader of men, whose followers greeted Shah in Surat with posters saying 'General Dyer go back'. The Dyer epithet refers to the forceful suppression of the Patel agitation, marked by vandalism and rioting, in August, 2015. Historians may be forgiven for finding the comparison a bit of a stretch, but will admit that all's fair in love and elections, even seedy clips of the act of love (Hardik getting it on with a matronly-looking woman).
Shah has also been compared to the lengendary Chanakya, master of statecraft and good governance, by Uttar Pradesh chief minister Yogi Adityanath. But perhaps the BJP in Gujarat currently needs, not a Chanakya, but a Deen Dayal Upadhyay. Chanakya-niti has run its course.
Shah, a self-confessed bhakt of DDU, will doubtless recall his idol's humility and willingness to lose an election rather than adopt his Congress rival's penchant for blatantly false propaganda.
In the immortal words of the founder of Integral Humanism: "we shall be able to re-reconcile nationalism, democracy, socialism and world peace with the traditional values of Bharatiya culture...There is no need to cling to past institutions and traditions which have outlived their utility." The same presumably applies to historical figures.
Get the best of News18 delivered to your inbox - subscribe to News18 Daybreak. Follow News18.com on Twitter, Instagram, Facebook, Telegram, TikTok and on YouTube, and stay in the know with what's happening in the world around you – in real time.
| Edited by: Aakarshuk Sarna
Read full article