OPINION | How Shillong Made it to Front Pages of National Dailies, But for Wrong Reasons
The violence, of course, as the Chef Minister Conrad Sangma stated was politically motivated has some rationale.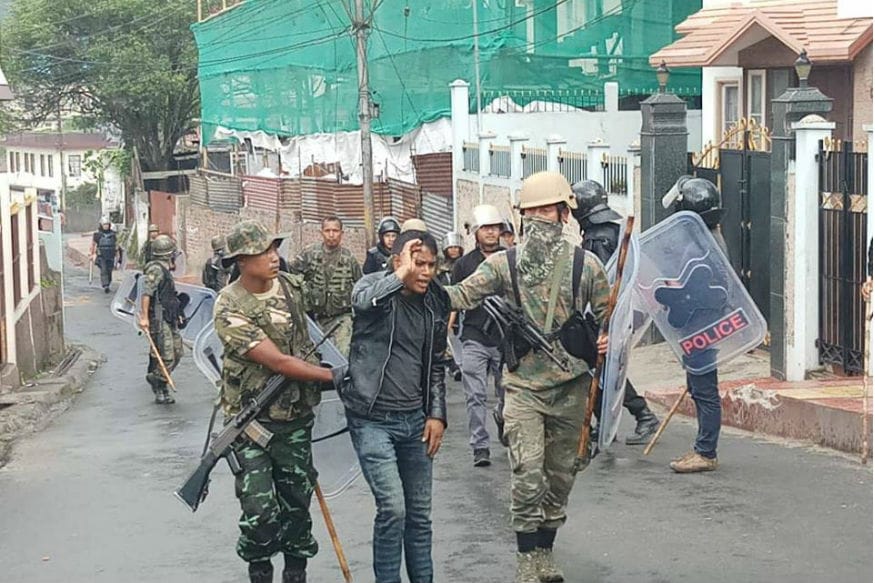 A scene from the violence-hit Shillong.
The other day I was flying back from Kolkata to Shillong and at the airport I picked up a 'National Newspaper' and on the front page there was a headline which said 'Khasi-Punjabi Clash'. I thought finally we made it to the front pages of a national daily, but for all the wrong reasons.
What started as a parking dispute quickly escalated into a wave of communal tensions with scores of reporters descending upon Shillong (many chose to report from Guwahati) about the disturbed history of Shillong and the riots of 1979, 1987 and 1992. Shillong was back in the news. Sadly, reportage of journalists remained unverified and many of the stories which emerged in the aftermath of the violence were sourced through hearsay and rumours. Of course, there was an element of ethnic tension in the violence but these clashes were restricted to a few localities and not in greater Shillong.
As I write this article, let me reiterate that no schools or colleges have been shut since the tension began and barring Motphran almost all market places have largely remained open.
The violence, of course, as the Chef Minister Conrad Sangma stated was politically motivated has some rationale; most protesters who were pelting stones were not natives of the city and were coming from far flung villages. This also means that the reaction to this violence may have been spontaneous, but the aftermath was carefully planned to bring the present government to its knees. Some may say that this is the work of the opposition, but I think that there is more to it than meets the eye.
A new government, with a relatively inexperienced Chief Minister and Home Minister (both siblings), also have to contend with allies who have senior MLAs who have served as Chief Ministers or cabinet ministers in previous government. Surely, this situation does give them an upper hand in a situation where back room talks with pressure groups is an essential requirement. We must not forget most of the past violence which the national media reported were at a time when not just Shillong but the whole of Northeast was going through a sentiment which was largely anti-migrant (read anti-Bengali movement in Tripura and Assam).
Today, when I have been asked to write on the situation in Shillong at a National platform, let me reassure all of you there are two sides to every story. One side has been represented by reporters, the other side also needs to be heard. Most Shillongites are against violence; most residents of this city also value their security and are welcoming to tourists. For a city that has battled local insurgency effectively in the 1990s not with the intervention of the Indian Army as was the case in Assam, Nagaland and other neighboring states, Meghalaya Police, the church and its citizens rallied against local outfits and their ideology to make Shillong one of the most visited places in the country.
Today an outbreak of a skirmish in a locality has sullied the name of the city nationally; I feel this is very unfortunate as the hard work done by many has been washed away in a matter of days. Of course, the matter is serious and as I write this article I am hearing of all political parties coming together to appeal for peace and restraint. The challenges ahead will be a respectful relocation of a locality which is the centre of the violence.
The Sikhs first moved into the city even before the 1857 revolt happened. The British began expanding their footprints all over India and set up their bases in Shillong during the 50s. They brought Dalits from Punjab for manual scavenging as the locals would not do the job for the Civic and Military Sanitaria that they established in Shillong. The residents of Punjabi Lane claim that the local Syiem (head) of Mylliem (village) had given them the piece of land in 1853 to settle there permanently. They also claim that the Syiem of Mylliem had confirmed the grant of land for permanent settlement in a 2008-letter to the Meghalaya State Electricity Board chairman.
Today this locality needs to be relocated purely on grounds of a suitable and hygienic condition for the people living there. Ghettoisation of any locality traditionally has shown us that it isolates the population there from their surrounding areas and increases the chances of crimes and other activities which are largely anti-social in nature. Also the residents of the locality need a life of dignity where their women folk can walk freely and their children go to a decent school.
The city of Shillong needs a break - from the violence, from the attempt of a few who have tried to use an unfortunate incident and sensationalise it nationally. The city is also capable of bouncing back because unlike the past the stakeholders especially in the tourism industry are locals. With the emergence of bed and breakfast and village tourism today unlike the past most people benefit from the arrival of a tourist here. They feel the pinch which was not the case in the past; from a local taxi driver to a hotel operator most people in this industry formal and informal are locals. The so called arm-chair journalists (whose investigations have been over phone or a day visit to the place) who have compared this violence to that of the past need to be reminded that the stakeholders then were not Khasis but a few people who were not indigenous to the place.
The economy of Shillong has taken such a shape that the violence of the past is less likely to be orchestrated by most locals, but then again if it is politically motivated then nothing can be ruled out.
The outsider and local issue will, however, remain. Let us be realistic, I have travelled far and wide across the country and I do hear terms like Marathi Manoos, Kannadiga only or apne Bihar ke log far too often. In states like Karnataka, Bengal and UP often we are told to speak in their local language to assimilate. Implying that if we do not we would remain an outsider.
India is a country which will always battle this and to label that this exist only in Shillong is surely far reaching.
In the end I appeal to call that in this day and age of technology we should refrain from getting our information through unreliable posts in social media and WhatsApp. Like the exodus of Northeasterners in 2012 via an SMS that they were being targeted as a community led to terrible inconvenience, I would also urge people to get their information through proper and responsible media sources which operate on the ground.
Finally, we in the media also need to realise reporting a communal violence has to be done from a manner where it does not pitch one community against another. We are journalists and it's our duty to disseminate news but then what I have witnessed in the past few days is that some of us have decided to become judge, jury and executioner. This will always hurt society at large and its belief in our profession.
(The writer is Managing Editor of The Northeast Today. Views are personal)
Read full article