I Reported From Aligarh For Two Years. Every Day I Was Reminded I Am a Woman
In this land, like many other places in our male dominated societies across the world, there were characteristics of a society starved of celebration of women presence in public spaces – powerful or playful.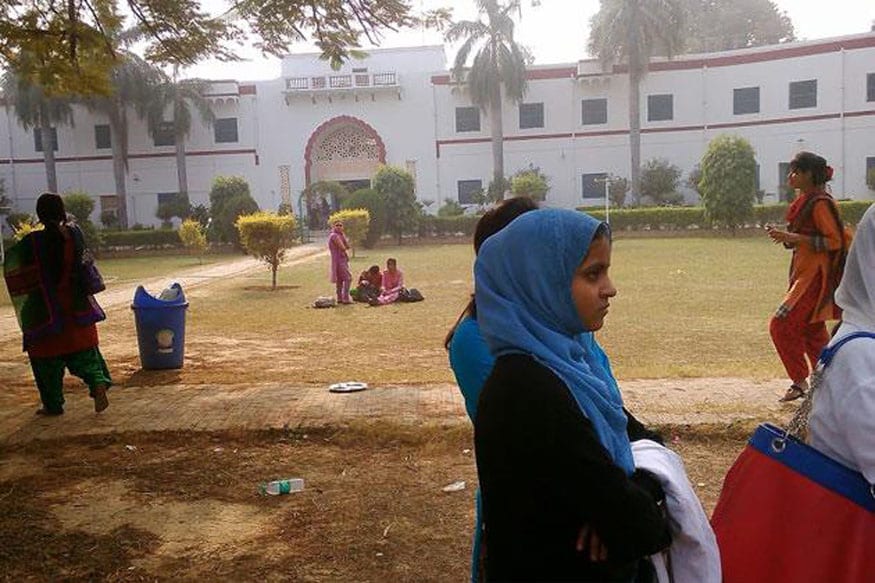 A file photo of AMU campus.
It was a usual winter afternoon in Aligarh. The preparation for the traditional Numaish (fair) was underway. The bright fuchsia and turquoise coloured Shamianas were being set up at the ground, announcing the arrival of the much-awaited fair.
The committee members for Numaish, which also included some 'Urdu experts', were debating over the right way to write the calendar date in Urdu. The opinions were divided over whether 'a date in Urdu should be written from left to right or right to left'.
I, like other reporters present at the scene, asked a few questions for the story I was covering. That's when one of the experts on Urdu, who also happened to be the committee member on organizing the fair, asked me how he could be questioned on the matters of Urdu.
He was so agitated that he raised his hand at me. As a spontaneous reaction, I raised my hand back at him, saying, "Not again!" This didn't go down well with him.
While wiping the stains of betel juice, he said, "Aye, kaun hai tere peeche?" (Who is behind you?). His tone was authoritative and totally uncalled for.
I understood his question very well but replied in a rather dismissive tone, "Mere peeche, Atiq Bhai khade hain, dikha nahi?" (Atiq bhai is standing behind me, didn't you see?)
He again emphasized on what he meant earlier, this time clearer and direct. "Who is backing you?" he asked. I responded saying, "No one is."
His curiosity was not allayed and it was evident as he slowly retracted his steps towards his car. That was his moment of initiation into the world where empowered women need no patrons.
He was not someone dangerous or who would have targeted me with a tamacha, but still one of my well-wishers advised me to 'balance my independence'.
"Don't walk like you own this road," he suggested.
This, I believe, was to assure me of not falling into this patriarchal trap of Aligarh where a woman is politically and socially known and active only if someone powerful backs her.
His reaction did not come to me as a surprise. When I moved to Aligarh in 2014, a few months ahead of the 2014 Lok Sabha elections, one of the woman journalists I met and who had dropped out of the profession, told me, "Yeh purush pradhan Pradesh hai... sambhalke rehna.' (This is a male dominated field. You have to be careful.)
As I stayed longer in that city, it started revealing me its patriarchal mindset more garishly.
At the time of covering elections of Aligarh Muslim University Student's Union in 2014, Kehkashan Khanam, from theology department was talked about as the sole woman contesting the students' union elections in the main campus. The election officer then had lamented: "We have such a big population of women students but still just one of them has come up for polls."
On the day of filing her nomination papers, Khanam and I had a discussion over how difficult it was for a woman to contest elections in AMU.
"If a woman contests, the general belief of people becomes that some politician is backing her," she told me. "I think women don't want to invite unnecessary associations and accusations of being backed by powerful leaders, so they stay away from politics of the campus."
Women students were rarely seen hanging out at the male dominated dhabas. There were no women eating chicken biryani or socializing over chai. This simple part of their daily life was seen as an act of breaking the tradition.
Months later, when some women of the Aligarh Muslim University started the 'Why loiter' campaign to occupy public spaces, there was an immediate backlash from conservative elements online. It was seen as an aberration.
In this land, like many other places in our male dominated societies across the world, there were characteristics of a society starved of celebration of women presence in public spaces – powerful or playful.
As a result, when I rode a pillion with my photographer covering remote and interior areas of Aligarh, when I visited police stations and walked down the campus late in the evening, I was challenging the idea of a woman's behavior, and doing something that men do.
No matter which police station I called or visited for a story, I was greeted as "Haan Eram Bhaiyya bolo." (Yes brother tell me.) This was replicated in AMU as well when some people would call me, "Aur Eram Agha Sahab, kal kya likh rahin hain aap?"
This was happening with me for the first time. I quickly updated the sahib and bhaiyya greetings on my Facebook page. In a minute, this reached the liberated corridors in New Delhi. My feminist friends started analysing the social factors behind this.
"Do they associate confidence with men?" "This is the traditional male behavior where any important thing is taken to be man's job." "Down with patriarchy".
My timeline buzzed with feminist rants from the metropolitan Delhi but what started with social media, ended with social media. I was soon back on the ground to write stories. Things never changed.
Towards the end of my Aligarh assignment in 2016, my photographer gathered courage to tell me about what other male journalists talked about me. "I think I should tell you now... some people wanted me to inquire about your personal life. They wanted to know if you are a married or a divorced women," he told me.
"They would often say, 'Why would any young woman leave Delhi, Mumbai and come to Aligarh?' Aisa kya hai Aligarh mein? Kuch gadbad hai. Maloom karo."
Get the best of News18 delivered to your inbox - subscribe to News18 Daybreak. Follow News18.com on Twitter, Instagram, Facebook, Telegram, TikTok and on YouTube, and stay in the know with what's happening in the world around you – in real time.
| Edited by: Bijaya Das
Read full article